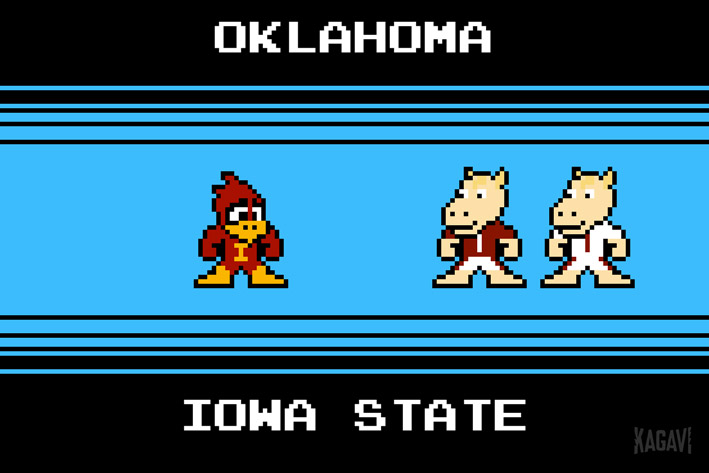 (Story originally posted on SB Nation's ISU site: Wide Right & Natty Lite.)
_____________
WRNL is proud to present nine weekly articles from Kagavi leading up to the official release of The Adventures of Robot Cy, a fictional 8-bit video game trailer that never was.
In a faraway futuristic time, college football has been taken over by robot mascots. Join Robot Cy as he travels through many thrilling levels to find out who is behind this nefarious plot!
Every week during the conference season, Kagavi will preview the ISU football game using this project as inspiration by asking what power ups could Robot Cy gain by defeating the other Big 12 robot mascots?
_____________
Iowa State's last game against Texas marked the return of the powerful Cyclone team that sat on top of the Big 12 standings all the way at the beginning of October. Robot Cy's visit with Robot Hook 'Em was equally fruitful and the athletic department should be receiving some pixelated money bags soon. Looking to the game this weekend, ISU faces off against #14 Oklahoma in Norman. Oklahoma clobbered ISU 59 – 14 last year–an outcome surely as shocking as pumpkin lattes in the fall. But clearly this is a new era. Joel Lanning is undefeated as the starting QB. Todd Sturdy is undefeated as offensive coordinator. Paul Rhoads is unde . . . err, proud. Most crucially: the last time Texas was shut out by an unranked team, it was 1961–the same year that Iowa State beat Oklahoma in Norman. Just saying.
But what if Robot Cy was facing off against Robot Boomer & Sooner?
If Robot Boomer & Sooner used the best parts of Oklahoma football history to inspire a power up, what would it be? Let's explore some Oklahoma history.