Kagavi's first major story collection debuting this fall is based around the legend of Iowa State University's first black football player, Jack Trice, who played in just two games for Iowa State in 1923. Trice suffered fatal injuries in his second game against Minnesota and passed away two days later. A touching personal letter Trice wrote prior to the Minnesota game was read at his funeral in front of thousands of people. In the letter, Trice wrote, in part:
"The honor of my race, family, and self are at stake. Everyone is expecting me to do big things. I WILL! My whole body and soul are to be thrown recklessly about on the field tomorrow. Every time the ball is snapped, I will be trying to do more than my part."
After his premature death, Trice's story was gradually forgotten for many years, but a revival of interest in later decades led to ISU's stadium being renamed Jack Trice Stadium in 1997. It remains the only major college football stadium named after a black player. Iowa State's special collections set on Flickr has this 1923 image of Trice with three of his teammates: J. Behm, J. Trice, N. Behm, and W. L. Nave. (The Behm brothers were Trice's high school teammates in Cleveland.):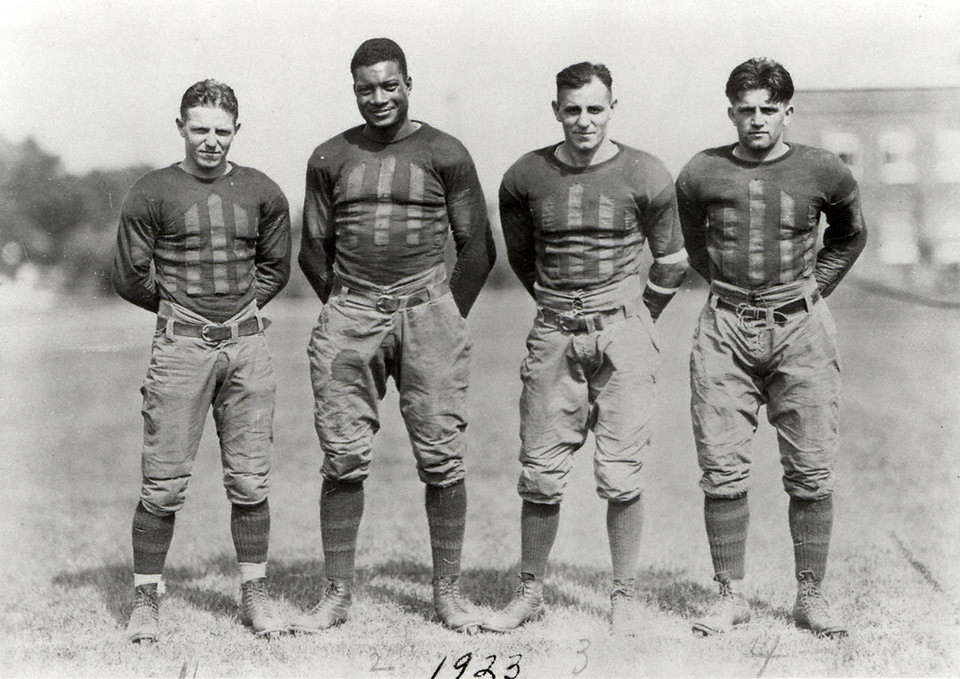 Despite many accolades, Trice's uniform number was lost to history. The ISU archives confirmed no current records existed of his number and other official ISU channels were equally fruitless. Numbers hold a significant meaning in our sporting culture and the mere display of a number can evoke powerful memories. Every April 15, Major League Baseball honors the memory of Jackie Robinson, baseball's first black player of the modern era, by having every player wear his number 42. When the Bambino was swatting homers up and down the east coast, every American knew that number 3 stood for Babe Ruth. A black and red number 23 can only mean the greatness of Michael Jordan. Sports teams regularly retire significant numbers. The New York Yankees have retired a whopping 17 numbers. Yet, for such a significant figure in ISU history, Trice's number slipped through the cracks. What was Jack Trice's number?
For many months, I dove into dusty archives, dodged large cobwebs, found obscure newspapers, and scoured every available source for any tantalizing tidbit of Jack Trice's jersey number. Along the way, I fell in love again with the sad tale of a young hardworking man who left his Ohio hometown in search of a better life despite the crushing racism of the era. The unknown number became an obsession with me–surely somewhere was the answer. Many nights, I laid awake in bed with the haunting faces of the 1923 team burnished in my brain as the roster names echoed: "Spike" Nave, Coach Willaman, "Shorty" Longstreet, "Brick" Sanders, "Fat" Thornberg . . . and always Jack Trice. (I wrote an initial blog post about my hunt earlier this month here.)
I thought I was making good progress, but a consultation with the College Hall of Fame revealed some of my assumptions weren't factually sound. Historians Dan Jenkins and Kent Stephens confirmed that the 1920s era featured numbers that followed no rhyme or reason and players often changed numbers consistently. In response to my queries, Jenkins wrote:
"A number mean(t) nothing to them . . . A classic example is Bobby Layne at Texas from 1944 through 1947. Bobby started out with 33, went to 41, and wound up with 22. As for the 1920s or earlier, who can say? Grange, of course, always wore 77. Some players asked for certain numbers, like Ernie Nevers at Stanford—No. 1, the Big Dog, to fit his nickname."
The NCAA didn't standardize numbers until 1937 and despite earlier inferences gathered from various published sources, I soon realized that I couldn't rely on mere guesswork. Critically, I couldn't use any information gathered about Jack Trice's 1922 freshman team, because chances were the numbers would be jumbled up again for the following season. Thus, my initial list of six possible numbers got chucked out the window. (Note the typo in the ISU yearbook below–it was Fall 1922,  not Fall 1923.)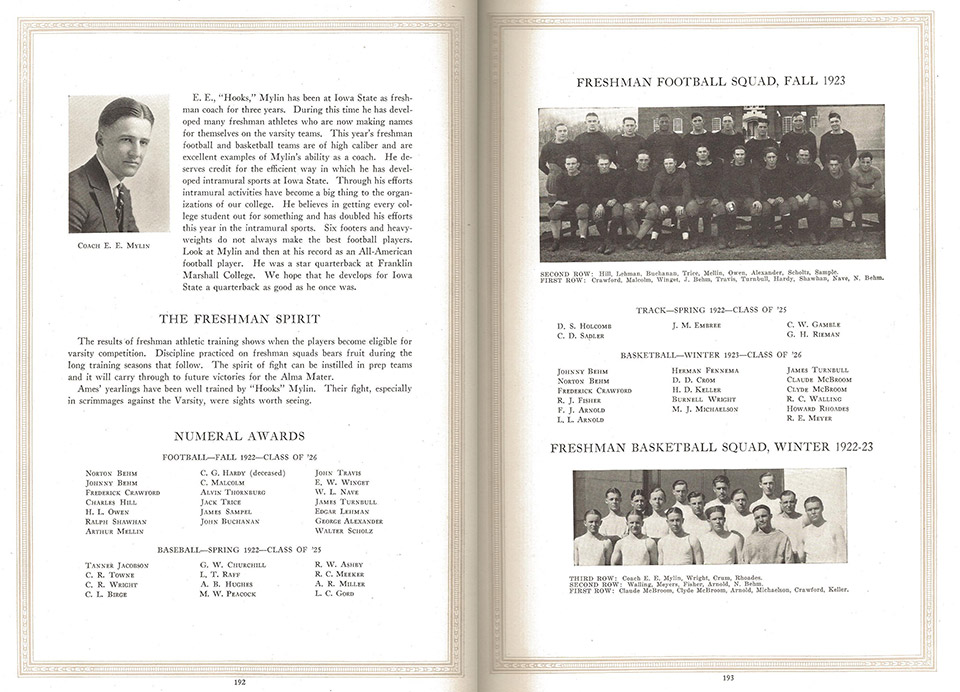 During the 1923 season, the Iowa State College team, often referred to as Ames, played eight opponents. Football games of this era were a mixture of exhibition-level games and major college games, which were usually conference games. Additionally, most players played both offense and defense. Before the season started, Trice's promising freshman season in track (he won the Missouri Valley Conference freshman meet in shot put and placed second in discus) and equally strong football season led many observers to peg Trice as a future star tackle for the Cyclones with postseason honors a distinct possibility.
Iowa State's first game took place in Ames on September 29 at State Field, which later became Clyde Williams Stadium, against nearby Simpson College.  With the imposing State Gym anchoring one end, the Ames eleven beat Simpson by a 14-7 score in a muddy and slippery game. The Simpson game was considered an easier matchup before the first "major game" of the season against powerful Minnesota next week.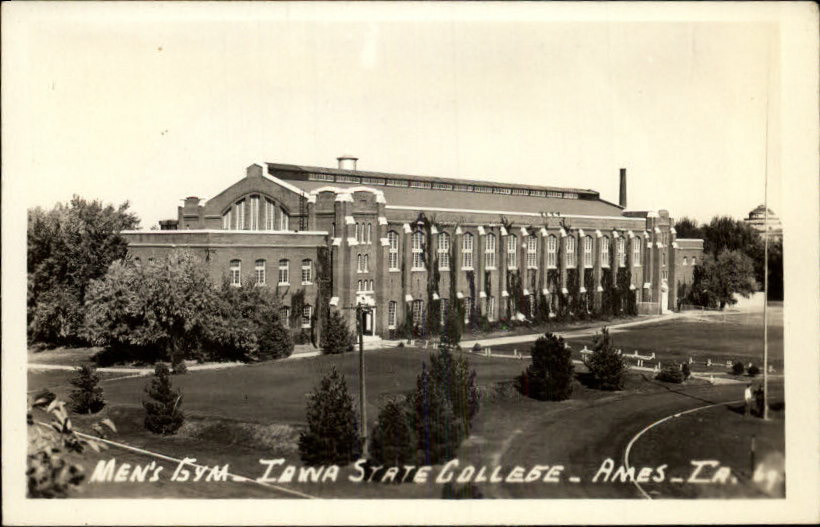 As the ISU yearbook, The Bomb wrote, the victory was decided in part by Trice's outstanding line play: "the first (kick) was neatly blocked by Trice, star tackle of the Cyclones." Following the win, the Iowa State team traveled to Minneapolis for the Minnesota game on October 6 and the Minnesota team was planning on holding out several important players in anticipation of the easy victory. However, the "tough Ames eleven" caused Minnesota's coach to insert all of his star players in order to squeak out a narrow 20-17 victory. In the first half, Trice suffered a broken collarbone, but stayed in to play before suffering his fatal injuries in the third quarter.
In order to find his jersey number, I needed to investigate four types of sources: game programs, college yearbooks, student newspapers, and town newspapers. Because I knew Iowa State had no game programs from 1923, I contacted the university archives of all eight 1923 opponents: Simpson, Minnesota, Missouri, Kansas State, Washington (Mo.), Drake, Nebraska, and Grinnell. Many were fascinated by Trice's story, but none were able to help. One archivist did mention to me that Asgard Press could be a potential source of game programs.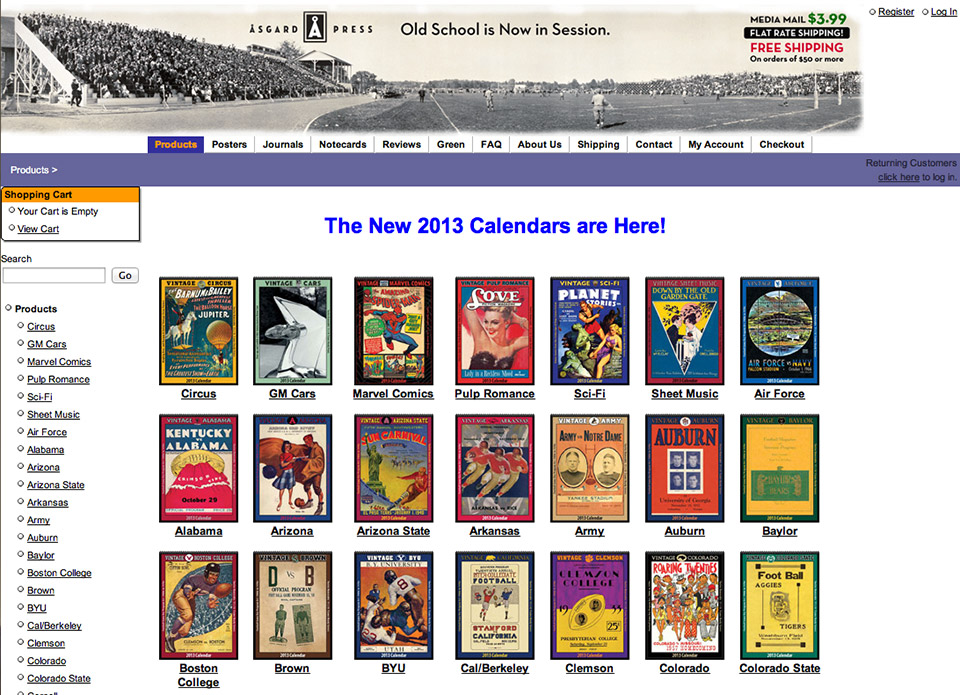 For over half a decade, Asgard Press has produced calendars featuring vintage football game programs for many universities. After referencing all the calendars of Iowa State's opponents and Iowa State's own calendars, I saw the 2012 Iowa State calendar featured two tempting game program covers: a 1922 program against Missouri and a 1923 program against Grinnell. Despite not being one of the two Trice games, if I could find where Asgard got the cover images, perhaps I would be able to find a partial ISU numbered roster–especially the 1923 program–however, that promising lead fizzled away.
While waiting for the various archives to search their game programs, I started searching the student newspapers, hoping for a numbered roster to appear. Starting with Simpson College's The Simpsonian and Minnesota's The Minnesota Daily newspapers, I started to construct a framework of Trice's two games. The Minnesota Daily gave me my first glance at a starting lineup for the Ames team, but teasingly only provided numbers for the Minnesota side. Here we can confirm, despite being a young sophomore, Trice is a starter on the line against a tough Minnesota team.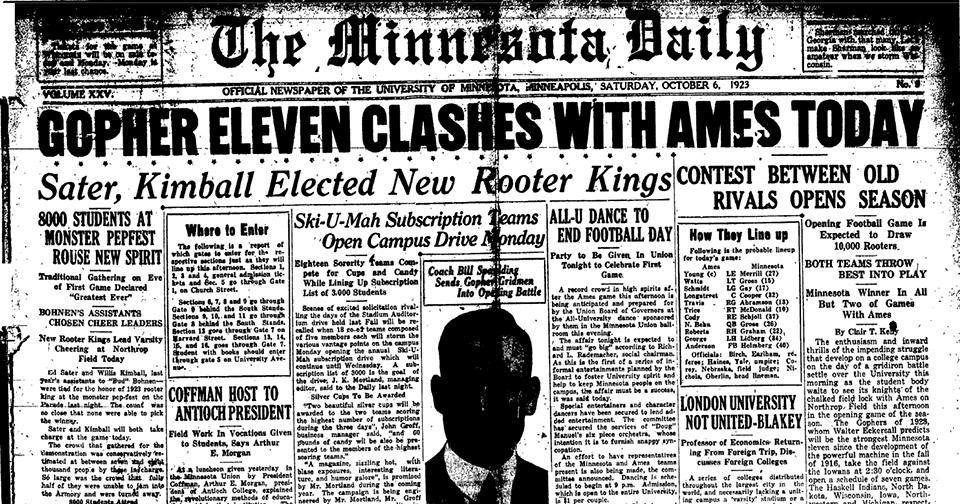 Interestingly enough, many accounts state Trice's deadly injuries were suffered while attempting to tackle a Minnesota ball carrier. However, if we investigate the Daily play by play account of the game, it is revealed that Trice was injured on a Cyclones offensive series.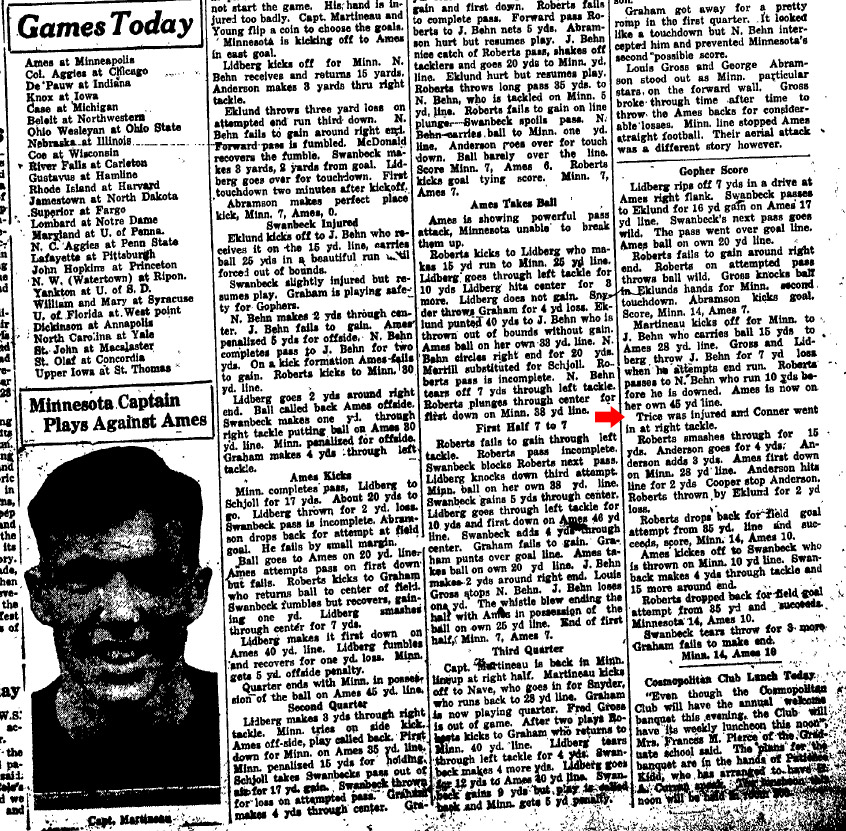 Ultimately, despite offering interesting reading about the games, the student newspapers were no help. I turned to investigating college yearbooks as another source of information. In looking at the various 1924/25 yearbooks for a recap of the 1923 football season, I often found a game by game recap. Each of the school yearbooks had unique names such as: Iowa State–The Bomb, Simpson College–The Zenith, Minnesota–The Gopher, Kansas State–Royal Purple, and Washington (Mo.)–The Hatchet. Below is the Drake yearbook example, which was representative of many yearbooks encountered in my research: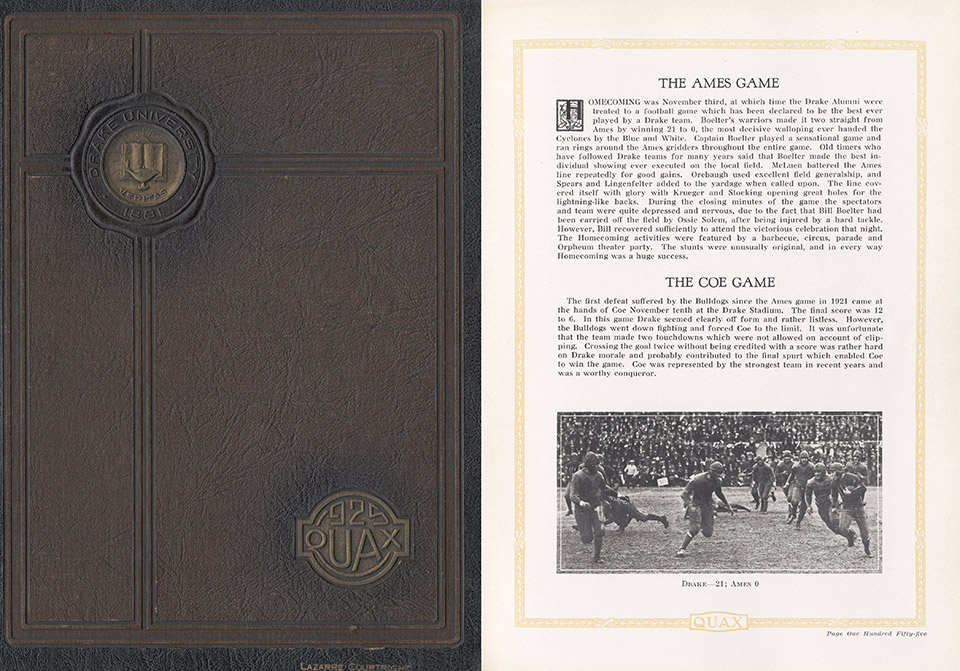 By scrutinizing the faint uniforms of several yearbook pictures of the Iowa State game, I was able to figure out some of other jersey numbers, but nothing with Trice. I started gathering town newspapers and focused my search on the Indianola (home to Simpson College) and Minneapolis newspapers. Indianola had at least three newspapers that were publishing, while the Minneapolis/St. Paul area had dozens of newspapers. Minnesota was a popular regional team, so I hoped the coverage would be more comprehensive and yield Trice's number. Initial fishing forays revealed interesting tidbits, but no solid leads. Discouraged, I spent weeks trawling eBay in the hopes someone would offer a critical 1923 document holding the key to the mystery. I didn't find anything relevant, but did find neat ISU historical items such as this: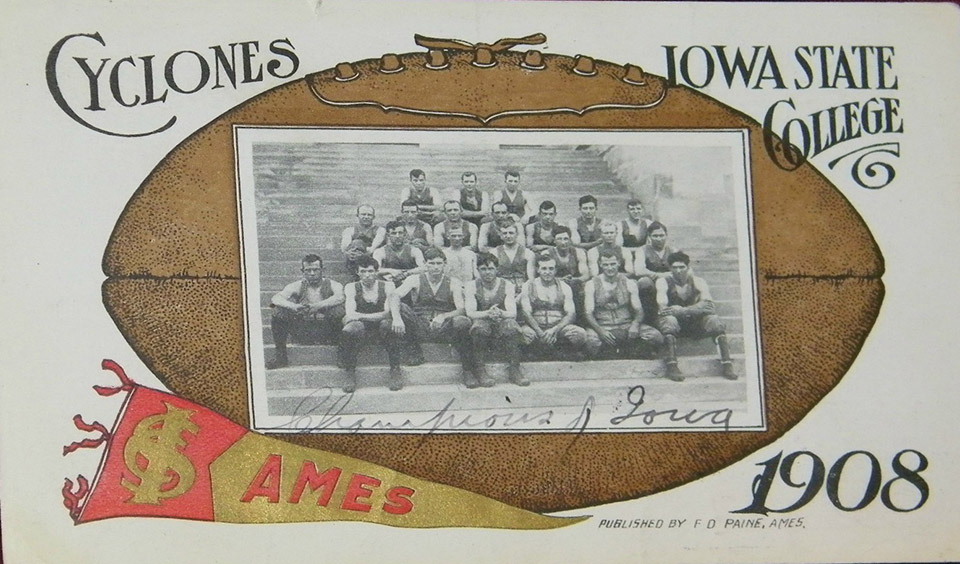 Along the way, I also found an expired auction with a signed 1922 East Technical High School yearbook, which was Trice's senior year of high school in Cleveland. The football team was one of the best in the country and Coach Sam Willaman's success was noticed by Iowa State, which named him their new head coach in 1922. Coach Willaman recruited multiple East Tech players including the Behm brothers and Trice to Ames that same year: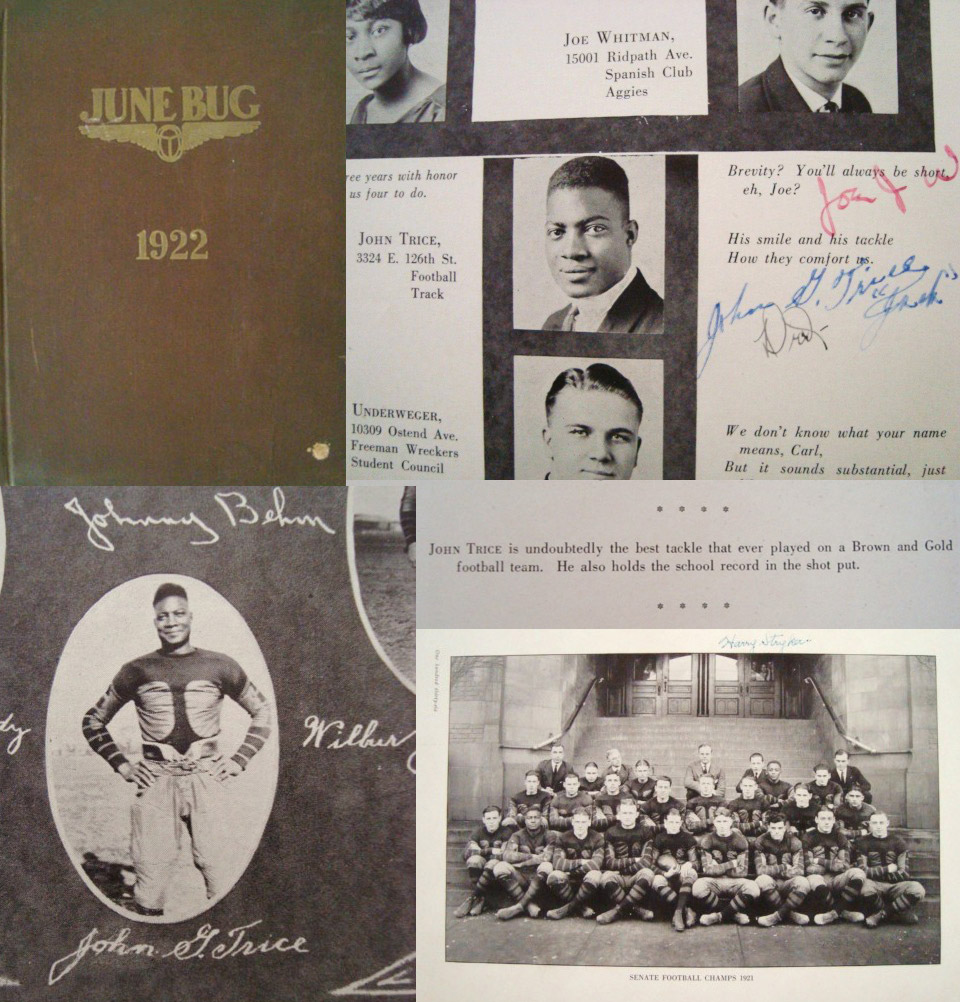 I also contacted Steven Jones, the author of Football's Fallen Hero: The Jack Trice Story, and Jones suggested that Trice's number may have been 37, but he had only seen it in one location–a Minnesota newspaper article. This was an encouraging development, but hardly the rock-solid proof I was after (given the multiple mistakes I had discovered in newspaper articles along the way). Along the way, I kept emailing archivists and library researchers in multiple states who might come across crucial pieces of information. Most were regrettably unable to help me, but unexpectedly Cyd Dyer, the archivist of Simpson College unearthed an obscure 1923 game program of the Ames versus Simpson game, which was Jack Trice's only home varsity game.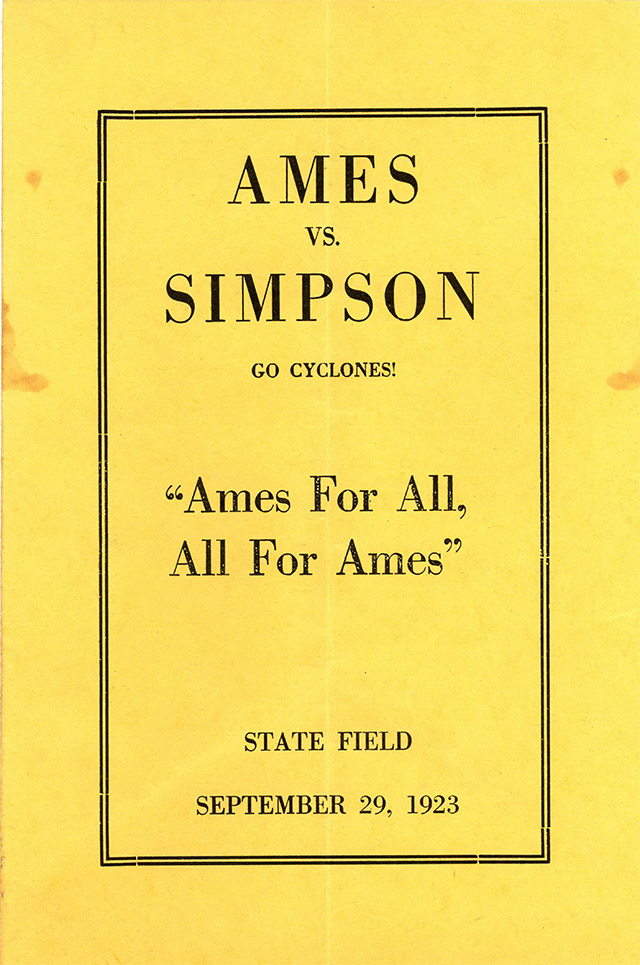 Could this be the answer? Many programs of the 1920s didn't include a numbered roster, instead preferring to highlight individual players with a picture of them and their position. (Remember, the College Hall of Fame indicated numbers weren't necessarily that important during that era.) Would a 90 year old mystery be solved with the simple turn of a page? When Dyer opened the program up, there laid our beloved Jack Trice's number in neatly rendered type: 37. Trice, J.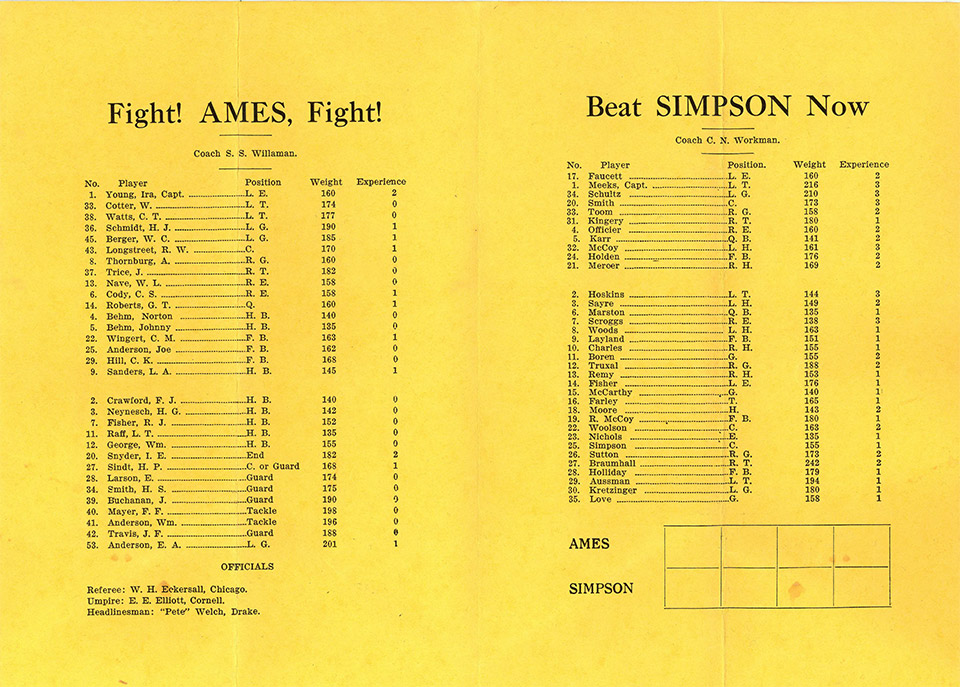 When I received Dyer's email, I stared at the program unblinkingly for eons before letting out an involuntary whoop. The image quickly seared in my memory: 37. Trice, J. 37. Trice, J. 37. Trice, J. We can also put to rest another myth–that Trice towered over his teammates. His listed weight of 182 is the third highest on the team, but hardly the colossus that has been reported.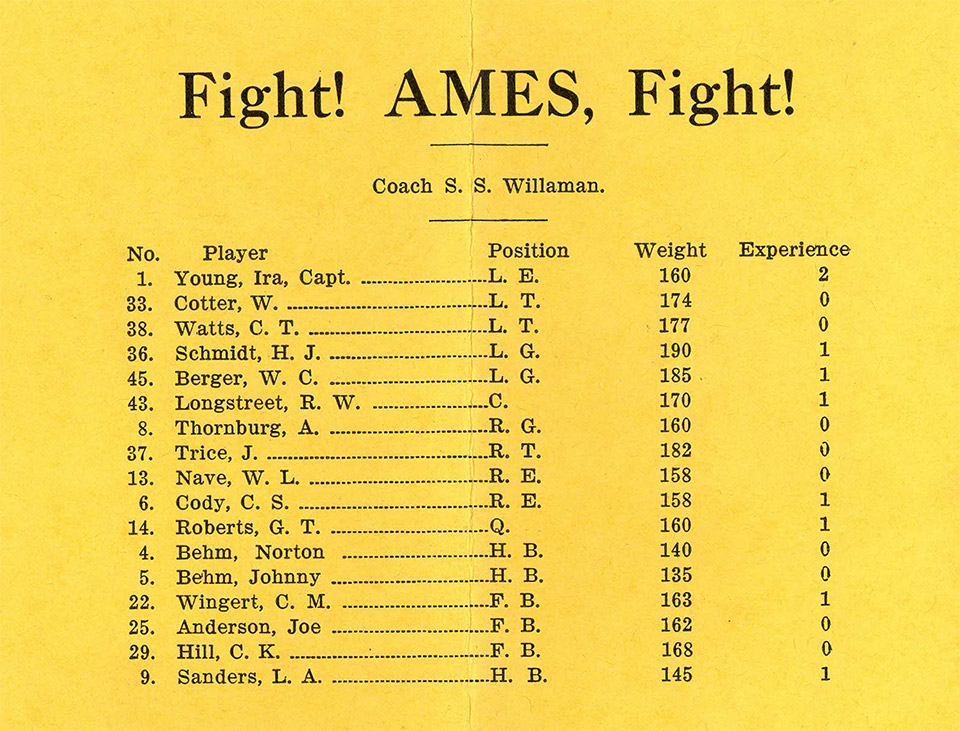 It remains the only complete Iowa State College game program of the 1923 season I have been able to find in months of research. There is also a very good chance it is the only complete 1923 Iowa State College football game program in existence. Happily, this discovery also confirmed author Steven Jones' previous work for his Trice biography. With the two sources–Jones' newspaper clipping and this "newly discovered" program, we can now definitely put the mystery to rest. A huge thanks to the dozens of archivists, librarians, and researchers–especially Cyd Dyer, ISU librarian Becky Jordan, and author Steven Jones–who helped me on my quixotic quest to properly honor Jack Trice by rediscovering his uniform number.