Rich Harbour is a Seal Beach legend known for the surfboards that he has been crafting since 1959. Located just off the Pacific Coast Highway, the local shop that bears his name has stood in the same spot on Main Street since 1963. To this day, Rich still shapes surfboards in the back of the shop. One element about Harbour Surfboards that has always appealed to Lori and me is how Rich never chased the almighty dollar. As surfing has become an increasingly lucrative business, there aren't too many surfboard brands left that have remained independent for such a long period of time. Rich clearly values his autonomy and has lived in Seal Beach his whole life.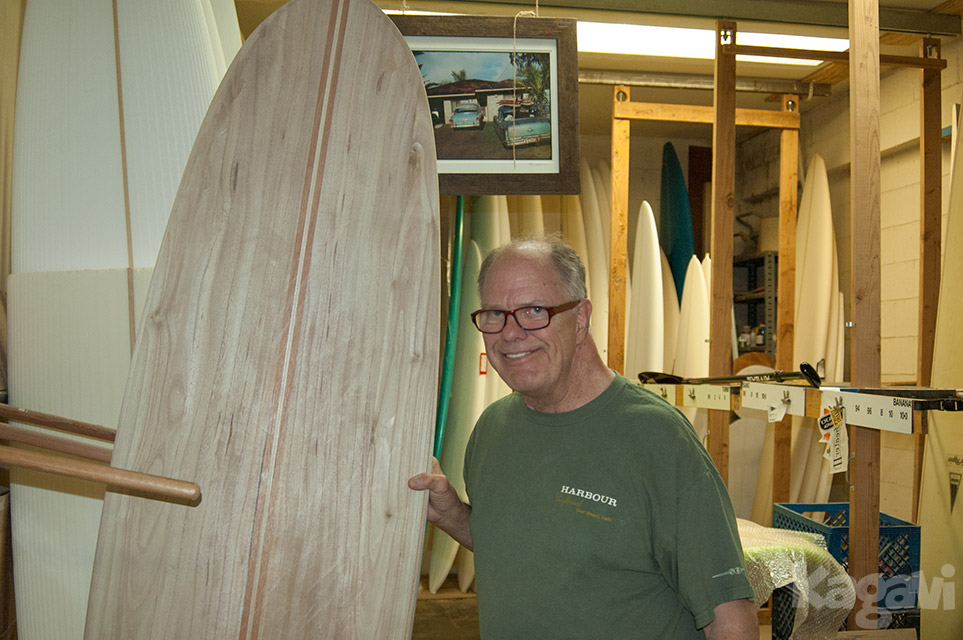 Rich currently is on hiatus from surfboard shaping while he rehabs his way through a series of surgeries–including two shoulder replacements with the most recent in April. Rich graciously agreed to sit down with us to share some of his knowledge. Before our interview started, Rich admitted he had forgotten the key to his locked office. After a brief call to his family, Rich decided it wasn't worth the trouble to get the key and instead grabbed a screwdriver and broke into his office with a pleased grin on his face. The door jamb showed evidence of this being a repeat occurrence. Be sure to check out the Harbour Surfboard site where you can buy Rich's surfboards and related gear. Elsewhere on the site is a great historical overview of Rich's surfboards. Also click on the blog–there are many great posts showing Rich at work on many of his classic designs. Lori and I really enjoyed talking with Rich and we hope to talk to him again soon.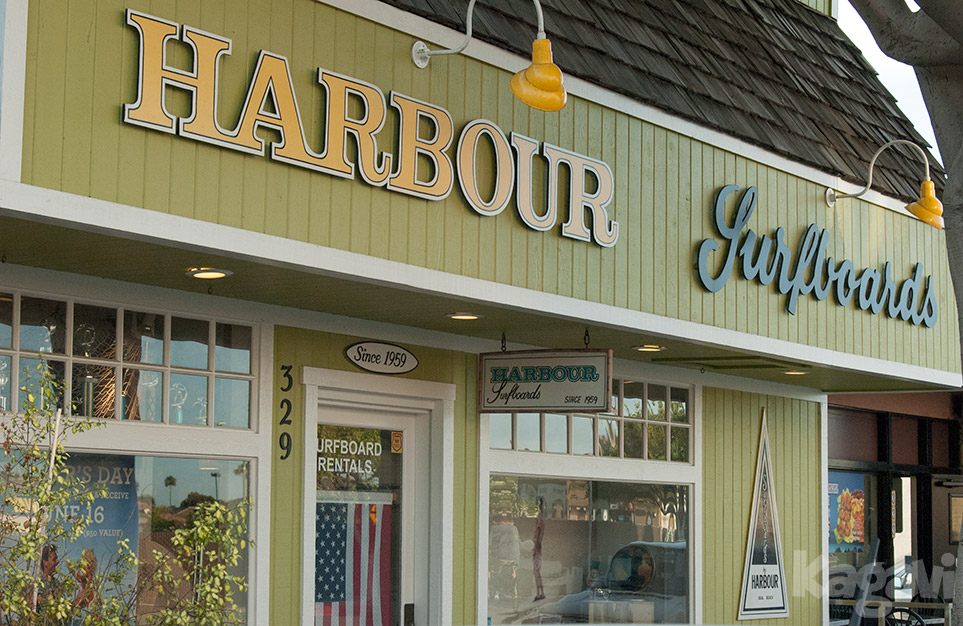 Do you have any advice for me?
Oh boy, that's my favorite subject, so here goes. First, whatever career choice you make, be sure you love it. Money is of no importance–I'll get to that later–just make sure you have a smile on your face en route to work. I can't even fathom someone who hates their job and is miserable at work. I'm going to be 70 in about six weeks. If I made scads of money–which I didn't–and had a palatial home with a swimming pool, but was miserable making all of that money, what a poor specimen of humanity I would be. I have no pool and just enough money to pay the bills, but I wouldn't trade my life for anything.
Second, whatever you do for a living, never be satisfied with just doing your job. Be the best at it. Not just the best within the confines of your immediate work, but the best in the world. With that attitude, you will always have a comfortable income, and probably more. Because with your skill level, employers will want you, or you will be successful at your own business.
Why didn't you "sell out" for lack of a better word?
I love what I do here so much that I live for it every day. I got involved with the city business association for many years, I am past president of the Seal Beach Business Association. I sold my retail business in 1991, it just became too much to shape surfboards, wholesale surfboards, retail surfboards, deal with vendors coming in all the time and it just broke my day up so much that I would go home and–homework. My wife does a wonderful job rasing the kids, but she hated helping them with homework. So I did it. See, you're married, you take your jobs and that's what makes it work.
Why do you create–what are you creating now?
I was going to make a surfboard on my computer at home for a gentleman who is on a surf team. He came to my house so we could work through it. Years before, my wife and kids got tired of me telling stories and repeating them, so they said "Dad, write them down." I wrote them down over a period of many years: five, six, seven years. I've been taking pictures my whole life–and I started putting pictures in the story that fit. It wasn't very professional as Microsoft Word is not designed for that, but I was doing it.
Anyway, (the book) was on my computer when he walked in the room and he said, "What's that?" I explained it to him. Well he puts on art exhibits for a living–he said, "That's interesting. Can I see some more pictures?" So I showed him all the pictures I have. I went through a bunch of my pictures–he went "Wow. I have an ex-employee who just took over Orange Coast College. They have an exhibit hall and she may be interested in what you got here." She comes to my house, she looks at it. "Wait a minute, we got more than an exhibit, we got a book."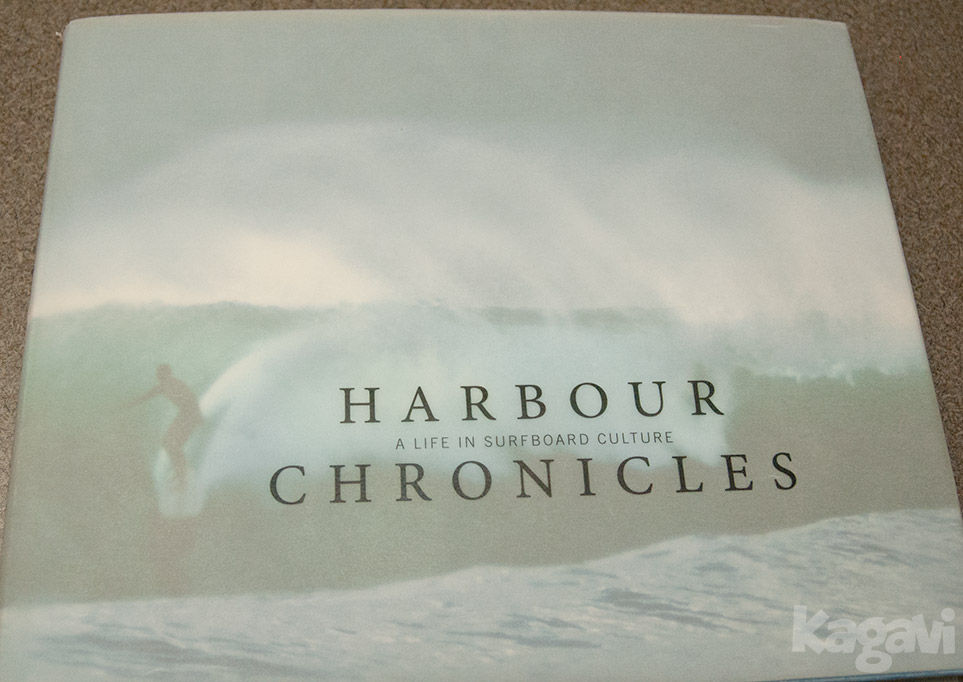 When was this book made?
February 13, 2010, but the stories I wrote and gave them, they edited out some. Orange Coast College published this so I taught myself how to make a book. (At this point, Rich pulled out another similar looking book titled Harbour Uncensored Chronicles.) This is the first copy, but the type is too big and it is cut off. This is 17 point (type). I'm not a book maker yet. I'm learning, so I made another edition that is 12 point type so it looks more like this. (Rich showed us some uncensored passages of wild days at the beach.) Anyway this is my project. I wanted to tell the whole story . . . This was when streaking was big. Anyway, I'm working to correct a bunch of errors in this. It's a working progress.
What's the favorite surfboard you have made?
I would have to say it's our Trestle Special. Except one surfboard hangs on my wall at home, it's number 20,000 built in 19 . . . umm . . . 1999. Oh a long time ago. (Flipping through his book for a comparable example.) This is called curly redwood, this is balsa wood and this board has 21 pieces. Mine has 29. This one is hollow inside–it's called chambering. All the balsa wood has chambers cut in it so it is not as heavy. The chambering alone takes over a week to cut the chambers in. (Pictured below is a Trestle Special crafted in 1968 and currently hanging in the retail shop. Also pictured is a schematic for board number 30,000–Rich showed us the blanks of wood he has saved up for when he can get back to shaping boards again.)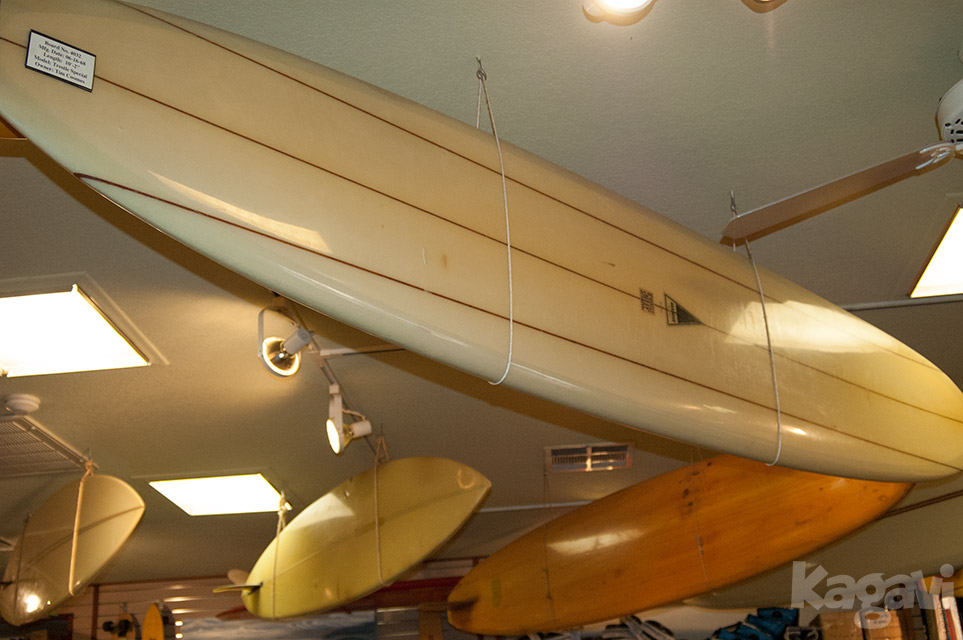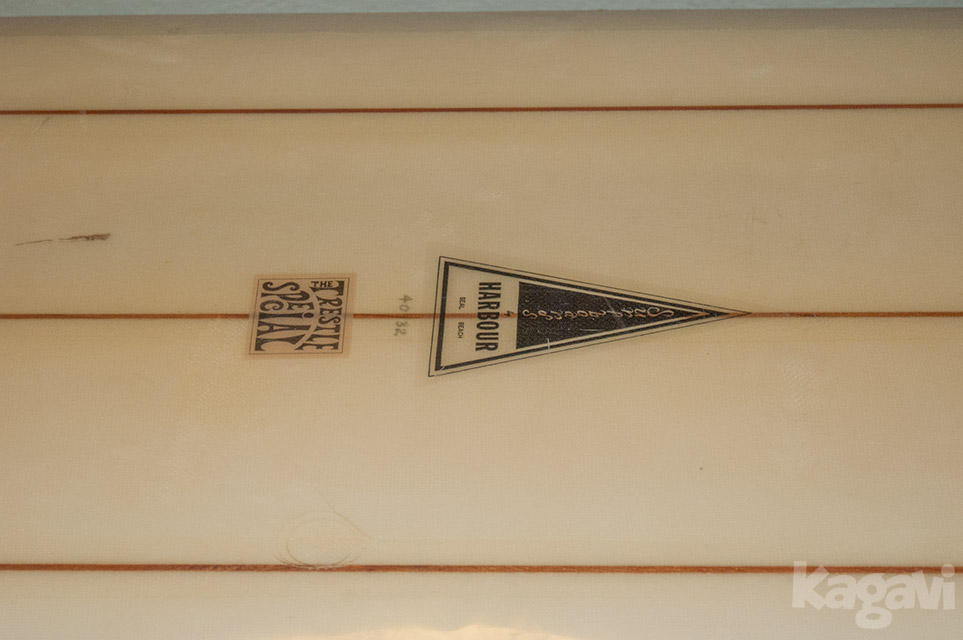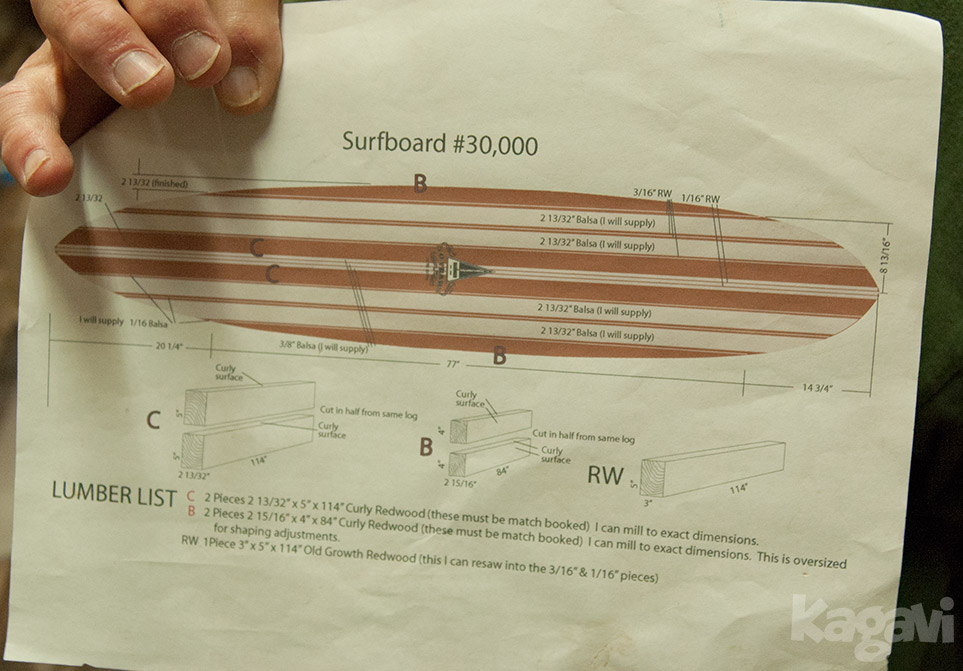 In one word, how do you define Seal Beach?
Wow. One word would be . . . comfortable. I feel comfortable here. This town on its borders has no one living out there (pointing west) because it's an ocean. No one living over there (pointing north) because it's a boat harbor. No one living over there (pointing south) because it's a naval weapons station. No one living there (pointing east) because it's an oil field–we are our own little island.
If you were not doing this, what would you be doing?
Oh my goodness–something with my hands. Furniture maker–but you see–making furniture you don't sculpt. I sculpt and I design, which really makes a broader piece of my life than just a furniture maker. You know, I wouldn't mind doing something like making books. Now this is fun.