Ryan Sloth is a former Iowa State and Iowa Barnstormers football player and coach who has transitioned into a career writing children's books with his Sammy Sloth character and touring the country as a speaker. Ryan played for the Cyclones from 1997 to 2000 and helped ISU reach their first bowl game since 1978. His ISU bio noted he was named to the academic all-Big 12 first-team three times and finished his career with 67 tackles, three sacks, and two interceptions while being named the special teams MVP in 1999. When not writing, Ryan also makes time to appear in a variety of movies and TV shows as an extra. Some of his latest movies were The Amazing Spider-Man and The Dark Knight Rises. His official website can be found here, where Ryan sells his books in multiple formats and shares his trips to schools all over the country. His Facebook page can be found here. Ryan agreed to make time in between his movies and book tours to answer some questions for us.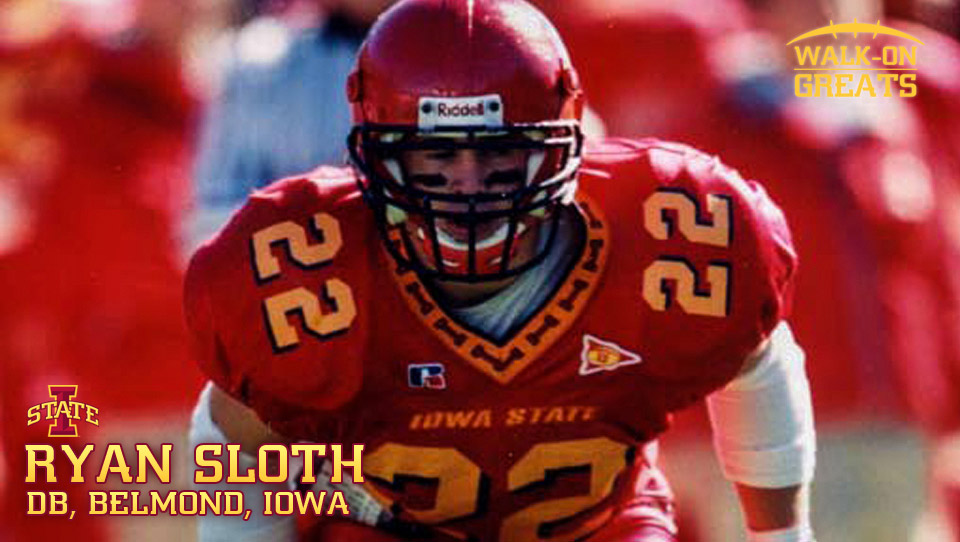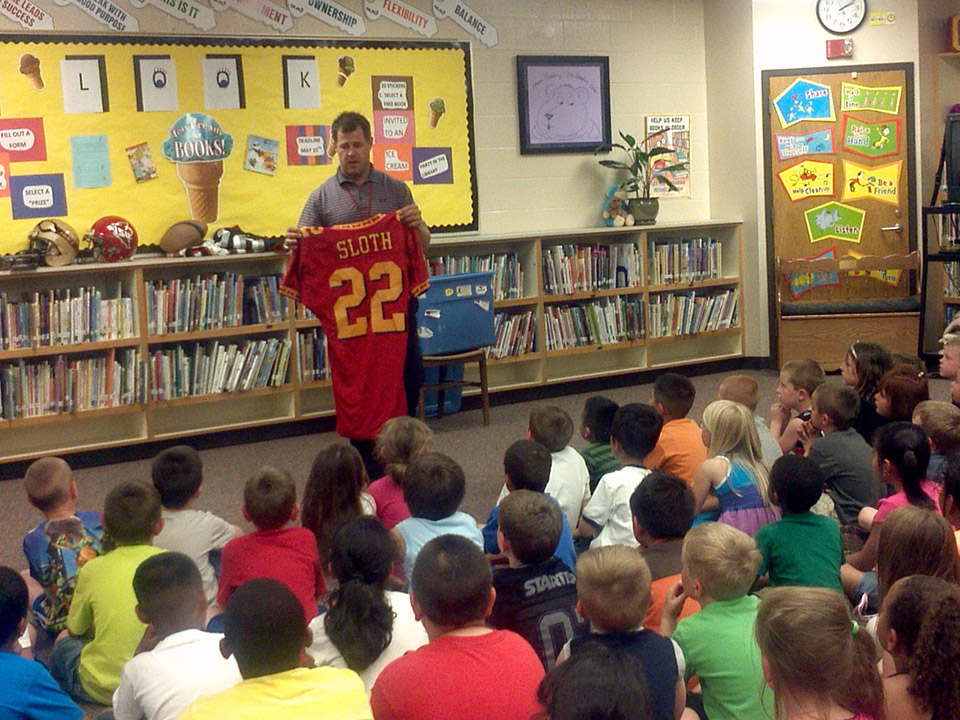 Iowa State's official football website (shown in first picture above) calls you one of their "walk-on greats" and you played for ISU during some of the most transformational years–what is your most vivid game memory?
My most vivid memory (was) beating Iowa in 1998 for the first time in years. It was in Kinnick and the crowd was all fired up early on. We stunned them early with the lead and they were shocked. I played special teams and recovered a blocked punt and almost scored. When the game was finally over and the crowd was dead silent, it was a great feeling! I've been a Cyclone my entire life and every year we would get beat and I would have to listen to how good they are. It was one of the greatest moments to watch them sit there in awe. To be able to say this is a Cyclone State!
Other memories would be beating Colorado in the snow, Missouri on a late field goal, and of course the first bowl victory in Cyclones history. That was the ultimate way to finish a career at Iowa State. To know how much blood and sweat we seniors put in over the previous four years. How hard we worked as a team to turn the program from the worst record in Cyclone history to the best record. And then to celebrate the victory with thousands of Cyclone fans who made the trek to support us out in Phoenix was unbelievable!
Did Coach McCarney have any great motivational tactics?
Coach Mac would come up with creative tactics quite often. Every week we would have goals to accomplish. He would give out weekly awards. We would get t-shirts for certain games. We would always watch highlight videos to get us fired up. He was always looking for ways to motivate us.
Favorite opponent to play during your ISU career?
My favorite opponent had to be the Hawkeyes. That game had so much meaning to the players from Iowa and all the Iowa State fans across the state.  It was pretty cool to play at Nebraska because the stadium was packed with the sea of red. I never liked the outcome, but it was a fun environment. Another fun place for me was playing Minnesota in the Metrodome. Just to know that so many NFL greats had played on that field. In fact, my first NFL game I watched my idol Walter Payton beat the Vikings in the Metrodome. So it gave me chills to know he played in the same stadium.
You were a player and coach for the Barnstormers–what did you love about the Arena Football League?
Following my neck injury, I began coaching in the AFL for the Columbus Destroyers in 2005. I coached Albany in 2007 and (came) back with the Barnstormers for 4 seasons: 2008 – 2011. I loved playing arena football and I loved coaching. The game is really simple and there is only so much plays the opponents can run. The game plan isn't as intense as the NFL or college. Thus, we as coaches had a life outside of football. We were able to get our work done and head to the golf course later in the day or week. We were able to spend a lot of time with our family.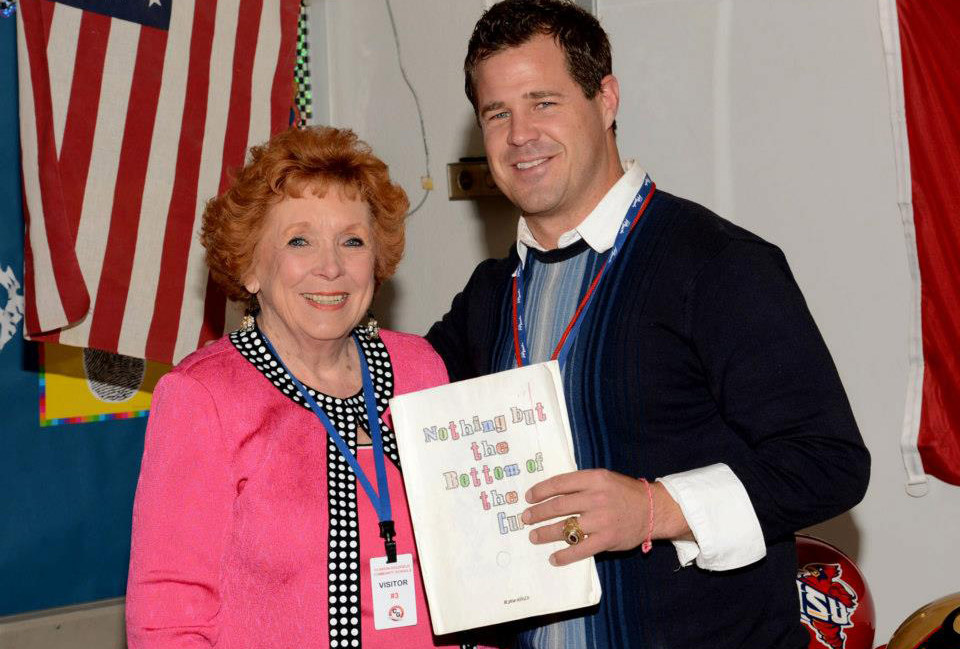 Did you think you would ever be writing children's books?
Not for one minute did I think I would be writing books. I enjoyed writing in school, but never thought about it as a profession. (Ryan is pictured above with his high school teacher Mrs. Hauser. It was in her class that Sammy Sloth was first born.)
What gets you in a creative mood?
I'm probably most creative when I'm driving. I drive quite often and it gives me time to think about new ideas for books and ways to get my books out there. I will spend over a year working on a particular story for a book. I will come up with new ideas and add them to the story. (Shown below is a picture Ryan took of a tornado he encountered while driving near Belmond, Iowa this summer–the experience may inspire a future book.)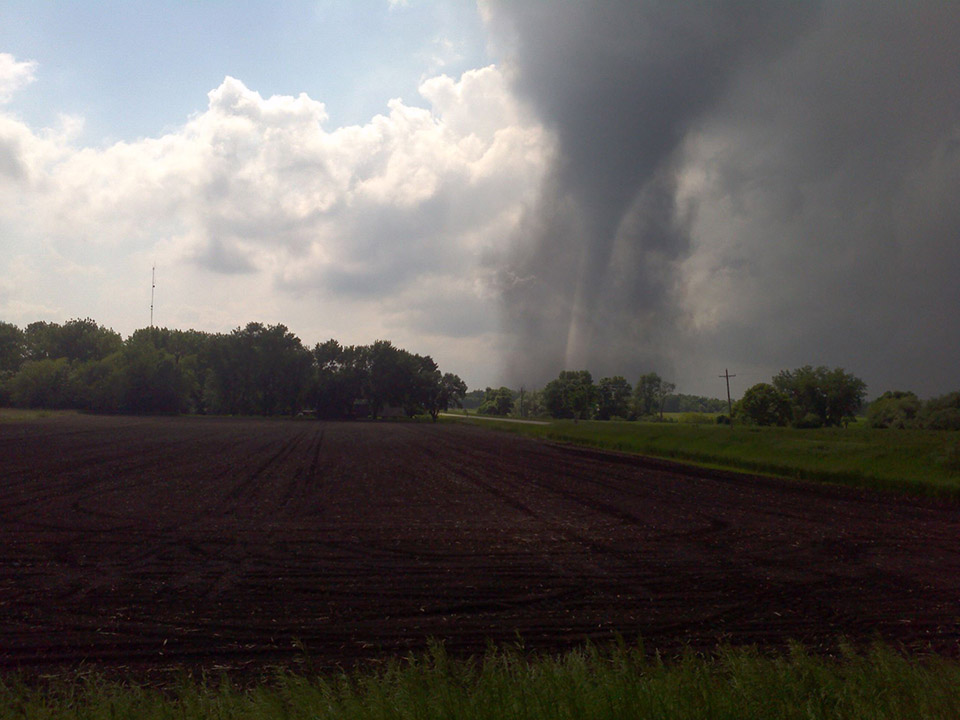 What are some of your favorite movies?
I'm a big movie fan and I'm not too picky in what I watch. I just like to be entertained. I enjoy comedies like Dumb and Dumber, The Other Guys, Step Brothers (any Will Ferrell movie), and Hangover. I just watched We're the Millers which is hillarious. My all-time favorite would have to be The Natural.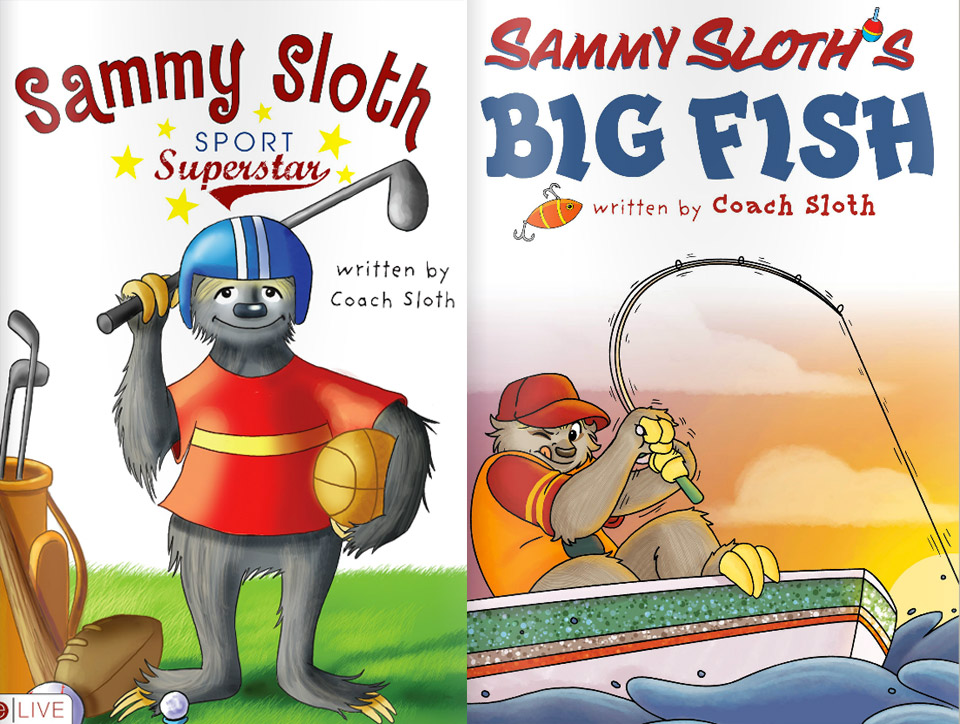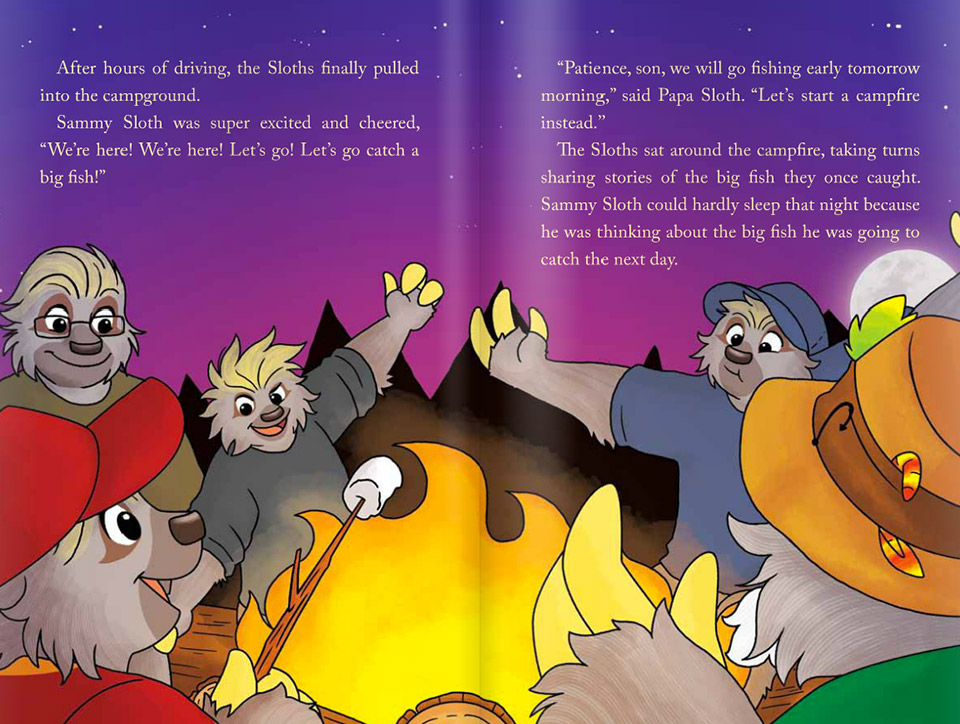 Any bigger plans for Sammy Sloth?
I have a few more Sammy books in the works. I'm really excited about my next one. Sammy goes to an Iowa State football game with all his friends. They tailgate, watch the players come off the bus, band playing, cheerleaders, College GameDay is there, and the best part is when Sammy and friends rush the field after the Cyclones beat the Hawkeyes! I would love to keep writing more and more Sammy books. Maybe even a cartoon or movie someday. (Check out all of Ryan's books currently available here.)
Favorite spots around Ames?
I like being close to the university. There is always something going on. My favorite places to catch a game would be Buffalo Wild Wings, Wallaby's, or Okoboji . I like to eat at the Open Flame in Gilbert or grab a great BBQ lunch at B Fabulous in Huxley.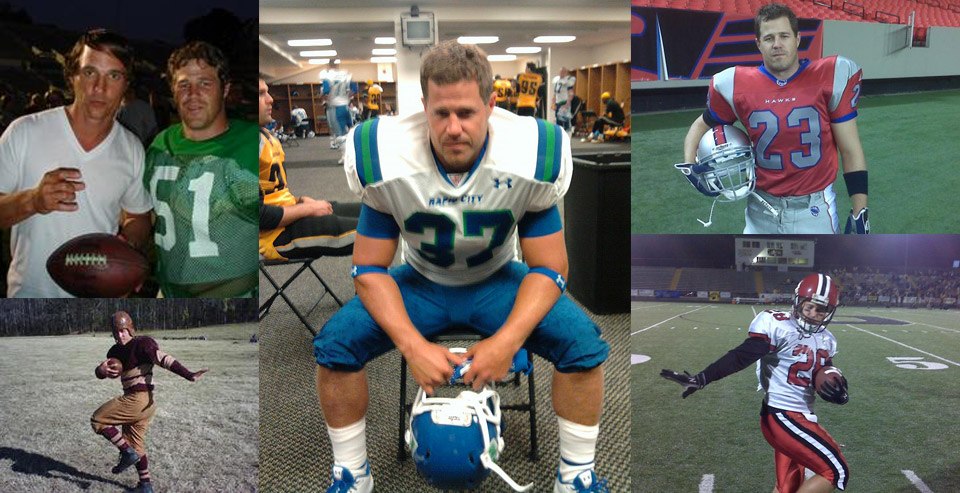 How did you start appearing in movies as an extra?
I got the chance to be in movies after asking my former teammate Damian Groce how he started. He gave me the name of the guy to get a hold of. They use many arena football players for extras in football movies. One of the guys in charge is a former player and AFL coach. What the movie companies do is contract out the sport scenes, so these guys are in charge of choreography, uniforms, and players.
So I called them up and they said they are working on a film that takes place back in the 1970s and they need a bunch of short white guys. I said perfect. Sign me up! I spent six weeks down in Atlanta filming the We Are Marshall movie. It was awesome! It was long days, but an incredible experience to hang out with big name actors, McConaughey, Matthew Fox, and (unknown) back then, Anthony Mackie.
I was kind of lucky to get my speaking role. We were filming a blocking scene and I was just in the background trying to get on camera. The director said, hey let's use the little guy,  number 51. During the first take, Coach McConaughey asked me my name on film. I said, Aaaaaaaa . . . I don't know. He came back in the second take and told me my name was Creel.  So we shot the scene and Coach head slapped me and made me look like a sucky football player, but like I tell all the kids, don't worry, I was just acting! Probably deserved an oscar for my performance.
Following that movie I had the opportunity to work on Leatherheads with George Clooney. It takes place back in the 1920s, so it was fun wearing the old uniforms. We spent about three weeks filming in South Carolina. I worked on a movie called Touchback with Kurt Russell. In the movie, my coach was Barry Sanders. I was a huge Barry fan since first watching him rip off an 80 yard run against the Cyclones way back when. So that was exciting to meet one of my favorite players.
They shot one football scene in The Amazing Spider-Man and I was just a blur in the background. I also got the chance to be in the football scene in The Dark Knight Rises. That was awesome! We filmed it at Heinz Field in Pittsburgh, so a bunch of Steelers came out and filmed with us. I can't imagine how much time they spent making the set. They raised part of the field about five feet and made holes for us to fall into. After we filmed that shot, they did the explosion scene. They laid the field with dynamite covered with sod. They lit it off and grass and dirt was flying all over the place. It really was an amazing experience and hopefully I get a chance to work on some more films.
Where do you want to be in 10 years?
In 10 years I would like to have over 10 books published and a football movie script written and filmed. I would like to be one of the most famous authors from Iowa. I visit schools all over the state and the country working hard to show my books to all the kids. I would like to have visited every school in the state of Iowa. Hopefully I get the opportunity for the world to check out my books on a show like Ellen.
What's your dream project?
My dream project would be the movie script I am working on. It is a football script based on my playing days in arena football. While I was playing out in California we had a pretty good squad, but started out slow. It is about our struggles to reach the playoffs and how we rallied around the unfortunate death of our team leader. He suffered a heart attack during one of our games. It was a painful loss and realization (of) how short life is. It was a reminder to not only play every game as if it was your last, but to live every day as it was your last.
After the interview was completed, Ryan offered his thoughts on the Texas game and I felt they should be included here.
Darn Cyclones got robbed on Thursday. Ugh! Coach Rhoads' reaction was classic. I loved playing four years for Rhoads. He was a coach that you would do anything for. If he said run through that brick wall, you would line up and run through it. Players love playing for him and I know he will get this program to the top.