The Iowa State University athletic fraternity was rocked again recently with the tragic news of assistant football coach Curtis Bray's death at the young age of 43. In the immediate aftermath, players and coaches mentioned Bray's ability to mentor and teach life lessons to others. Many obituaries focused on his long coaching career, but Bray was such a decorated prep athlete that he was Gatorade's National High School Football Player of the Year in 1987-88. Digging further, I found more information about his high school and college experiences that helped define Bray's "life coach" persona later in his career.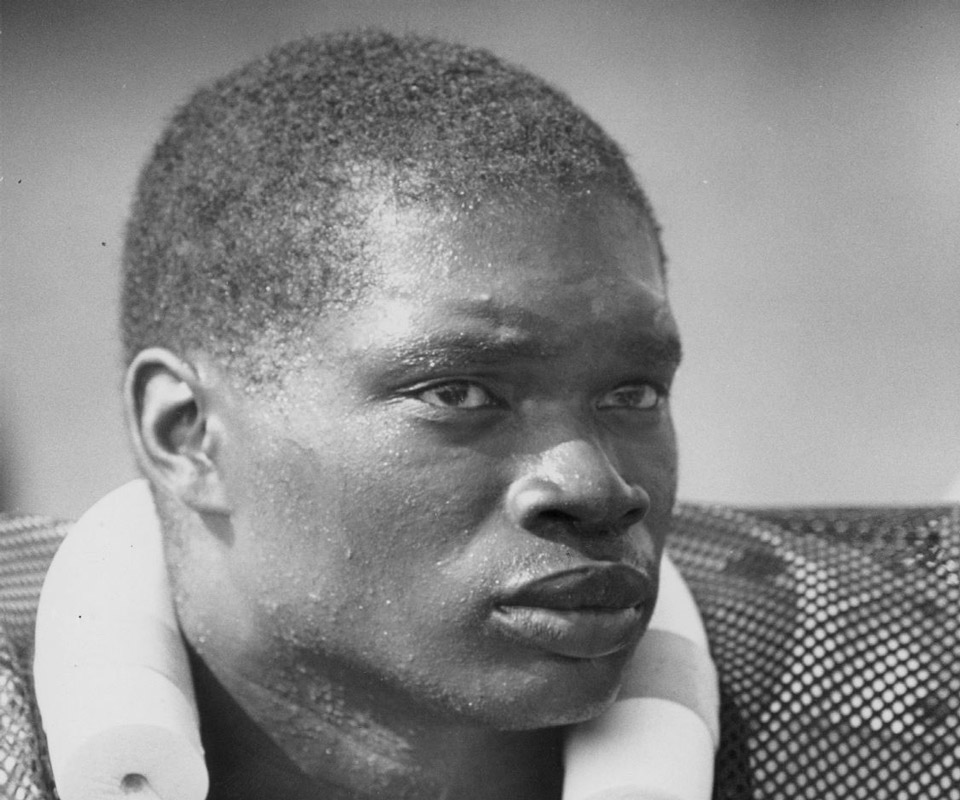 Curtis Bray was born in 1970 into an accomplished, athletic family. Bray's father Charlie was an imposing man who enjoyed a professional football career as an offensive guard in various leagues, including six seasons with the Toronto Argonauts of the Canadian Football League, two seasons with the Memphis Southmen (better known as Grizzlies) of the World Football League, and a brief period with the New York Giants. During his stint with Toronto from 1968 to 1973, Charlie was named to the CFL All-Star team in '69 and '70. In 1971, after negotiations with the Miami Dolphins failed, quarterback Joe Theismann joined the Argonauts and stayed through the 1973 season. Together in 1971, Bray and Theismann led the Argonauts to their first Grey Cup championship game since 1952, although they would lose 14 – 11 on two critical fumbles late in the game–one which can be seen here. The game was also notable for being the first CFL game on artificial turf, which contributed to the traction issues seen in the video.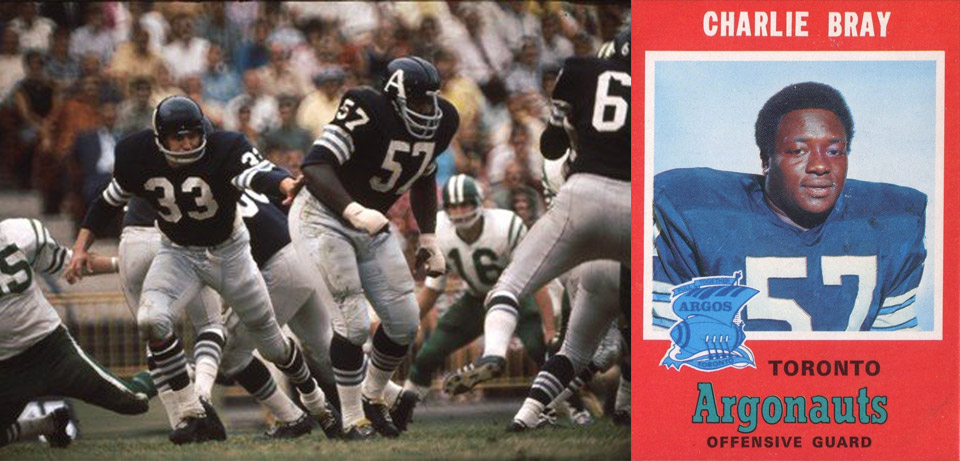 Bray's uncle Tony Peters played for the Cleveland Browns and Washington Redskins from 1975 to 1984, winning Super Bowl XVII. An Oklahoma graduate, Peters was also named to the 1982 Pro Bowl by UPI and finished his 10 year NFL career with 16 interceptions.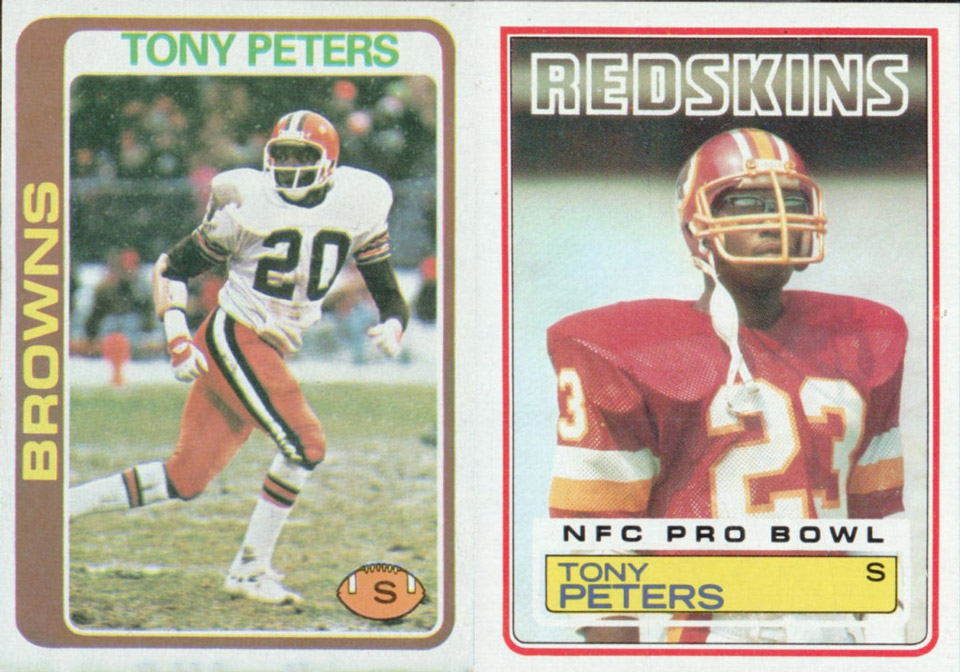 After being recruited by "every school east of Oklahoma and north of Georgia" plus more, Bray's older brother Charles Jr. settled on Yale due to their excellent academic reputation. He played linebacker for Yale from 1985-88 and juggled football training with summers on Wall Street. Bray looked up to his older brother and elders, but was determined to make his own mark in the athletic world.
* * * * *
Gateway High School in the Monroeville suburb of Pittsburgh is located in a talent-rich region of Western Pennsylvania known as the "Cradle of Quarterbacks" that birthed such luminaries as Dan Marino, Joe Montana, Joe Namath, Jim Kelly, Johnny Unitas, and dozens of other NFL quarterbacks. Many important milestones in football occurred in the area including the first pro player, coach, and game in the 1890s. Other innovations included the addition of numbers to jerseys by William & Jefferson in 1908 (although some think Pitt was first) and the first live radio broadcast of a game. With such an extensive football history throughout the region, it took a special player to stand out and Bray was just that person.
The signs were apparent early. As a Gateway Gators freshman in 1984, Bray was elevated to the varsity football squad and in tandem with his older brother Charles Jr. who was a star senior, they led Gateway to the WPIAL (Western Pennsylvania Interscholastic Athletic League) championship game, which the Gators lost. That winter, Bray also led the varsity basketball team in scoring with 15 points per game. As the 1985 football season rolled around, head football coach Pete Antimarino had high hopes for his squad and they responded by returning to the WPIAL championship game where they tied North Hills 0 – 0 and both were named co-champions.
In April 1986 of Bray's sophomore year, the Pittsburgh Press wrote a gushing profile of the emerging star. In the article, Gateway track coach Tom LaBuff said:
"I don't think I've ever had a shot putter who was also a sprinter. There aren't many people who are that strong and that fast. Curtis may be the fastest guy we have on the team. Early in the year, we had (100-meter) trials for the relays. Curtis beat everybody. Twice."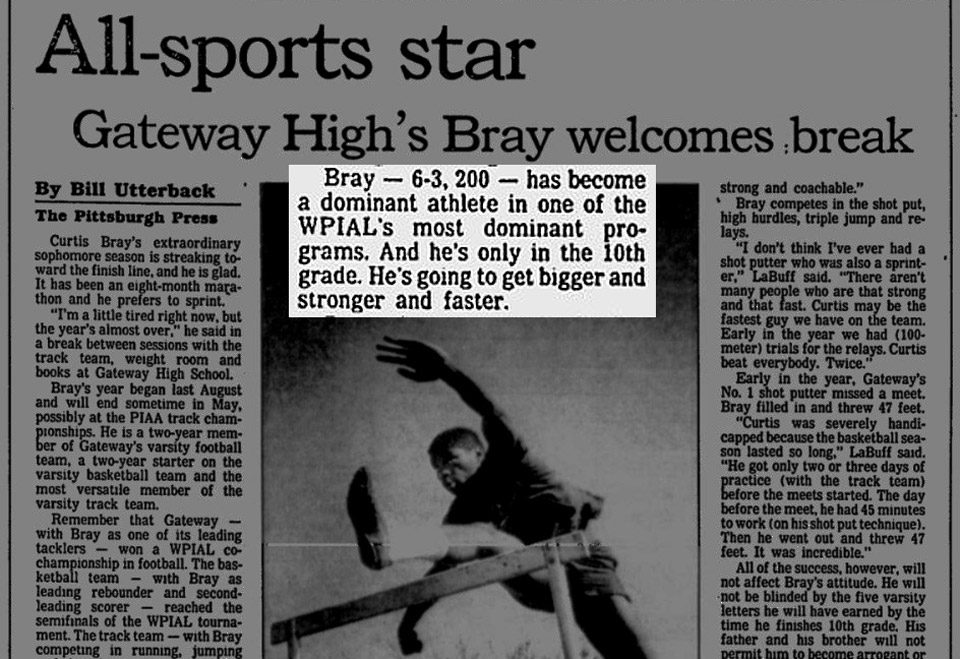 In fall 1986 of Bray's junior season, the Gators football team once again returned to the WPIAL championship game where they faced off against a familiar foe: North Hills, which had just been named the No. 1 team in the nation by USA Today after Emmitt Smith's Escabmia High (Fla.) team lost the previous week. Both teams were 12 – 0 and leading up to the game, Coach Pete Antimarino said "Curtis is very quick and aggressive. He's a silent leader." In front of over 20,000 fans at Three Rivers Stadium, the teams battled to the very last seconds. In the final minute, as Gateway clung to a 7 – 0 lead, North Hills rolled down the field–converting a crucial fourth down and long–and scored a touchdown with just two seconds remaining. Since overtime didn't exist at the time, the North Hills coach elected to go for two and the win. On the sidelines, Coach Antimarino couldn't bear to watch as the last play unfolded (shown below). Bray's defense pressured the North Hills quarterback into throwing an interception to preserve the 7 – 6 win. Finally, the Gators were WPIAL champions. (More can be seen here under "2008 videos.")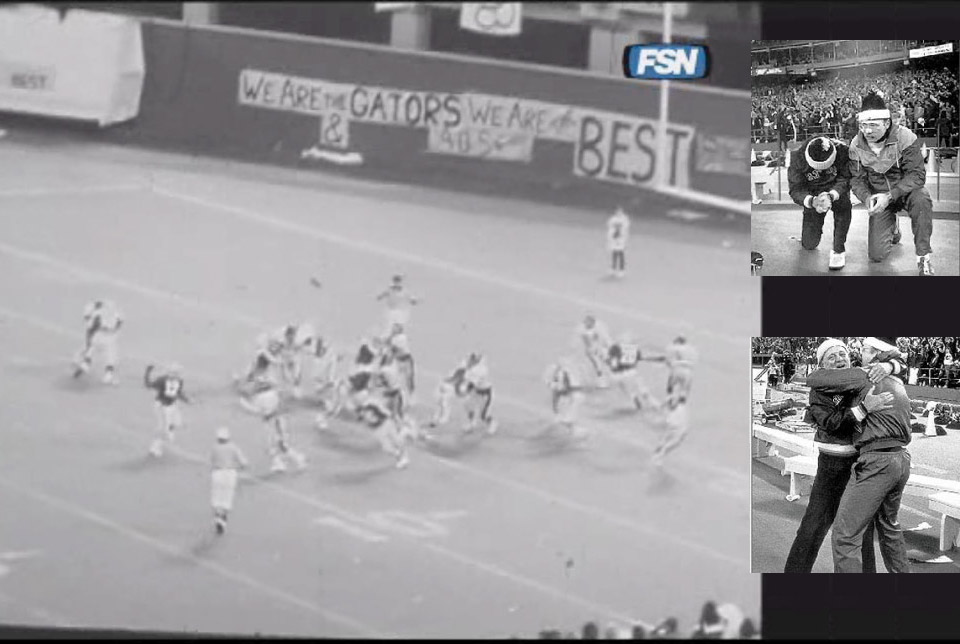 The following season, Bray and the Gators kept humming along, pushing their winning streak to 20 consecutive games. Early in the season, ESPN stopped by to commemorate Gateway's 300th football game and profile the team. After a groin muscle pull slowed Bray in the first few games, he finished the season strongly with 90 tackles despite facing multiple offenses that ran away from him. Some critical injuries took the steam out of Gateway and they stumbled with two losses in the final three games.
In the first round of the WPIAL playoffs, the Gators were down 10 – 6 against North Allegheny and facing fourth down on North Allegheny's 45 yard line with just 23 seconds left. Coach Antimarino called a trick option pass for Bray, which was intercepted by North Allegheny and returned 14 yards before they fumbled back to Gateway. With time for just one more play, the offensive line gave up another sack to end Gateway's dreams of a fourth consecutive WPIAL championship game. Coach Antimarino said afterwards, "Offensively, we have a young line with only two seniors. We have a patched-up quarterback. I figured it would eventually hurt us. Tonight it finally did." (The 1987 championship game was won by North Hills, which solidified their No. 1 national ranking.)
After his high school football career was over, Bray was named to just about every national high school All-American team and many scouting services felt he was the top overall prospect. Both Parade and USA Today named him to their first team. Tom Lemming called him one of the top three players in the nation. Bray took visits to nearby Pitt and Penn State while considering many other elite schools including Stanford, Notre Dame, Michigan State, Michigan, UCLA, and Nebraska. While finishing up his senior season in basketball and track, Bray eventually committed to the University of Pittsburgh football program. In early 1988, the Gatorade National Player of the Year advisory board chose Bray as their third football winner, following Jeff George and Emmitt Smith, who both went on to NFL stardom. In response to the news, Coach Antimarino said, "He is a true champion on and off the field. I just can't say enough positive things about the kid. He deserves everything he has gotten so far and is the type of young man that will continue to work hard in everything he does."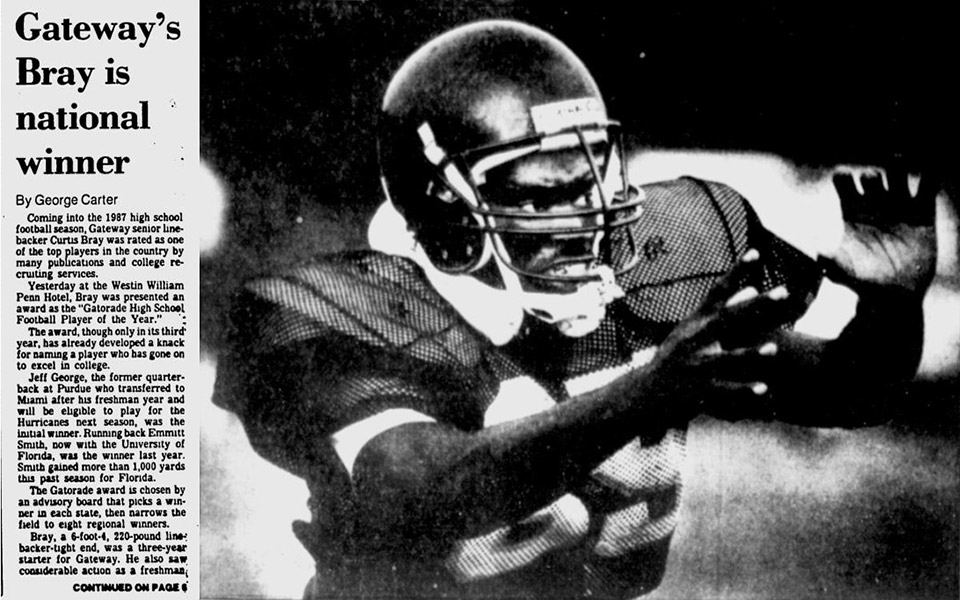 Gatorade was in the midst of an explosion in popularity–just a few year earlier in 1984, the very first Gatorade shower was conceived by the Chicago Bears. Shortly after Bray's award, Michael Jordan soared over a stunned Chicago crowd in the 1988 Gatorade Slam Dunk Championship, forever immortalized by Walter Iooss' photographs. The frozen Gatorade logo in the photos helped pave the way for a revolutionary endorsement deal with Jordan in 1991. To date, other winners of the football award include Robert Smith, Ron Powlus, Peyton Manning, Tim Couch, and even Joe Mauer–the star catcher for the Minnesota Twins, who spurned a Florida State scholarship for MLB fame. Until this year, Bray was the only defensive player to receive the award (Gatorade named Andrew Brown, a defensive tackle from Virginia, as their most recent winner in December).
For the final triumph in Bray's high school career, he ended up winning the Pennsylvania state javelin championship. Impressively, Bray had only started casually learning the event as a junior and after his record-setting throw in the championship, he admitted to a reporter "I don't even take practice throws." His throw of 225′ broke his own school record set in the WPIAL qualification round. That throw of 216 feet was only halted by an unreachable fence at the extreme end of the javelin field. To this day, Bray's 225′ throw sits a mere 20 feet away from the national high school javelin record. Imagine if Bray had actually focused on the event.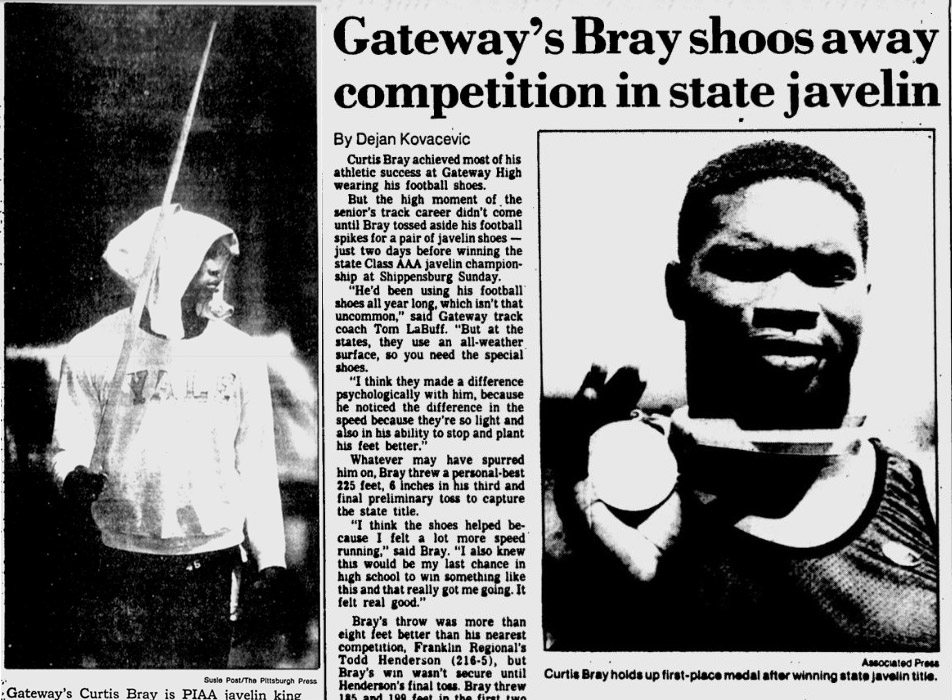 Bray finished his career with four letters in both football and basketball to go with his javelin state title. In 1999, Gateway High School's first Hall of Fame class elected both Bray and Coach Antimarino, who finished his career with "a 236-80-12 record and a .725 winning percentage . . . only four losing seasons out of 32 . . . 17 conference championships . . . and seven championship game appearances."
* * * * *
As a Pittsburgh Panthers freshman, Bray and incoming teammate Mike Chalenski had high expectations from the start. A February 1988 article noted Bray and Chalenski (who would later transfer to UCLA) were both USA Today first team All-American linebackers, giving Pitt two of the three nominees. That same article also suggested that 1991 would be Penn State coach Joe Paterno's last season. Of course, Paterno would go on to coach for another 20 years before the Sandusky scandal engulfed his career. The Pitt football team was coached by Mike Gottfried and Bray's defensive coordinator was John Fox, who is now the Denver Broncos head coach. Jack Harbaugh (the father of John and Jim) also served as the associate head coach.
However, in an ominous development, Bray had arthroscopic right knee surgery in the preseason leading to redshirt whispers, but ended up starting the last 10 games of the season at outside linebacker. (An interesting note: Pitt's opening game was against Northern Iowa and their new coach Earle Bruce, who coached Iowa State and Ohio State previously.) Bray's best game of his freshman campaign was perhaps the Pitt – Penn State game  on November 12 when Bray tallied a safety and crucial late interception to help Pitt squeak by 14 – 7. Penn State had won the national championship two years prior, but thanks to the loss, muddled to a rare losing record. Pitt finished their own season with a 6 – 5 record and high hopes for next year.
On Thursday, May 4, 1989 after Bray's freshman football season, he was approached by Pittsburgh's track coach and asked if he could help them out by participating in the javelin event at the Big East Outdoor Track Championship just three days later. Despite being unfamiliar with the heavier college javelin and not having practiced since high school, Bray finished second in the meet, which gave Pitt their first Big East track title. At the end of the article below, Bray mentioned he had "no problems with injuries now, though. I feel good."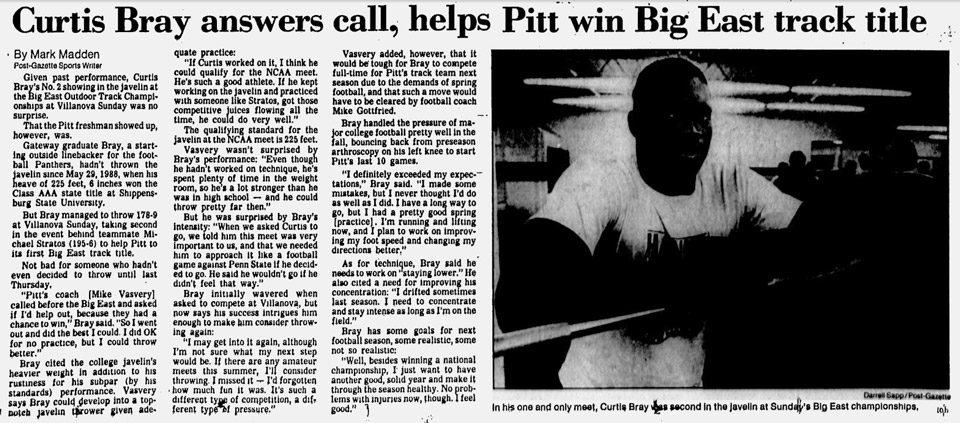 Leading into the 1989 season, Bray's sophomore year, his promise was so tantalizing that The Sporting News placed him on the cover of their annual football preview issue. The Pitt media guide was equally hopeful, choosing to feature him and fellow sophomore linebacker Ricardo McDonald.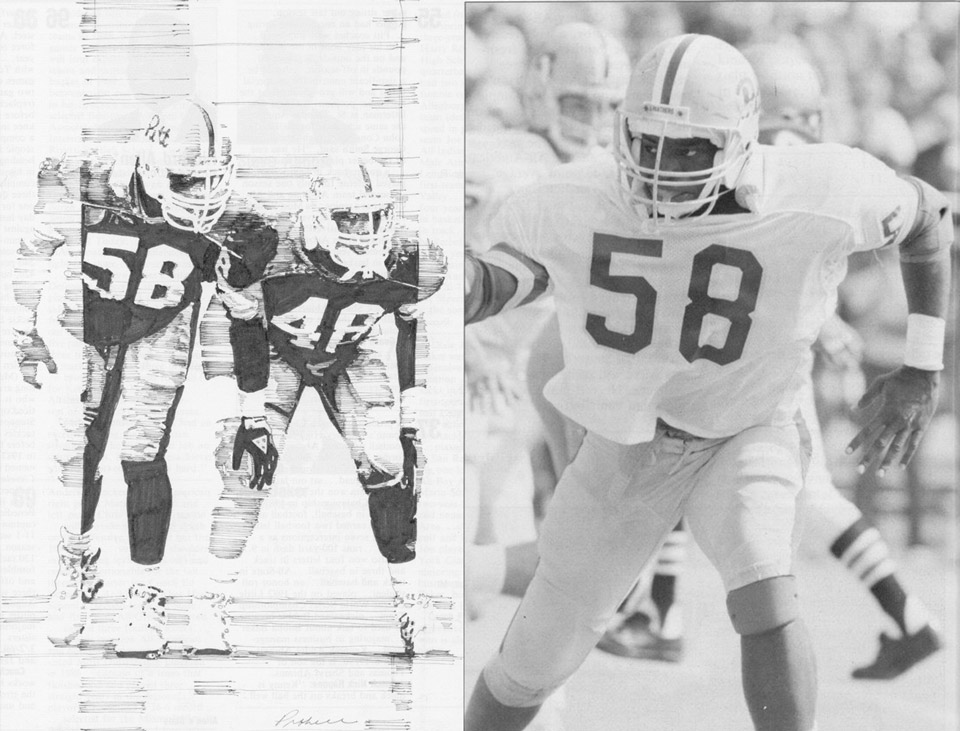 On the defensive line, Tony Siragusa returned from a medical redshirt for his final season. The coaching staff added Paul Hackett as offensive coordinator. Hackett was the passing game coordinator for the San Francisco 49ers in their 1984 Super Bowl season. Thanks to the new additions, the team surged to a 8 – 3 – 1 record and a victory in the John Hancock Bowl (Sun Bowl) over Texas A&M where Bray had 1.5 sacks. However, Bray's arthritic knee limited him all season long.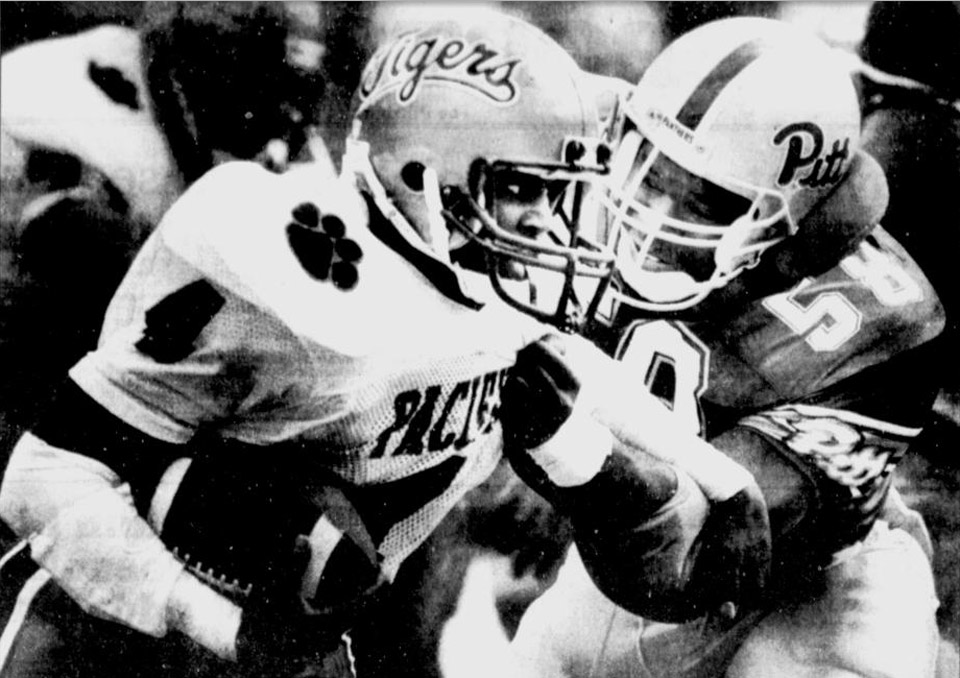 The 1990 Pitt media guide said it all about Bray's third season, "When healthy, junior linebacker Curtis Bray is a force." Despite some injuries in his sophomore year, many observers felt Bray would finally break through thanks to yet another knee surgery that supposedly cleaned up any lingering issues. The NFL Draft Report named Bray to their preseason All-American third team along with fellow linebacker McDonald.
Despite not having a losing record for all four seasons, Coach Mike Gottfried was fired by Pitt due to "differences in philosophy and the operation of his program." Offensive coordinator Paul Hackett was elevated to the top job and other position coaches shuffled around. Bray's new position coach was a Pennsylvania native named Marvin Lewis, who went on to become the current head coach of the Cincinnati Bengals.
Riddled by injuries–including Bray's constant knee issues and a dislocated elbow that led to additional missed games–the Panthers lurched to a 3 – 7 – 1 finish. Compounding problems, the defense struggled through a switch to the 3 – 4 formation. It was slowly becoming clear that Bray's rare combination of power and speed were ebbing away.

With the balky right knee weighing on his pro aspirations, leading up to Bray's senior year, he found time to work as an assistant at the Metro Index football camp and expressed interest in coaching after his football career was over. For the 1991 season, Coach Hackett added a young 28-year-old Jon Gruden as wide receivers coach and saw the team improve to 6 – 5.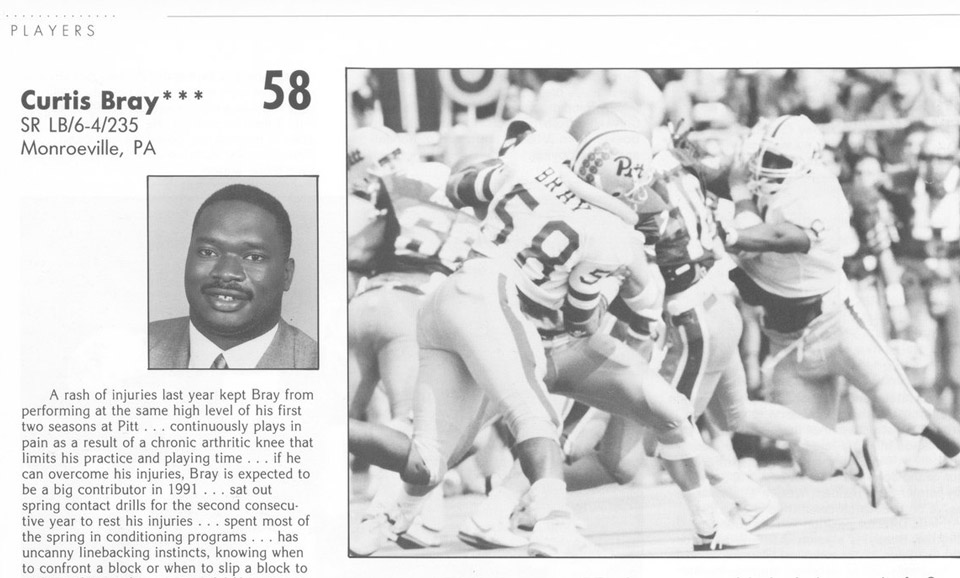 Bray's body broke down again and he struggled through the year, playing in only seven games and registering a mere 29 tackles–the lowest of his career. Bray could only watch as his NFL dream decayed. Fellow linebacker McDonald was drafted by the Cincinnati Bengals along with three other defensive players.
With the famed explosiveness gone from his arthritic knee, Bray turned to coaching after graduating from Pitt in 1992 with an economics degree. After a year in high school coaching, his long collegiate career started with Duquesne in 1993 and spanned two decades. In 2000, Bray returned to his alma mater as the defensive ends coach where he was introduced to the new defensive coordinator named Paul Rhoads. Together, they would later help lead Iowa State University to three bowl games.
Looking back, perhaps Bray's multiple injuries were a blessing in disguise. By focusing on coaching instead, Bray was able to impact hundreds of players through his teachings and life experiences. As we look back on Bray's shortened life, it's important to note that Bray's athletic accomplishments pale in comparison to the crucial lessons he was able to impart upon others who regarded him as a father figure. Curtis will be missed, but his legacy will live on.