Earlier this summer, Lori and I attended Agenda Emerge in nearby Long Beach to hear the creators of four influential streetwear apparel companies detail their experiences in business. The lineup was Jeff Staple, Johnny Cupcakes, Bobby Hundreds, and Marc Ecko. All of them are insanely successful and had very interesting stories to tell.
Jeff Staple uses New York as the "influence behind (his) extensive apparel range and collaborative products distributed in the top retailers across the globe." He is known for the Staple Pigeon that is used in many collaborations with other companies–most famously with Nike. Visit his site here: http://stapledesign.com.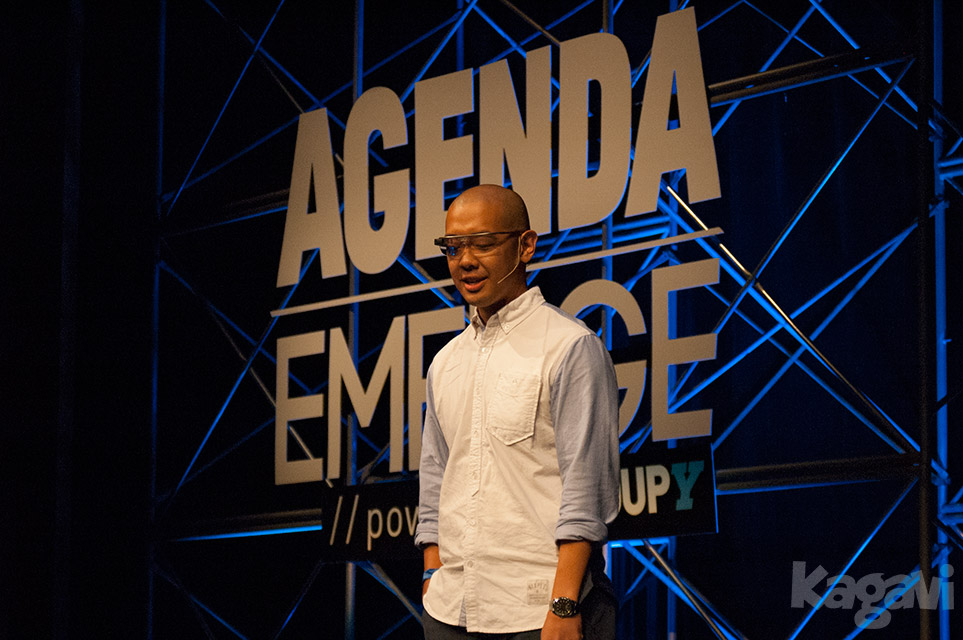 Lori and I loved Jeff's speech the most. He had a mini rant about how people would tell him no without explaining why, which made it very difficult to work around the issue and move forward in a productive manner. He implored us to never accept no for an answer and keep digging to find out why you are being told no. We have experienced the same issues with Kagavi.
Johnny Cupcakes grew his zany concept of cupcakes "from a small idea to a multimillion dollar, highly exclusive t-shirt brand driven by a community of worldwide collectors." Johnny was also "named America's # 1 Young Entrepreneur by BusinessWeek." Visit his site here: http://www.johnnycupcakes.com.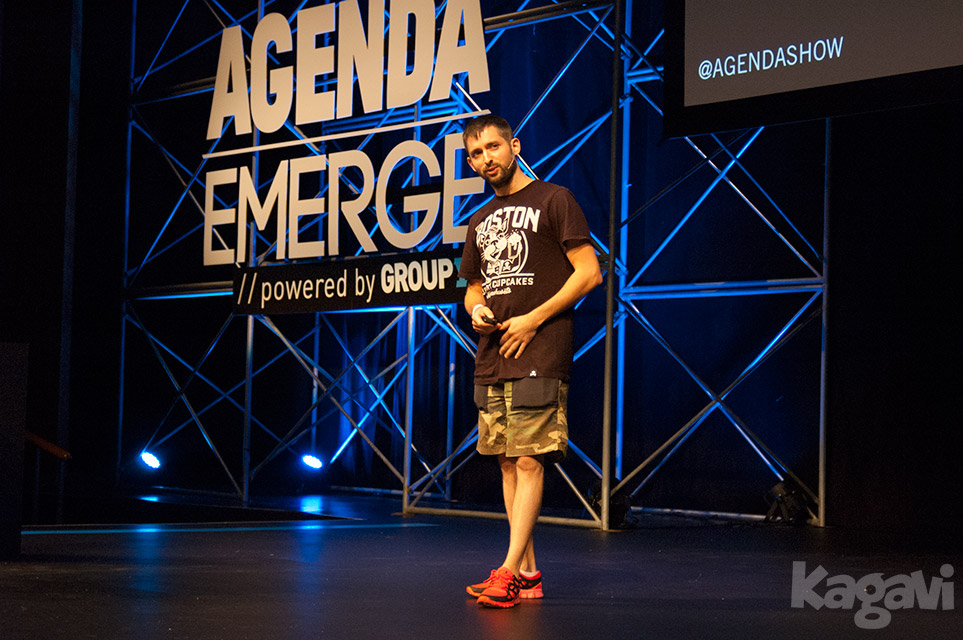 I have followed Johnny's journey for quite some time now and admire how he has opened up stores in Boston, Los Angeles, London, and Martha's Vineyard. Johnny emphasized the importance of having the right partners that fit your target audience and mentioned that his partnership with Hello Kitty sold $500,000 worth of merchandise in 24 hours. Johnny Cupcakes also has a running bakery theme joke, but he doesn't actually sell cupcakes, so Johnny wondered out loud if he should open up a new shop called Johnny's T-Shirts to sell cupcakes.
Bobby Hundreds is the "co-founder and Chief Creative Officer of The Hundreds" and he was "recognized by Inc. Magazine's 30 under 30 issue as well as a cover story with the New York Times Magazine." Visit his site here: http://thehundreds.com (there are some adult themes present).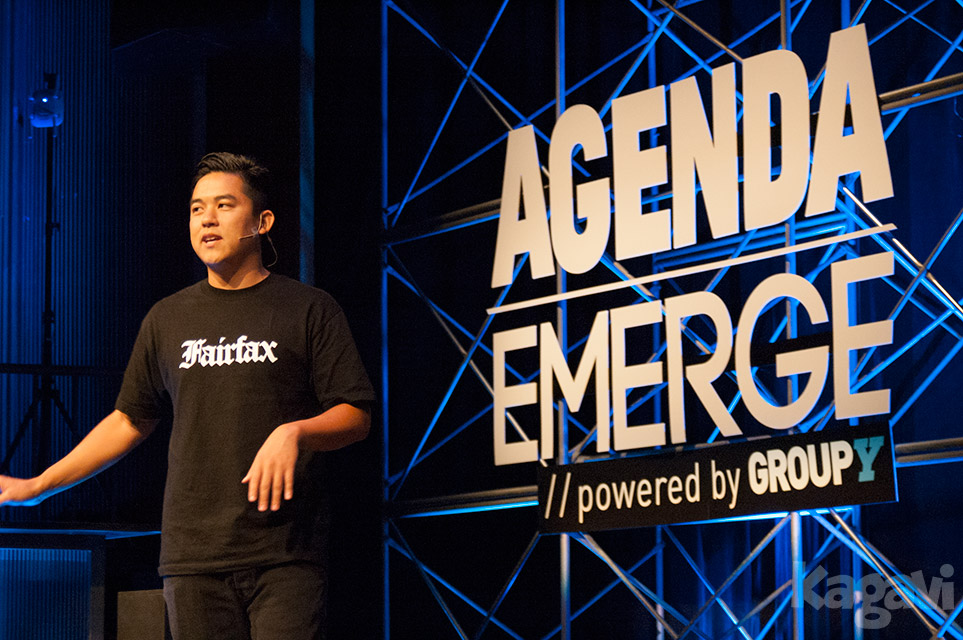 Bobby emphasized a key point that he called Jae's Rule: Consistency Consistently. Bobby is always shooting pictures and writing on his blog and it is extremely rare that he takes a day off from the blog. For a few years now, I have been regularly reading his blog to learn about key events and people in Los Angeles and elsewhere. Bobby is a well-connected individual and through his lens, I am able to participate in the fantasy that I'm also famous and rich. Although I am not a customer of his brand, his consistency keeps me coming back to the website, which is half of the battle in business.
Marc Ecko "is an American serial entrepreneur. He is the founder and Chief Creative Officer of Marc Ecko Enterprises, a billion-dollar full-scale global fashion and lifestyle company." Visit his site–which also features links to his other companies–here: http://www.marcecko.com.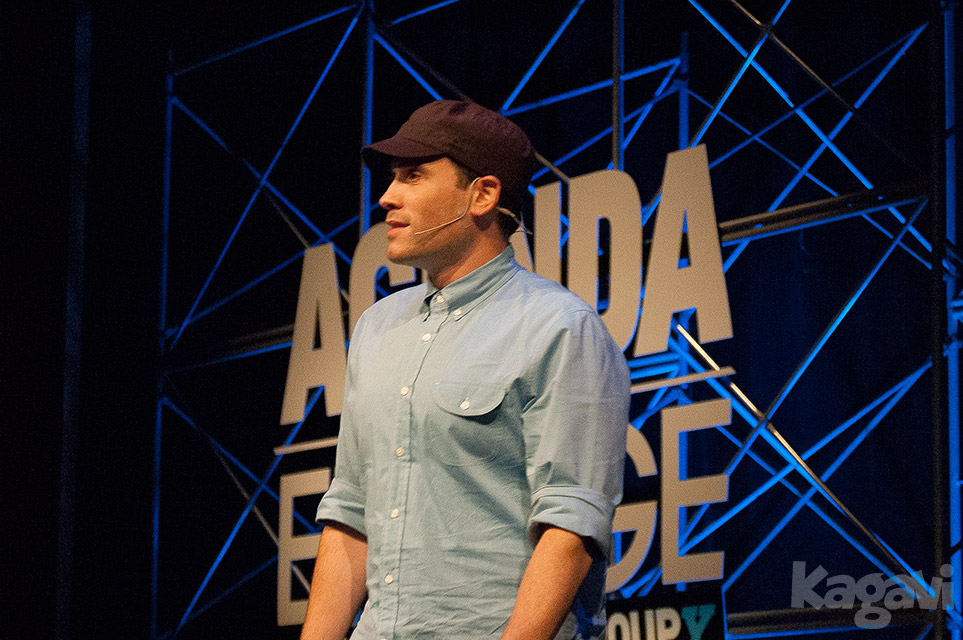 Marc used The Notorious B.I.G.'s "Ten Crack Commandments" song to relate all of the hard-earned lessons in business that he has learned. He had a personal story for each of the rules in the lyrics–for example, "Number two: never let 'em know your next move." If you are pushing the envelope and innovating, there's no point in letting your competitors know what you are up to lest they undercut you. Clearly, it has worked to the tune of $1 billion.
Agenda also posted a short video about the event. Give it a watch here (some swearing in the video):
* * * * *
The Des Moines Register posted a brief story today about Kagavi. I would like to expand on two points in the article: Lori is a cofounder of Kagavi and does far more for the company than just helping me communicate. This wasn't clear in the article. Also, to give more context to the truncated quote that ended the piece–I was simply discussing how when anyone starts a new business, it's an uphill battle to get people to take them seriously. The comment had nothing to do with me being deaf. Quality wins out. Thank you to Lynn for writing the piece.
* * * * *
Starting next Tuesday, we will be sharing how each of our products were designed. Unlike many other brands, we don't believe in hastily made shirts from a clip-art file. These posts will show the research we did to create vintage Iowa State gear authentic to the era. I'm eager to share all of the work that goes into creating a simple Kagavi shirt.