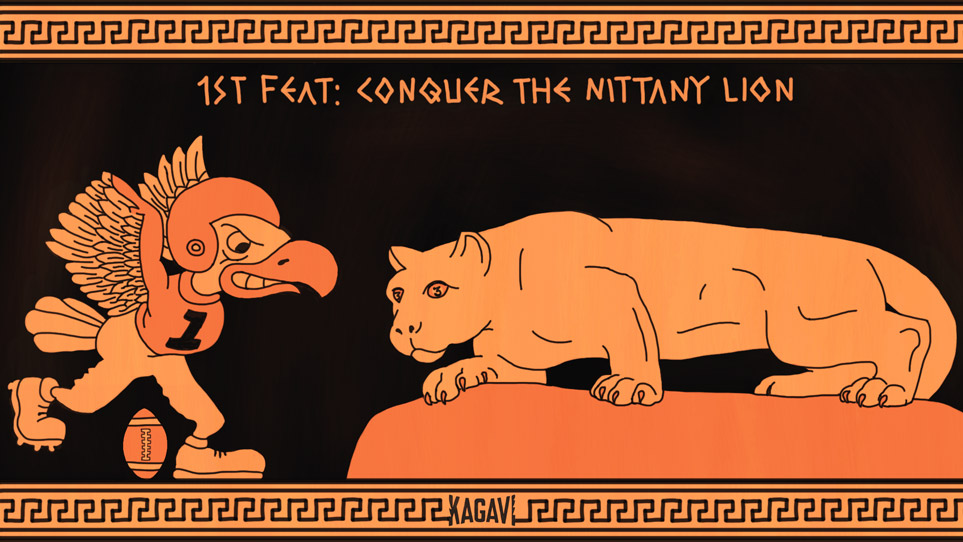 The University of Iowa's mascot Herky the Hawk was named after Hercules, the ancient Greek hero who became famous for his series of impossible feats known as the Labors of Hercules. Inspired by this mashup of ancient Greek and Iowa mythology, we took the 12 most significant football games in Iowa history and created the 12 Labors of Herky.
Each game was chosen to align as close as possible to Hercules' mythological feats and limited to just one game per school used.
_____________
First Labor of Hercules: Slay the Nemean Lion.
The first task given to Hercules by King Eurystheus was to slay the invincible Nemean Lion, whose golden fur was impenetrable to any weapon. Lurking in the rolling hills around Nemea, the lion lured warriors to their deaths, sometimes disguising itself as an injured woman. After Hercules discovered his sharp weapons were useless, a new plan was hatched. The lion often hid in a cave with two entrances, so Hercules blocked one entrance and in close quarters within the cave was able to strangle the lion to death.
When considering all of Iowa's historical rivals, the feline equivalent became clear.
First Labor of Herky: Conquer the Nittany Lion.
On a chilly November day in 2008, Coach Kirk Ferentz and his Hawkeye squad faced off against an undefeated Penn State team knocking on the door of another national championship game. One unexpected Daniel Murray kick later, the Nittany Lion dream was dead and Iowa's resurgence had just begun.
Other games considered:
Despite the relatively short history between the two schools, there were quite a few games that we could've used here. There was the 1996 game where Tim Dwight ran wild in State College in a 21 – 20 victory over #10 Penn State. The 2002 edition of Penn State sat at #12, fresh off a walloping of #8 Nebraska and the overtime contest saw Iowa triumph in overtime despite a furious fourth quarter comeback by Penn State. Unhappy with the multiple blown calls. PSU coach Joe Paterno memorably chased the refs off of the field.
To see the Second Labor of Herky, click here: (LINK ADDED WHEN STORY GOES UP).
_____________
Extra thanks to Matt Fall for some historical background and the fantastic Iowa Alumni Association's Gridiron Glory – 100+ years of Iowa Football project.