Shawn Brogden is a graphic artist for Meredith Corporation in Des Moines where he works on many of their magazine titles including Better Homes and Gardens, Family Circle, Fitness, Parents, and Everyday with Rachael Ray. Shawn graduated from Iowa State University with a degree in visual studies. When not working at Meredith, he likes to ride in RAGBRAI (monkey optional) and loves hanging out at El Bait Shop and High Life Lounge. I first came across Shawn's work through his fantastic jersey concepts that he posted on Cyclone Fanatic starting in early 2012, including the Jack Trice throwbacks that got the attention of Iowa State. When the throwback uniforms were revealed, the ISU athletic department called Shawn to thank him for inspiring the project with his concepts. With the debut of the throwback uniforms coming up in a few days, Shawn agreed to an interview with Kagavi.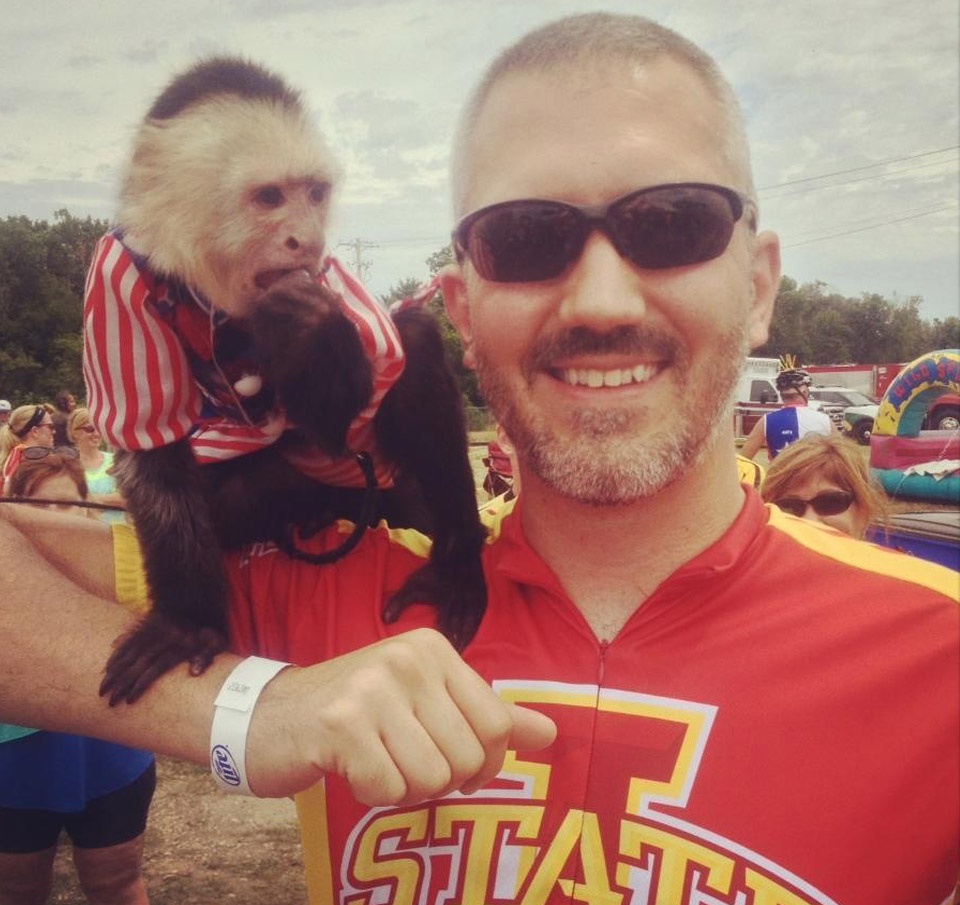 How did you become an Iowa State fan?
For as long a I can remember, I've been a Cyclone. My father got his bachelor's, master's, and doctorate from ISU in microbiology, so he got me started. I also grew up in Boone, IA which is only 15 minutes away from Ames. Really, he was the only Cyclone fan in my family growing up and it was something we bonded over. While I grew up to be the "fanatic," I owe my Cyclone roots to him.
When and how did you start designing Jack Trice uniform concepts?
I think it's been almost two years now since I created my first design. What got me started were the many threads on Cyclone Fanatic about Nike Pro Combat uniforms and people wishing that ISU could get some interesting and fun uniforms. There were also a bunch of posters saying that a Jack Trice inspired uniform would be a great tribute and an interesting thing to do. With that, I decided I would give it a go and see what I could come up with. I have quite a few different versions and even some versions that could be more of an "every game" type of design.
Do you know if the popularity of your designs in social media influenced ISU in any way?
I don't know how much social media played a part, but I know that the Internet as a whole really got the ball rolling. Of course I posted my designs on Facebook and Twitter to my friends, but Cyclone Fanatic is really what got it out there. It got to a point where if you searched for Iowa State uniforms, throwback jerseys, or similar terms on Google, you would see one of my designs in the top results.
Favorite ISU sports memory?
I think the Oklahoma State football game (2011) is up there. I mean, how can it not? After that, one of my all-time favorites was when the 2000 mens basketball team beat Texas at Hilton. I can still remember watching Fizer dunk it over Mihm. The play exploded and was so amazing.
Best tailgate food?
I'm going to have to say the basic cheeseburger.  We do that for every first home game and then after that we branch out. A close second is the breakfast burritos my friend makes for the early mornings.
What food puts you in a creative mood?
No food really, but I usually need hot tea when I work.
Out of all of the uniform variations you designed, which one is your favorite?
I would have to say this is my favorite version. It is one that I think could be modified to be more of an "every game" type uniform. (See picture below.)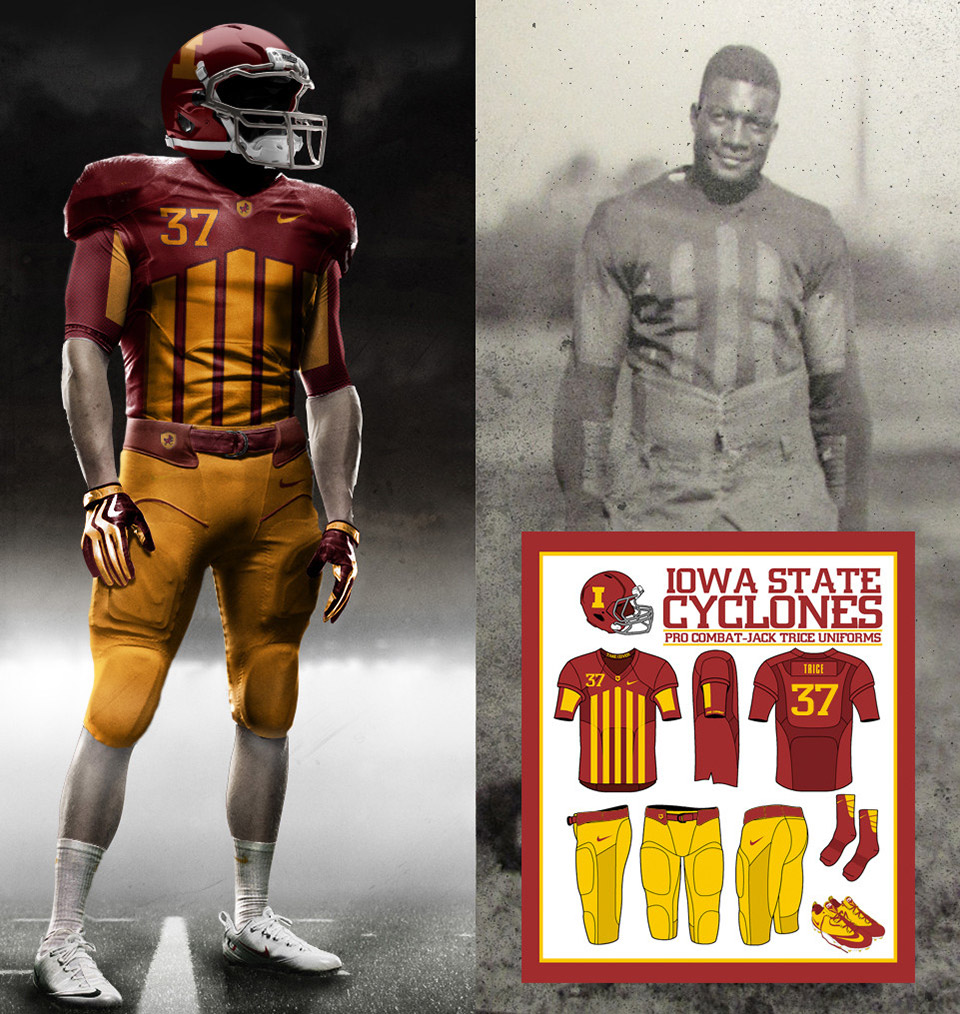 What other throwback uniforms would you like to see ISU do in the future?
I would love to see something from the 1980s when they used (link broken: was the 1980s Cyclone tornado logo) or something that has Walking Cy on the helmet. I might explode with joy if that happened.
Expanding on that further, if you had the opportunity to redesign anything associated with ISU, what changes would you like to see?
I would love to design the posters and love to see Walking Cy on more official ISU stuff. Obviously still use the I-STATE logo, but use Walking Cy as more of our mascot.
Excluding ISU, who has the best uniforms in college football and the NFL?
I think Oklahoma State and TCU have great uniforms with their ability to use black and dark grays and the matte helmets. I'm a Falcons fan, so I'm a bit biased there, but I really like the Seahawks uniforms minus the little white arrows on the collar and accents. I love the blue and neon green together.
Dream job?
My dream job would be working for a company that designs album art and other multi-media marketing items for bands and TV.
How did it feel to contribute in some way to Jack Trice's story?
I still have a hard time believing that I had some kind of impact in paying tribute to such a courageous person. A lot of people have told me that I should be recognized by the university or at halftime or something of that nature. To be honest, I don't want or need that. It might sound cliche, but just knowing that I had some part in actually getting these uniforms created is an incredible feeling. Because of something I did, I've brought attention to an amazing man and his story. I've helped to bring more pride to our players and helped make a huge part of our fan base happy. In the grand scheme of things, these are just uniforms for a sport, but at the same time it's something that brings joy to a lot of people. In the end, it's the little things.