When Jack Trice was in high school at East Tech in Cleveland, all eyes were drawn to him on the football field. His presence was controversial. Political. People were offended. The absolute gall of East Tech to let a "colored" kid play for them. In athletics, Jack rarely saw another black face to commiserate with. He was on his own. Other players and fans saw it. They called him vicious names and told him exactly what they thought of him. Some suggested death as an ideal outcome.
The Ku Klux Klan was growing again, buoyed by films about the glorious heritage that they sought to uphold. There was no question the white man was supreme across the globe. Any dissent would be met with blood. The balm of hemp ropes soothed thin skin. Any meager gains made by black citizens needed to be pushed back.
Jack stepped on the gridiron week after week, immense courage in tow.
_____________
In tribute of his sacrifice, here is a new photo of Jack Trice playing for East Tech, last seen almost 100 years ago.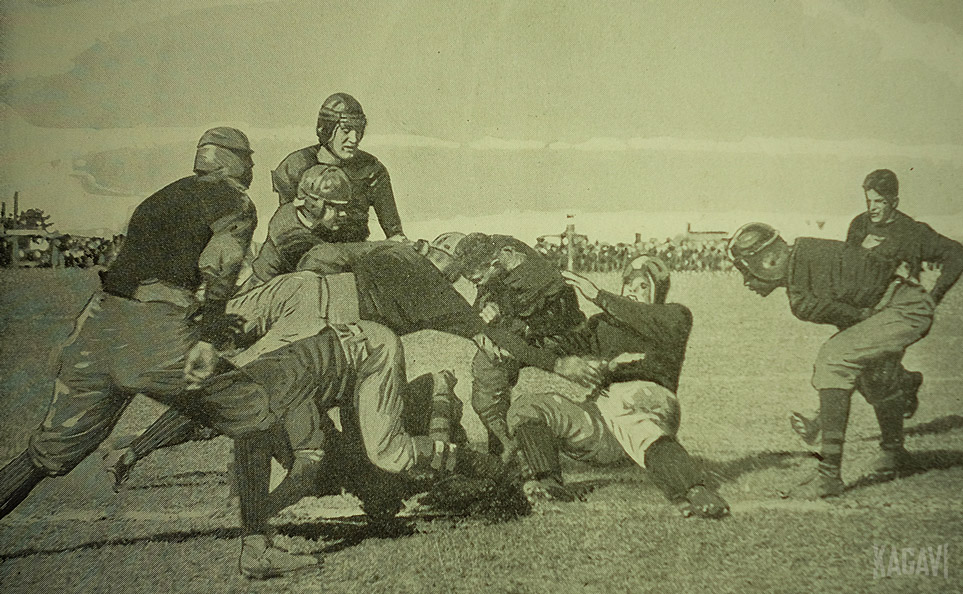 This discovery was many years in the making.
It was only by descending into the depths of Cleveland history and experiencing life during the early 1920s that I was able to find this photo in an obscure spot forgotten by time. Hunch after hunch had to be followed along an unknown path until one day came the metaphorical clink of my shovel on a treasure chest. The photo was not labeled or dated, but there was the lanky frame of Jack on the right, opening up a hole for Johnny Behm to leap through. Johnny was the captain of East Tech and went on to become the captain of Iowa State, finishing his career as a honorable mention All-American quarterback.
It is not an original copy, but a printed version and white marks are visible on some of the players–which was a common practice for reprinting in newspapers. Johnny is not wearing an helmet again, just like the other photo I discovered of Jack and Johnny in the prep national championship game in Washington, seen in Jack Trice and the Nazi Olympiad.
Once again, let us pay homage to the hero of Iowa State formed in the crucible of East Tech.