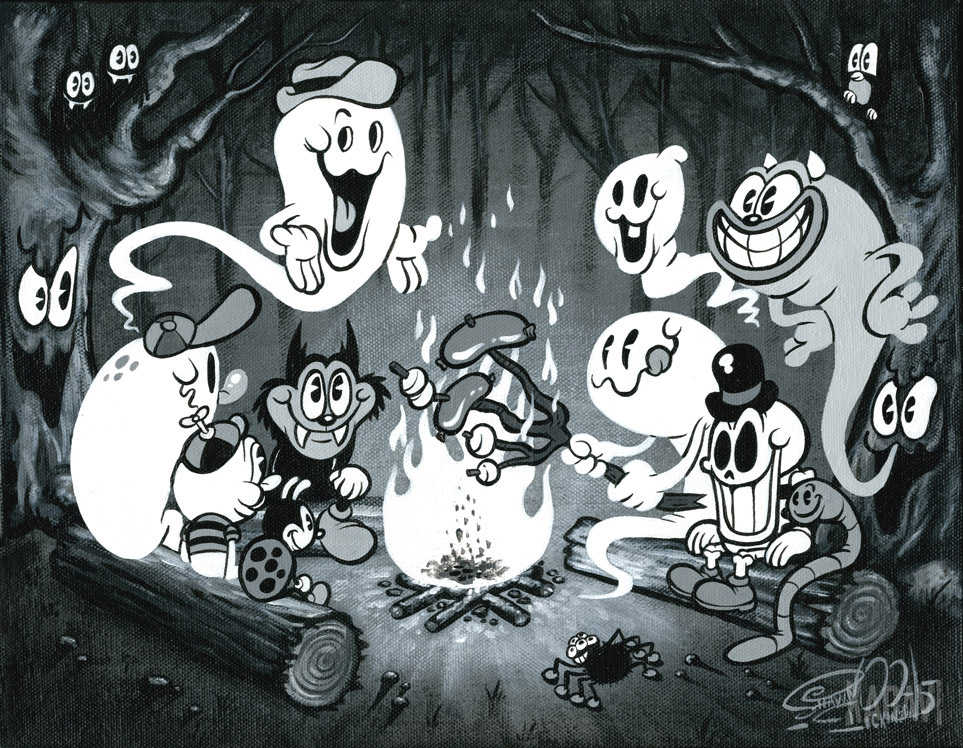 Shawn Dickinson is a California cartoonist who has worked with a wide variety of interesting clients such as Fender Guitars and snowboarder Shaun White's clothing line. His distinctive style has been inspired by a mixture of SoCal influences from early vintage animation, especially the Max Fleischer Studios, to Ed Roth/tattoo artists to comics. We first saw his work in a Popeye art show at Hero Complex Gallery in Los Angeles and thought he was a perfect fit for this project. Find his site here, his Facebook here, and you can also visit his Esty page to see more work for sale.
We asked Shawn to be the second artist for this project and he created a great painting and answered some question for us below.
_____________
What is your Campfire Story?
My campfire story is a true story about the time I was still a young struggling artist. To help pay my bills I worked in the janitorial business. During the day I cleaned office buildings, apartments, and condos. Then at night I locked myself away in my little art studio practicing my art and working on whatever commission work I could seem to muster up at that time.
At my day job, Bob was my boss and owner of the janitorial company. One day, he brought me to a big condo building to clean up. The place had been for sale (furnished), and I was to spruce it up so the new owners could eventually move into it. It was a very nice big condo . . . kind of a classy place. It was still furnished with expensive antique furniture, lots of books on the shelves, and even the photos and paintings were still on the walls. Bob dropped me off in the morning and told me he'd be back in a couple hours to check in on me.
I began cleaning the rooms, scrubbing the bathrooms and kitchen, and dusting all the furniture. After a while, as I was cleaning one of the back spare rooms, I heard someone walking through the condo, shuffling down the long hallway. I remembered I had locked the front door when first I arrived, so I didn't expect anyone to come roaming in while I was here. At first I thought it was only Bob already coming back to check on me, but when I went to meet him I saw that it wasn't Bob at all. Instead it was a sharply dressed elderly man. I asked if I could help him. "Nope," he said. "Just checking up on the place."
I assumed he was either a realtor or one of the new owners, because he seemed to know his way around the place, and obviously must have a key to let himself in. Without asking questions I told him I was almost done cleaning and I should be out of the way soon. "No problem," he said, walking away. He looked back at me and told me I was doing a very fine job. Then he left.
A while later, Bob came back to check on me. He asked me how things where going. "Fine," I said. "Someone came in to check on the place a little earlier. Other than that, it's been pretty quiet around here."
"Someone came in here?" asked Bob, looking puzzled.
"Yeah," I said. "He just came in, told me I was doing a good job, then he left."
"Nobody is supposed to come in here!" said Bob. "What did he look like?"
I described the man I spoke to. I explained that he was an elderly man with grey hair, well-dressed, blue slacks, white shirt, and glasses. Just as I was describing the man I noticed a framed picture hanging on the wall behind Bob."That's him!" I said, pointing to the picture. In the photo was the same man I spoke to. He was standing by a red leather arm chair in what looked like a study, or a library.
Bob's face looked pale. "Are you SURE that's him?" he asked.
"Yeah, that's the guy," I said.
Bob looked at me. His face was white as a ghost."That's Dr. Garrett, the previous owner of this place," Bob said. "He died months ago . . ."
I never did find out if Dr. Garrett really had come back from the dead to check on his place, or if Bob was just playing a joke on me, but I felt eerie for the rest of the time I was there.
_____________
I chose to tell this as my campfire story because I love ghost stories, and this one I was actually a part of. As a cartoonist and a fan of old ghost stories, my biggest influence in my art has been a combination of cartoons, comics, and old black & white horror films. I pull a lot of influence from Halloween-themed animated cartoons from the 1930s, and monster art from the 1960s. My two favorite eras for entertainment are the 1930s and the 1960s, so my art style is mostly a mixture of those two decades. I began working professionally as an artist when I started drawing and selling my own underground comics, paintings, and art prints, all inspired by old '30s cartoons, vintage Halloween art, '60s hot rod & surf, and monster art. From there I kept getting work as an illustrator, drawing in my own cartoony style, and eventually I became busy enough to work full-time on my art and I was finally able to quit cleaning haunted houses!
Favorite trip you've taken?
So far my favorite trip I've taken was when my art first started to really take off. I had my very first art exhibition in Melbourne, Australia. I was invited by Kustom Lane Gallery in Melbourne to showcase my paintings. I had always wanted to visit Australia and when I finally did, it was a blast! The exhibition was a success and I made a lot of friends there who I still keep in touch with. I'm hoping to return for another exhibition soon. Melbourne is a lot of fun . . . a city full of art and music and great people.
What food item is essential for you on a camping trip?
Hot dogs and beer!
What projects are you are working on right now?
Aside from my usual freelance projects of album art, t-shirt designs, etc., I'm also trying to focus more of my time on my own cartoon paintings. That's where I find I get the most artistic freedom and have the most fun. I'm currently working on new paintings for several group exhibitions, as well as my next solo exhibition, which should be sometime in early 2015.
_____________
Purchase Shawn's original "Campfire Stores" painting created exclusively for Kagavi on our SHOP page while you still can!