Dan and Alex McClanahan are the husband and wife team behind McClanahan Studio, which has become well-known in Iowa for their work on the recent ISU basketball posters. Dan and Alex met at Iowa State University and they both graduated in 2008 (Dan in Journalism & Mass Communication, Alex in Graphic Design). In early 2009, they decided to take the plunge and start up their own studio. Dan is the primary photographer, while Alex takes care of the graphic design but contributes her own photography skills as well. Dan grew up in Ames and insists that the third Harry Potter movie is the best, while Alex eagerly hunts down colored yarn for her crocheted hats. Every year, Dan and Alex shoot a fun Christmas card and in their latest card below, they are in the bottom right along with the rest of Alex's family.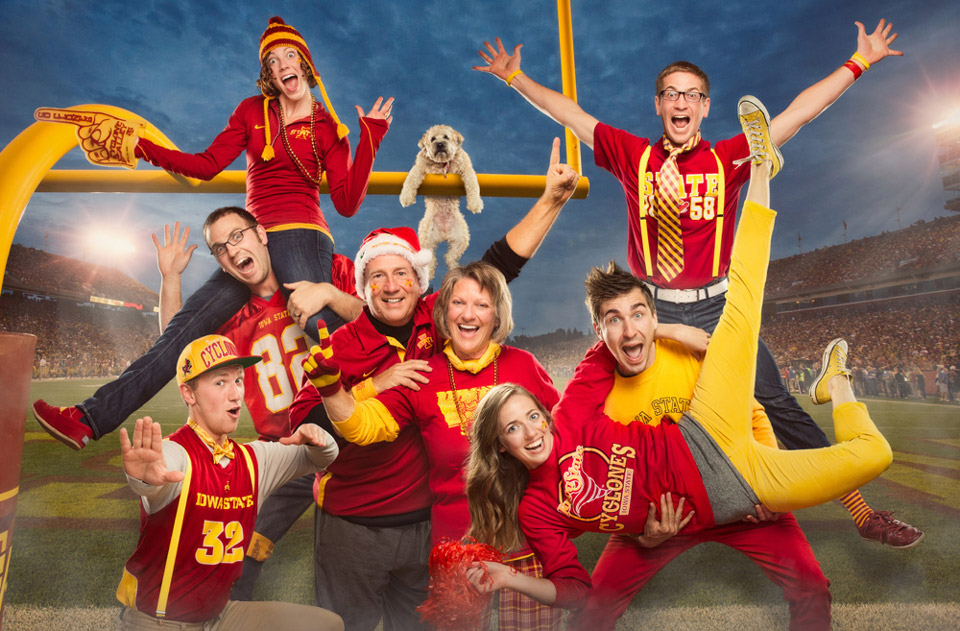 Their work includes commercial, senior portraits, and engagement/weddings, but Dan and Alex are open to just about any assignment. Their official website with many galleries can be found here. They also are active on Twitter and Facebook. I was able to catch them in between trips and they agreed to stop unpacking long enough to answer some questions for us. I have sprinkled some of my favorite pictures throughout the interview, but be sure to see the rest on their site!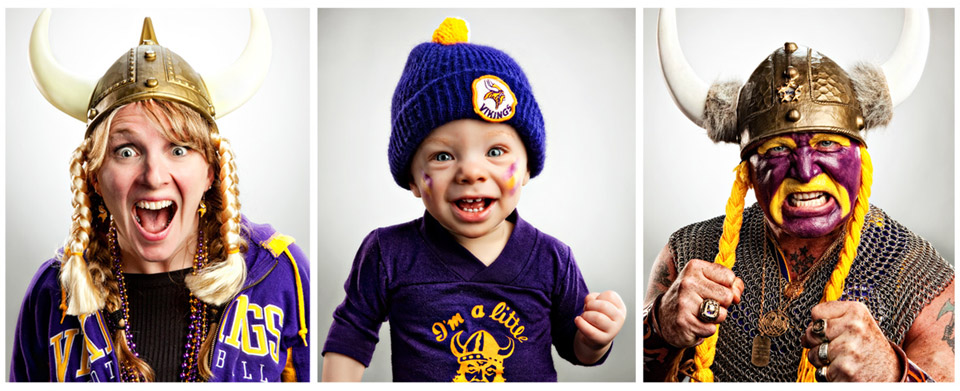 How did you meet?
Dan: we met in an organization called Freshman Council. The first day was picture day and Alex was drawn to me because all the guys were wearing gelled hair and black suits with pink shirts and I was wearing an ill-fitted tweed suit from Goodwill and my hair was a mess. We went out for a coffee and ended up talking through most of the night. It was finals week and I ruined Alex's 4.0 because she blew off studying for an exam to hang out with me! We had an immediate connection and quickly realized that we shared the same core values and dreams. We were both motivated by the other person to improve our individual characters, which gave me full confidence that she was "the one."
Favorite ISU experiences?
Dan: I worked at Jimmy John's as a bicycle delivery guy and one night after my shift I told Alex to meet me at Lake LaVerne and I brought day-old bread so we could feed the swans. Little did I know that swans freak her out, so when they got too close she screamed and chucked hard bread at Lancelot's head and ran away. Romantic gesture fail.
Alex: we have a lot of fond memories at the M–Shop. Dan worked there as a sound tech for a couple years and we went to shows all the time, but our favorite show of all time was a band called Anathallo that played on Halloween. Everybody was in costume and the music and energy was absolutely incredible!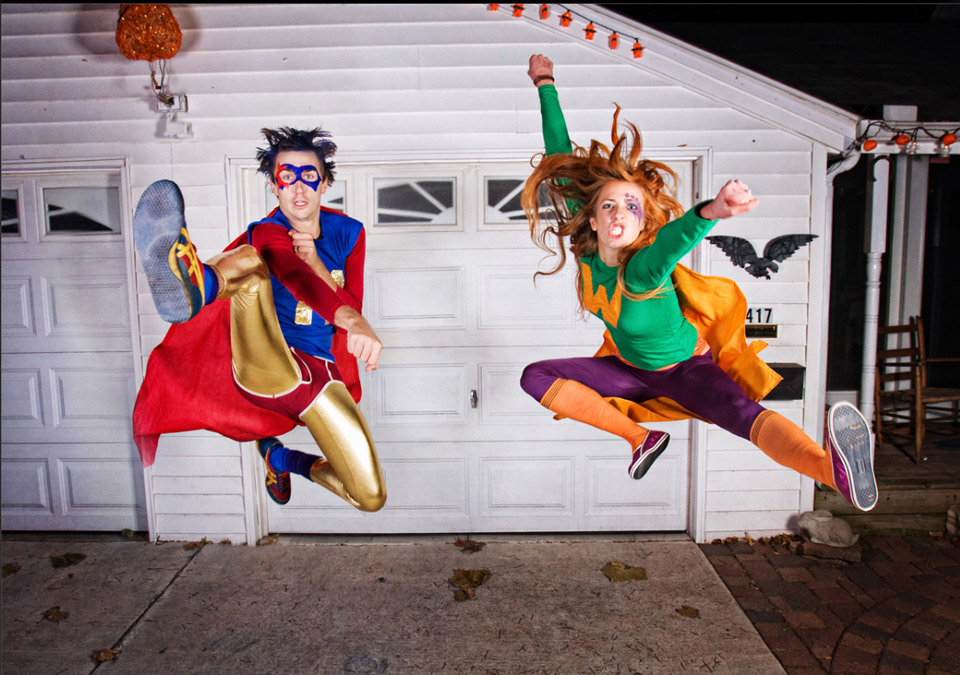 What are some of your favorite places in Ames?
We live downtown so we tend to stay within walking distance: Great Plains, London Underground, etc. We do travel across town for Lorry's Coffee–they're the best! Honestly, we'd rather cook and have friends over than go out. I guess we're getting old! But whenever we're in town for a weekend we hit up the Gyro stand on Main Street. We've eaten a lot more gyros post-college than we did in college. Now that it's not free anymore, we actually go to State Gym to use the rock climbing wall and to attend Sheng Ly's yoga classes–he's the bomb.
Both of you love snowboarding. Coolest place you have been and where are you going next?
Probably the most fun we've had shreddin' pow was at Mt. Hood in Oregon. It dumped two feet of powder the night before we went, so the conditions were unreal! There are some photos from that trip on our blog. We'll be putting a big checkmark on our bucket list later this winter when we go to Whistler in Canada where the 2010 Olympics were held.
Alex, you mentioned your kitchen experiments on the website. What's going well/not so well?
I've gotten really good at sneaking veggies into everything and substituting all the bad–for–you ingredients in a recipe for good ones. Joining Table Top Farm CSA has been a good way to force myself to get creative with new vegetables each week during growing season. A recent favorite was veggie and shrimp sautee on black bean noodles, drizzled in a thai peanut sauce. My biggest disaster was banana chocolate pancakes–Dan hates bananas and I'd hoped the chocolate would mask them–no luck. They ended up emanating banana flavor and he couldn't eat them. I promised him I'd never do it again.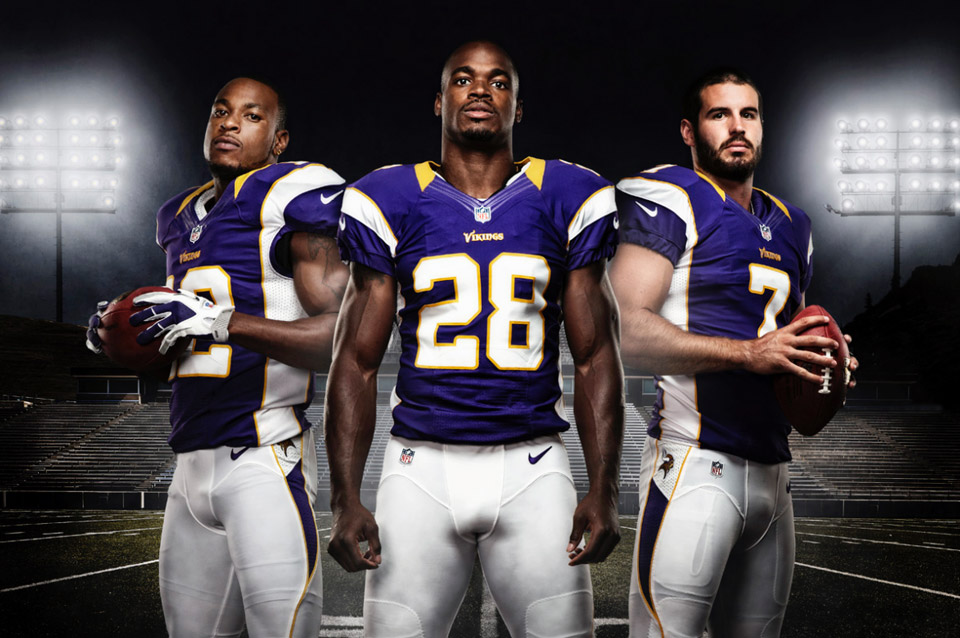 Most of your work is based around weddings and senior portraits, but if you could choose any assignment without worrying about income, what would you do?
We would definitely travel more for personal work and probably try to find a way to use our talents to help those in need. But honestly I think we're pretty content with what we're doing from a creative/satisfaction standpoint. The only limitation to living in Iowa is that most of the cool commercial and editorial assignments happen on the coasts and sometimes I wish we could do more complex projects like the ISU basketball marketing materials, but there just aren't many jobs like that here.
What we've done as a compromise is to apply the progressive style of commercial imagery and higher level of production value to our portrait clients. Photographing something like a wedding or a senior portrait might sound mundane compared to photographing an NFL team, but it's actually a blast! We view it as a challenge to push the envelope of what portrait photography can be, and as a result we've attracted a lot of attention in the portrait industry for having groundbreaking imagery. We gave a platform about senior portraiture earlier this year at Imaging USA (the national convention of the Professional Photographers of America), and we're having a lot of fun with it.
When we're creating a commission for a family we're creating something that has real long–term value in somebody's life, whereas typical commercial images have a very short shelf life. It's very rewarding as a portrait artist to produce images that mean something deeper than just a fleeting "oooh" and "aaah" of an ad campaign, but on the flip side it's a rush to have assignments that present a technical challenge and much impact as a Cyclone basketball poster. I guess we love doing both!
Current favorite photograph?
We each have one image that has scored a perfect 100 in print competition (through the Professional Photographers of America), which is extremely rare, so it's hard not to answer those photographs despite the fact that we seem to have new favorites every week. Dan's print is called "Never Trust a Woman"–don't worry, Alex named it–and ended up getting second place in all of North America in the Kodak Gallery Awards and helped him garner a "Platinum International Photographer of the Year" title from PPA in 2011. Alex's print is called "Josephine and Theodore's Great Adventure" and helped her become "Photographer of the Year" for the state of Iowa for 2013. Both images were done as personal creative projects. We try to do a few of those every winter for the sheer fun of it!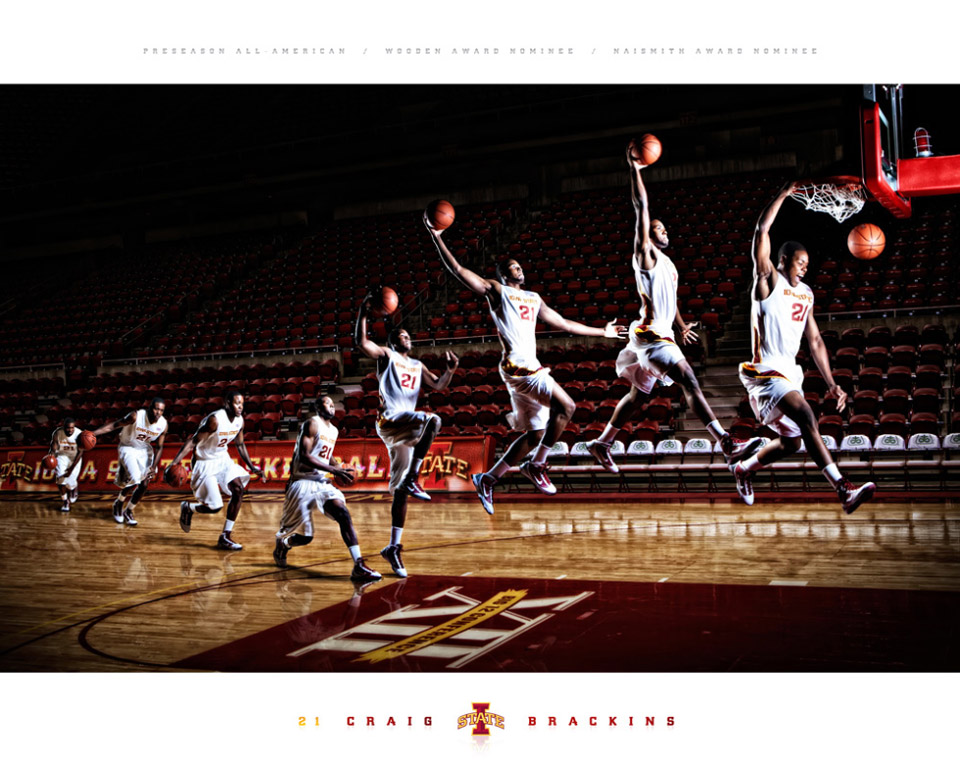 Let's talk about the ISU posters. I enjoyed the blog entries that showed how the 2010, 2011, 2012, and 2013 posters were created. Tell me more about this?
The first one we shot was the commemorative Craig Brackins dunk poster a few years back. After that we became regular subcontractors through The Meyocks Group doing just the photography for bball posters and they would handle the conceptualizing, design and production. Last year was our first year actually having the entire basketball account, so now we handle everything from conceptualization through delivering finished files. (Pictured below are the two posters from that year.)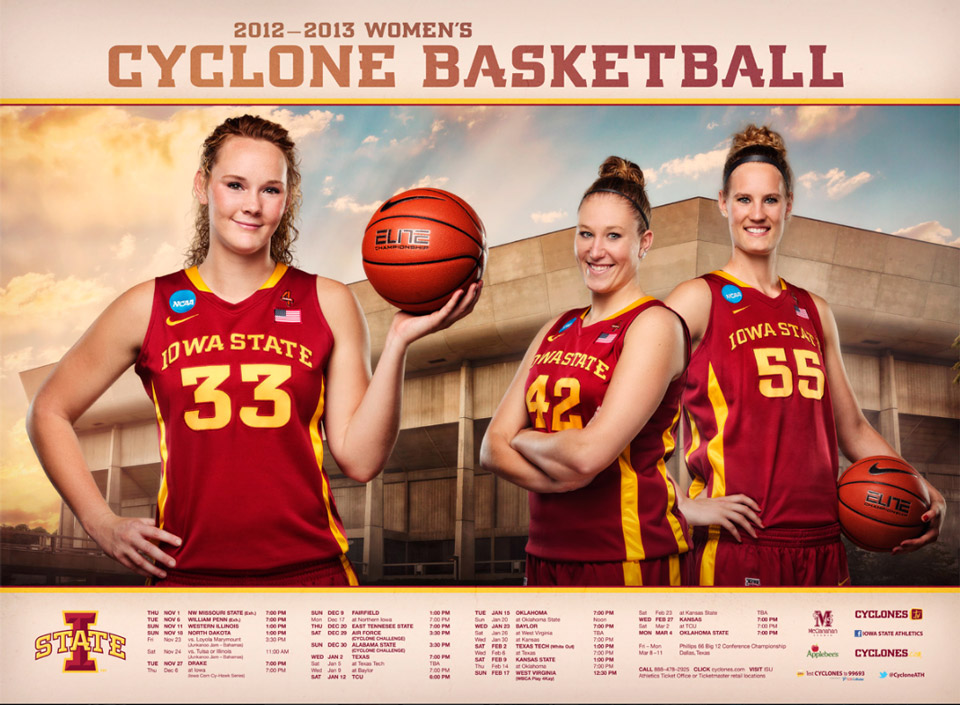 Dan photographs and composites all the imagery and Alex handles the design and typography and makes sure the finished pieces look like they should before sending them off to the printer. Over the course of a season we make the season tickets, schedule posters, team posters, magnets, keytags, billboards and Jordan Creek Mall display. It's our biggest job each year, but also one of the most creatively rewarding because we get to see Cyclone Nation enjoy our work! This year we had fans from as far as three hours away drive to our studio to pick up pre–release posters, and it's fun to be a part of that excitement.
Favorite ISU basketball memory in recent years?
The Michigan game this year was nuts! We were on the edge of our seats the whole game. (Dan) grew up in Ames watching Fred play, so it's cool to watch him transform the program. I'm smelling a great NCAA tournament run this year. Oh, and clone cones. And the guy that runs around the upper deck during the fight song with the giant flag. He's groovy.
Your self-portraits are fun to browse through. Which one is your favorite?
Every time we shoot a new one it becomes our favorite. You should see our apartment–we're running out of wall space! But right now Dan's favorite is probably our lumberjack photo because it contains the three B's: Beard, Bacon and his Broad. It was photographed on location in Brookside Park and the sandwich is real! Two pounds of bacon were fried for it.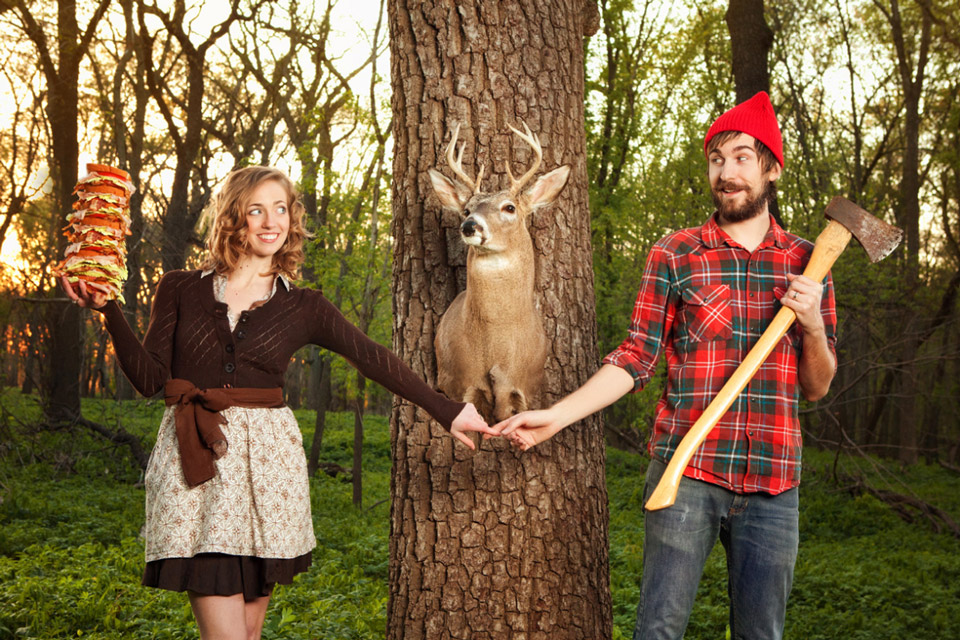 Alex's is currently our selfie on our Vespa. This year we needed a second vehicle so we bought a Vespa and now I need to get Alex some windshield wipers for her teeth! She has an enormous smile on her face every time she rides it. The image was taken on a 10–second self timer and composited onto a separate photograph we took in Times Square.
Favorite photography trip you have taken?

This year we photographed a beautiful wedding in Seattle right around the time of our five-year wedding anniversary. We rented a car afterwards and spent a week driving from Seattle to San Francisco. We photographed fine art landscapes and had many spontaneous adventures along the way. It was euphoric! (Sometime after the interview, they put up a blog post about the trip here.)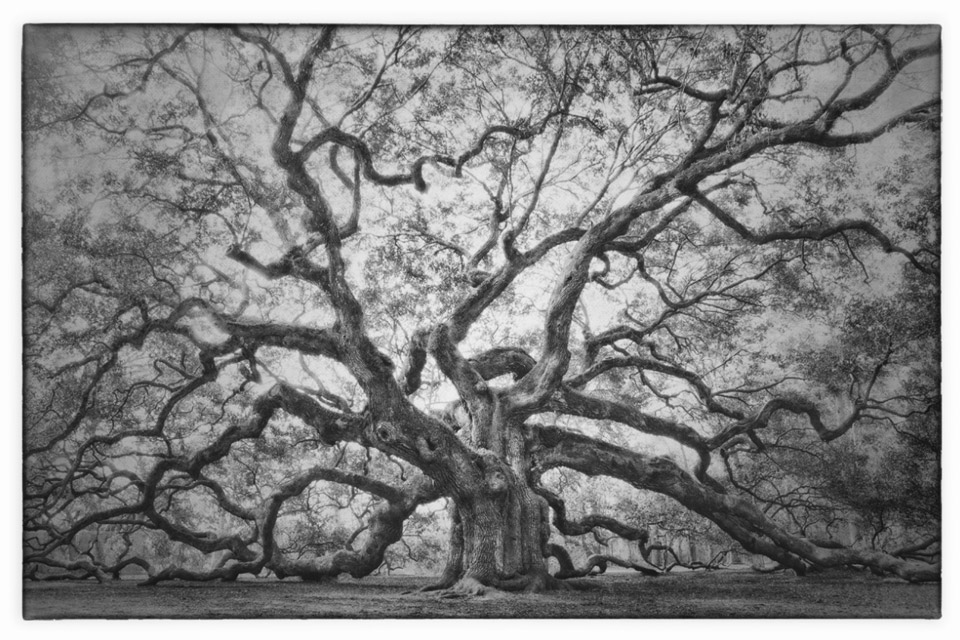 Where do you want to go next? 
Right now we're anxious to go nowhere for a bit! It would be nice to have a weekend where we could just stay home and do nothing. We have our first out–of–country wedding next year in Jamaica, and it would be fun to do more of those in the future. Hawaii and Asia are also on our bucket list!
Dan, who are some of your favorite photographers?
Off the top of my head: Dave Hill, Elliot Erwitt, Joey Lawrence, Dan Brouillette.
Alex, who is your favorite designer?
Meg Gleason, aka Moglea! She's a fellow ISU grad and operates a letterpress studio in Audobon, IA. Her style is amazing and I love everything she does–though her hand-lettered cards top my favorites list.
What gear are you currently shooting with?
Canon 5D Mark III's with a variety of lenses. We get that question a lot, so we've conveniently posted a full listing of our gear on our blog.
Why do you create? 
We create because we were created.