Iowa Nice Guy Scott Siepker has been roasting college football teams this fall in his weekly ESPNU segment and he is part of a trio of creators that make up Iowa Filmmakers. The Iowa Filmmakers' official site shares their "ultimate goal is (and always will be) to tell a good story." Scott proudly lives in Des Moines and graduated from Iowa State University in 2005. In July 2012, Scott gave a TEDxDes Moines talk where he discussed the importance of ambition. Many of his creative ideas come from everyday conversations or simply sitting down and writing. For more of Iowa Nice Guy and other projects, check out Scott's official site where there are also links to his Twitter and Facebook accounts. Scott agreed to stop filming long enough to answer some questions.
You have become world-famous because of Iowa Nice Guy–any plans to further the character?
World-famous is a stretch, maybe Des Moines famous from 31st Street to 33rd Street. I love playing this character, but I think his time is closer to the end than the beginning. Once college football season is over, I'll see where we are and have a much better idea of where the character goes next.
If Iowa Nice Guy ran Iowa State, what would be the first order of business for Cyclone athletics?
If it were up the Iowa Nice Guy, he'd flip off the NCAA and lead college football into its own independent federation, be voted President of that federation, then get a measure passed that gave him absolute power, which he would steamroll into winning the Oval Office, where he would bring peace to the Middle East and free Internet to all.
Why do you create?
I'm a much better creator than destroyer. Also, creating seems to bring more happiness than destruction.
Which film/TV project are you the most proud of?
Wrestling Nice is a piece I'm very proud of due to the amount of time and energy it took from concept to completion and what that complete project looked like.
Marooned is another project I love. I really hope we are able to find a way to film the entire first season. It's a good story with many laughs.
Storytelling takes many forms–who are some of your favorite storytellers?
Jeff Daniels, Woody Allen, Ron Howard, but honestly my family and friends are the most intriguing storytellers I know.
You mentioned the three filmmakers–can you share how each of them has influenced your work?
Jeff Daniels' versatility shown from Dumb and Dumber to The Newsroom is what I strive for in my own career. Woody Allen's ability to create a movie on paper AND be able to see it all the way to the finish is a skill I hope to emulate one day. Midnight in Paris is a fantastic story (with) imagination (that) inspires me to create stories equal to it. Ron Howard's ability to direct any kind of film well makes me very jealous. On top of that, he is a good actor who has a sense of the dramatic with good comic timing. And from what I hear, he is a great man to work with.
What is your role with the kids' soccer club in Haiti?
My girlfriend's grandmother, Barb, makes trips to Haiti and on her last trip she came across this kids' soccer club that wasn't able to play in an organized league until they had the proper equipment. So Barb has taken up their cause and I thought I could help bring attention to it.
In your role with the Emmy-nominated Iowa Outdoors show, which natural location in Iowa is a hidden gem?
Every show I discover something about Iowa I never knew existed here, but the most unique location was Cold Water Cave. It is the 33rd-largest cave system in North America and it is laying inconspicuously under a farm field in Northeast Iowa.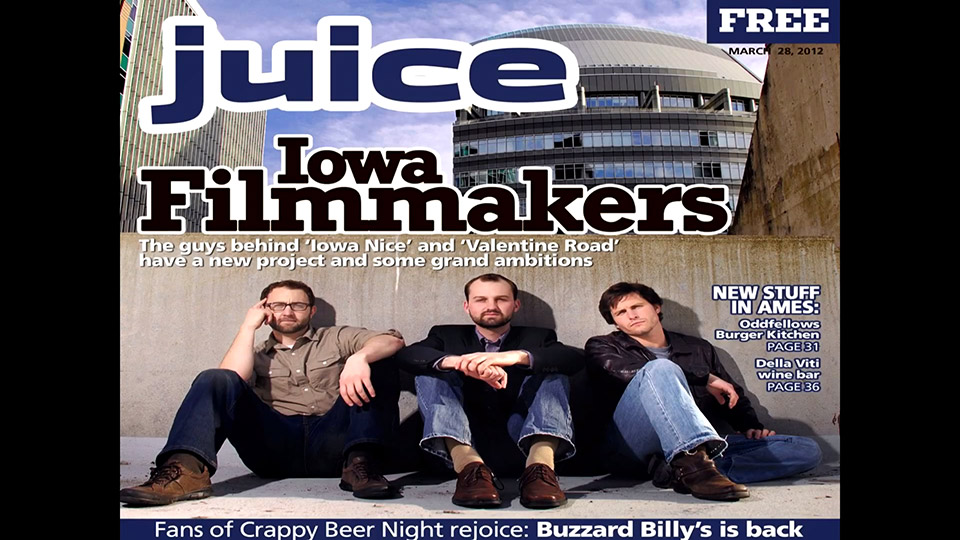 Do you think you will ever move to California to further your film work?
My intention is to have my anchor here in Iowa. I'd love to travel to do film work all over the world, but at the end of the day come back home to Iowa where I hope to produce many film and theater projects to help create more opportunities for Iowa artists to stay in their home state to work.
If I handed you $100 million, what dream project would you create?
I'd like to build the best regional theater in the country in Des Moines. A beautiful mid-sized theater is missing from the artscape of downtown. Once that is built and a great organization is in place to run it, Des Moines would be even more of a destination for artists to make their homes here.
Any plans to shave the beard for Movember?
No plans at this point, but there is a price on everything . . . let's talk about that $100 million.