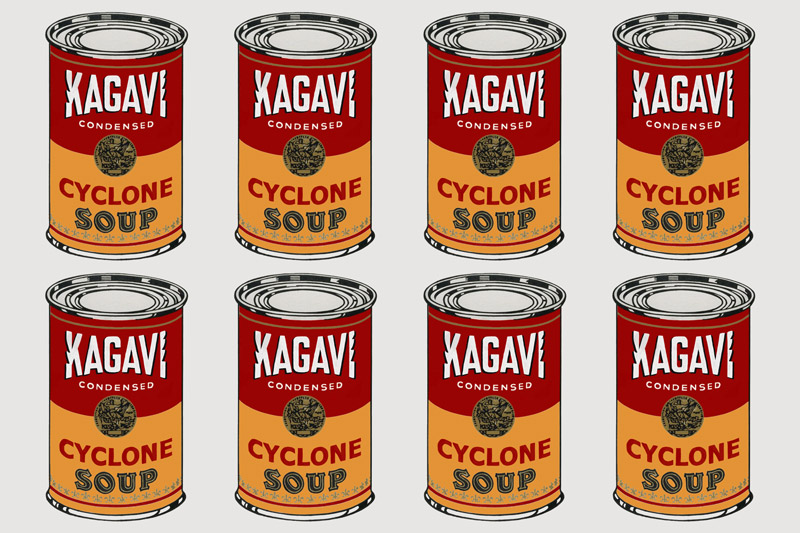 (Originally published at SB Nation's Wide Right Natty Lite.)
In the current era, Iowa State usually cannot compete with top schools for elite football recruits, probably because those schools have a bankroll that would make Pablo Escobar's accountant blush. Despite this handicap, Iowa State has turned out talented players and there have been a few times that the nation's best picked Iowa State over traditional powers. While every fan can name the stars, some of those players failed to reach their potential and have faded from memory.
Let's look at three of them and consider what might have been.
JERRY MOSES
The Summer of Love was fading from memory when new coach Johnny Majors fired a shot of adrenaline through Ames. His enthusiastic staff combed the country to pluck George Amundson out of South Dakota, Matt Blair out of junior college, and Keith Krepfle, who became the first Cyclone to score a touchdown in the Super Bowl.
Amundson remains the only Iowa State player selected in the first round of the NFL Draft, while Blair was a perennial All-Pro for the Minnesota Vikings, but it was another player who was thought to be the Cyclone future, Waterloo East running back Jerry Moses, a prep All-American.
During his senior year, pretty much every college offered Moses and the scant few that didn't, probably got Iowa mixed up with Ohio or Idaho when mailing their offers. Here was Moses slicing across the field while women and men swooned in the stands, the Santa Claus of Waterloo handing fistfuls of touchdowns out to all. In the second week of the season, Waterloo East beat Newton 98-6 and national magazines honored Moses while he talked about a career in the NFL.
After initially signing a non-binding offer with Iowa, the sheer charisma of Majors pushed him to Ames, stunning coaches around the country. Majors exulted, "Signing Jerry Moses gave us a taste of champagne. It gave us a taste of winning." This was not the same old Iowa State and the Iowa City newspaper recoiled in horror, "Prior to that moment in history, I can't think of another outstanding prep football player the University of Iowa ever wanted who went to Iowa State."
Moses quickly impressed on the freshman team, earning the Superman nickname from his teammates after successfully diving for a touchdown from five yards out, but he was cruelly robbed of a chance to make an impact. Each season brought constant injuries including crudely repaired knee injuries and Moses never even scored a single touchdown at Iowa State.
Intrigued by changing the culture at Iowa State, Majors turned down multiple college and pro job offers, but was eventually lured away by Pittsburgh in 1973. At the time, the NCAA had no limits on scholarships, so Majors convinced Pittsburgh Chancellor Wes Posvar to let him hand out 83 scholarships for his first recruiting class. That incoming class was bigger than the entire varsity squad of most schools and four years later, those players won the national championship.
Despite winning a title with Hall of Fame running back Tony Dorsett, Majors reportedly felt Moses was better.
CHRIS BOSKEY
Earle Bruce's Cyclone teams were chock full of defensive stars and impact players who formed the bulk of the greatest Cyclone teams ever. In his first year, Iowa State traveled to Arkansas where Matt Blair famously delivered a devastating hit on all-Southwest Conference running back Dickey Morton who said he "went about 10 yards backwards" and "I don't see nothing. And I didn't feel nothing."
In typical Iowa State fashion, the Cyclones lost the game by two points when Arkansas scored the game-winning touchdown with 12 men on the field while the referees ignored Bruce's sideline histrionics. Stick that one on the apology wall too.
In later years, Bruce and his coaching staff noticed the national attention on a tough defensive lineman from the gritty south side of Chicago, Chris Boskey, who was named Illinois Player of the Year. There were whispers he could only be compared to one other Chicago product, Dick Butkus, in the way he swarmed the field and loomed over souls like the specter of death.
Boskey was the football equivalent of Schrodinger's cat, present in all states at once: a colossal hulk blowing up the line, a sleek whippet making a sidelines tackle, at the bottom of the pile, on the top of the pile, inescapable. He may even have served hot dogs in the stands too.
He ended up snubbing every football power in the country to head to Ames, largely because older brother Tom was already there. He was grateful for the distraction of football, remarking "I'd probably be on a street corner or stealing jewels somewhere. I was in a tough situation."
Unlike Moses, Boskey gave fans a taste of what could have been, tallying 131 tackles as a freshman, while playing alongside Tom. All this did was lead the Big 8, which was an incredible accomplishment for a rookie lineman. After injuring his knee, Boskey was never the same player again, but despite a knee held together by twine and chewing gum, he managed to letter in all four seasons.
In 2012, Boskey was named to the CSN Chicago list of all-time greatest high school players from the state of Illinois, joining such players as Red Grange, Otto Graham, Mike Alstott, Dick Butkus, and Clay Matthews.
JACK TRICE
You knew this one was coming. When Jack Trice was a junior, he starred in the high school national championship game on New Year's Day, 1921 against a historically dominant Everett High team full of older kids, led by Hall of Fame back George Wilson, the Pacific Northwest's answer to Red Grange.
For those of you who are not pushing 100 years old and don't remember Red Grange, he was the face of college football, so famous that he formed his own pro league to go against the NFL. Just imagine if LeBron left the NBA to start the LBA (LeBron Basketball Association).
In the college world, Notre Dame won national championships in 1919 and 1920, although they officially claim 1924 as their first. Football was rapidly becoming a midwest darling and after Jack's undefeated senior year at East Tech in Cleveland, college teams took notice of teammates Johnny and Norton Behm, but conveniently ignored the dominant lineman that tore gaping holes for them to scamper through. No amount of coaching could erase Jack's black skin.
Notre Dame scooped up the Behm brothers, envisioning them as future Irish stars, but wouldn't welcome their first black player for another three decades. With Jack's options severely limited, he was planning on attending a smaller school, but when their coach Sam Willaman took the Iowa State job, he convinced all three to follow him west.
Nowadays, Jack would be highly recruited, the equivalent of a five-star recruit, but just imagine his recruiting profile through the racist lens of the 1920s. Pros: breathtakingly quick and powerful lineman that hits like a locomotive. Cons: black, other teams will refuse to play him, KKK may make attempts on his life.
After Jack's death, Coach Willaman felt Jack would've been the greatest player in America the following year, a "super-man."
It's worth noting that some of Iowa State's most successful periods have come with coaches and players that hailed from Iowa or Ohio and the states between. Matt Campbell continues this lineage–will success follow?
_____________
CONCEPT HELMET OF THE WEEK
Now that dark gray uniforms exist, let's try a different version of a Storm Cyclone helmet.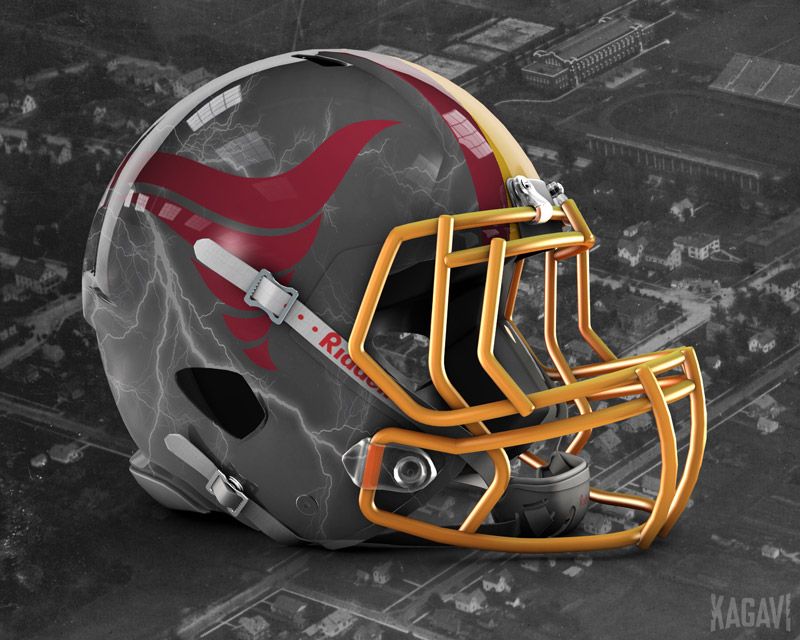 _____________
JACK TRICE RESEARCH NOTE
Over the summer, the Iowa State library finally finished a mammoth six-year project to digitize all Iowa State yearbooks from 1893 through 1994. The relevant Jack Trice editions are the 1924 and 1925 (special edition) versions, but the nearby years provide nice background information as well. Start your exploration here. For ease of use, consider downloading the entire PDF of the book.
Do you have any original 1920s Iowa State artifacts? Drop me a line on Twitter or email joshua.t (AT) kagavi.com. Help reveal new insights into Jack Trice's life.
_____________
TEACH ME SOUNDS
I was born broken, better known by the complicated medical term "deaf," and need you to teach me basic sounds in written form. For this week:
Teach me the sound of a player getting tackled.
Give your best version (turn of phrase or onomatopoeia) in the comments.
_____________
Kagavi's Cyclone Soup will appear throughout the remainder of the 2016 football season. Follow him on Twitter here.