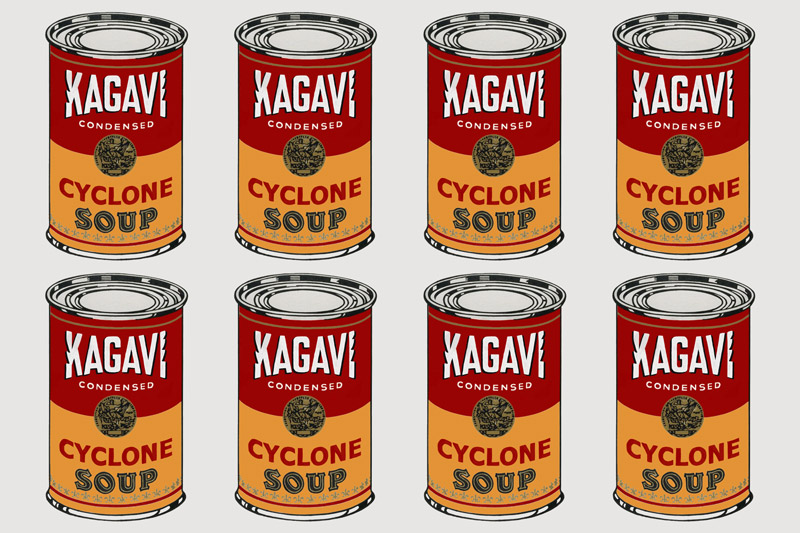 (Originally published at SB Nation's Wide Right Natty Lite.)
Conference expansion has been a thing from the earliest days of football and after World War II, the Big Ten dangled a vacant spot to schools throughout the Midwest. One of the names most popularly mentioned was Iowa State. To see how close they really came, let's skip back another half-century.
During the heady days of Iowa State football, back when men were real men with wooly mustaches and spittoons, back when long fluffy hair was considered suitable head protection, back when successful games ended with just a touch of gangrene and crunchy ribs healed by whiskey and cocaine, the football team was good, actually really good.
Counting up all of the totally legitimate and not at all questionable games against teams such as Des Moines Y, Fort Dodge, Rush Medical, and Omaha Light Guards, the first sixteen years of independence through the 1907 season yielded a cumulative record of 75-38-6.
By comparison, those slackers in South Bend only won 79 in the same time period.
The Cyclones were a strong bunch of independents who didn't need no man or conference, but expansion came dit-dah-ditting over the telegraph wire anyway.
New conferences followed the model popularized by the oldest athletic conference formed in 1895 by Minnesota, Wisconsin, Northwestern, Illinois, Purdue, Michigan, and Chicago. Iowa and Indiana joined in 1899, then Ohio State in 1913 and the Western Conference name changed to the Big Ten.
In 1907, the Missouri Valley Intercollegiate Athletic Association (MVIAA) formed with Kansas, Nebraska, Missouri, and Washington (St. Louis). Curiously enough, Iowa also joined for football and men's track, but soon regretted the move, departing in 1911. Iowa State also expressed interest, but didn't officially join until 1908. This move elevated the Ames college to one of the big boys in the "west."
During this time, Iowa became very conscious of their social status and a Chicago newspaper in February 1907 remarked "the Hawkeye institution has everything to lose and mighty little to gain in playing various games with the minor colleges of Iowa," but the newspaper felt Iowa State would be retained as they were "Iowa's chief rival in the state."
Iowa State's official records have the 1907 team beating Nebraska 13-10, despite actually losing by the score of 10-9. More than one newspaper was confused enough to crown the Ames Aggies as MVIAA conference champions after beating Iowa 20-14 in late November.
The MVIAA continued to swell in size and interest before splitting up in 1928 with Iowa State, Nebraska, Kansas, Missouri, Kansas State, and Oklahoma forming the Big Six. (In 1947, Colorado's addition pushed it to the Big Seven, while Oklahoma State's return in 1957 created the Big Eight.)
Some schools resisted this trend, including one member of the original Big Ten. In 1929, Chicago hired Robert Maynard Hutchins as their new university president, which led to an extended period of ignoring sports, culminating with dropping football entirely in 1939. Hutchins famously derided sport, remarking whenever he felt like exercising, he laid down until the feeling passed. Observers knew it was just a matter of time before the Big Ten took action.
The University of Pittsburgh gleefully took note and with Big Ten approval, voluntarily started following conference rules in 1939. This promise ring had all of the signs of becoming permanent, but a wanton "cow college" had other ideas.
While the reverberating blow of World War II faded, the race to fill Chicago's seat was on. Multiple newspapers parsed gossip about Pittsburgh, Nebraska, Michigan State, and Iowa State. Notre Dame was another popular pick. The Evening News thought "Pittsburgh really was the heir-apparent … almost a de facto member," but Iowa State and Nebraska had Big Ten supporters who wanted a new rival nearby and their academic profiles fit the league.
Like Pittsburgh, Michigan State was very interested in elevating their social status–so interested, in fact that they were censured in 1933 by the regional accreditation body for essentially giving away grades to athletes. The Chicago president famously rejected big-time athletics, but new Michigan State president John Hannah was eagerly galloping towards it.
When Chicago athletics and the Big Ten formally parted ways in 1946, both Michigan State and Pittsburgh were on hand to file immediate applications while Nebraska expressed interest but didn't apply, perhaps stung by several rebuffed attempts decades earlier. The Big Ten ignored all.
The Big Ten commissioner Kenneth "Tug" Wilson's assistant Walter Byers, who later served as the NCAA executive director, wrote a book Unsportsmanlike Conduct: Exploiting College Athletes about his observations during this time.
Obsessed with Michigan and "operating … outside the rules," Hannah promptly put a massive half a million dollars donation from a local insurance executive into athletic scholarships and "loose money in the Spartan Foundation." Hannah cannily cultivated a close friendship with Minnesota president J. L. Morrill, which led to a regular home-and-home series, which was taken as an affront to Michigan's traditional Little Brown Jug game.
Hannah also wasn't shy about touting his cozy relationship with the state legislature in Lansing, which led fuming Michigan officials to bite their tongue, lest they harm their "own state appropriations." By neutralizing the big boy of the conference, Hannah was able to tout the logical regional fit of Michigan State and its proximity to Detroit.
Other schools had no chance.
Byers wrote Ohio State blocked Pittsburgh's inclusion because they didn't want their Pennsylvania recruiting harmed. Also, Penn State was out due to their inaccessible location in "hill country." Nebraska and Iowa State couldn't match the sheer persistence or desire of Michigan State and eventually the Big Ten couldn't ignore them any longer.
After six previous failed bids, all of Hannah's hard work paid off. When Michigan State finally joined the Big Ten, they were "promptly placed on probation in 1953″ but won the conference anyway and played in the Rose Bowl. More major penalties were enacted in 1964 and 1976, but the school won multiple national championships during this period.
Byers dryly said, "Naturally, John Hannah later was named as the head of a national committee established to make sure college sports 'would function as a legitimate educational activity.'"
_____________
CONCEPT HELMET OF THE WEEK
A mashup of the 1959 Dirty Thirty team colors with one of the earliest versions of Cy: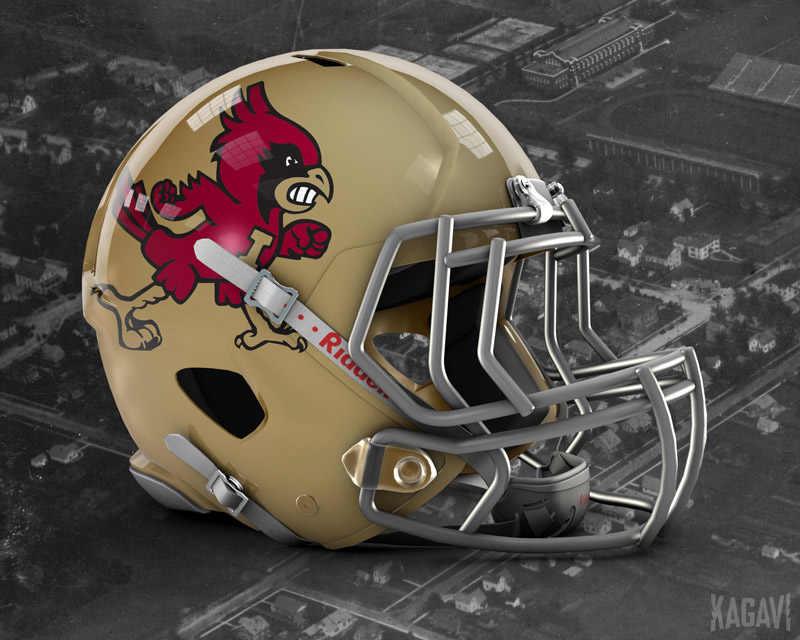 _____________
JACK TRICE RESEARCH NOTE
Starting next week, I'll share notes from behind the scenes of my ongoing Jack Trice research, but first I need your help. If you or any relatives have any Iowa State-related historical artifacts, papers, or scrapbooks from the 1920s, especially the time period of 1922-1925, squirreled away in basements and attics, your items could potentially be a vital missing link in the Jack Trice story and reveal new insights into his life.
If you think you have something, please email me anytime: joshua.t (AT) kagavi.com, or drop me a line on Twitter.
_____________
TEACH ME SOUNDS
I was born broken, better known by the complicated medical term "deaf," and need you to teach me basic sounds in written form. For this week:
Teach me the sound of a player kicking a football.
Give your best version (turn of phrase or onomatopoeia) in the comments.
_____________
Kagavi's Cyclone Soup will appear throughout the remainder of the 2016 football season. Follow him on Twitter here.