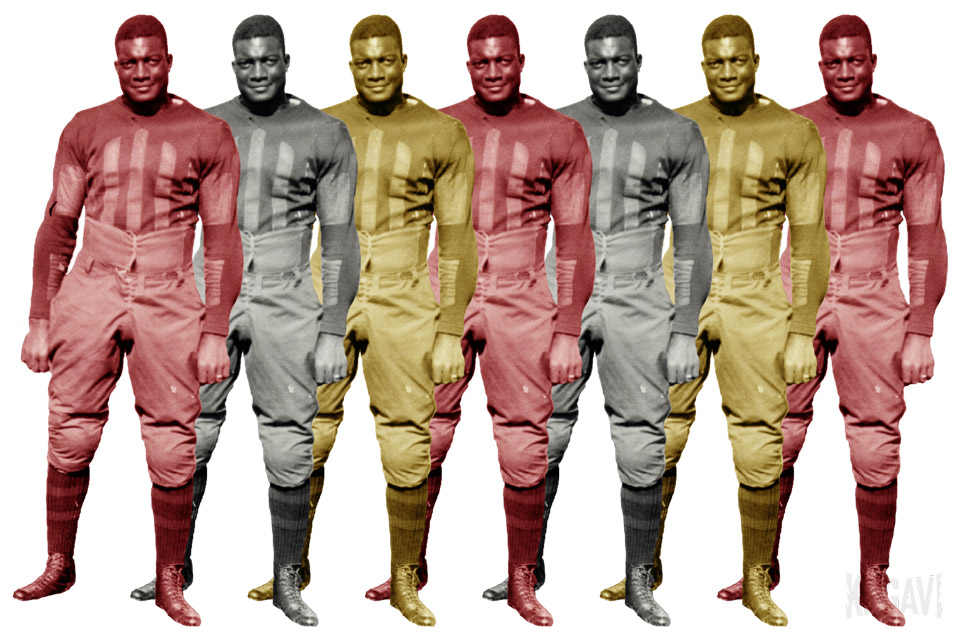 Over the past few years, through hundreds of thousands of pages of microfilm, newspapers, letters, and journals, the sad, intensely inspiring story of John G. "Jack" Trice has unspooled before my eyes. My travels from coast to coast have yielded many artifacts: the bloodied gold jersey worn by Ira Young when he carried Jack off the field, original game photos, written lamentations of teammates and coaches. More I have yet to share. During many long hours in libraries, surrounded by books and my own thoughts, I've often pondered how Iowa State should continue to honor Jack's message and it starts with a simple question.
Should Iowa State University retire Jack Trice's number 37?
_____________
Jack Trice was more than just a name. He manifested an ideal that lives on a century later, his athletic talent a mere vessel for the pioneering struggle of social equality under the lens of sport, a battle that continues to this day. He played football during an era where Black people were lynched simply for being black. Other teams questioned his offensive presence, the boldness of his heartbeat. All it took was one person angry enough to wash away his stark Blackness with blood.
His story feeds into the revered ghosts of college football, myth clashing against myth, zany traditions spanning centuries. Teeming throngs, throats rubbed raw, coloring the spectacle below with cheers and groans. The vast American history of grace and violence on full display for anyone to see, a metaphor of life's pain and beauty.
It took immense courage to break the color line, surrounded by an overwhelmingly white college and state and country. While in Ames, Jack mentored children and was an active member of the new Alpha Nu chapter of the Alpha Phi Alpha fraternity, dedicated to elevating the Black condition. The actual games were a burden and a respite, the field a chance to let his lyrical combination of power and speed sing. Years after his death, prominent figures in the world of football still wrote of his monumental talent.
Unfortunately, there are still casual football fans who have no idea that he was an actual player and not just a rich donor. Just as Jackie Robinson is synonymous with breaking the color line in baseball, Jack Trice should be synonymous with college football. Our recent story Jack Trice and the Nazi Olympiad unveiled an eloquent statement by Jack's high school and college coach Sam Willaman after Jack's death:
"In another year he would have been the greatest football star in America–a super-man."
There's no question Iowa State has honored Jack Trice in many ways. The stadium remains the only major college football stadium named after a Black player, thanks to the sustained efforts of dedicated students, faculty members, and prominent figures over many decades. Scholarship awards, alumnus-inspired throwback uniforms, the Jack Trice Club, statues, a documentary. The accolades are slowly piling up, piece by piece.
It's not enough yet. Every possible step should be taken to share his story with the world, one still rife with hatred.
When entering the cathedral of Hilton, there are many retired basketball jerseys in the rafters and even banners for coaches and announcers such as Johnny Orr, Pete Taylor, and Harold Nichols. Other sports are represented. The lone exception seems to be football. In the stadium, there are no visible retired numbers or jerseys anywhere. When fans ask, they are told there are no special tributes for exceptional players. How did this happen?
The overwhelming majority of schools nationwide have officially retired numbers or football jerseys and have them prominently displayed in a stadium or museum. The few lone exceptions such as Oklahoma, Alabama, and Notre Dame consciously decided not to take this step due to the crushing weight of accumulated plaudits–clearly a problem that won't befall Iowa State anytime soon.
However, this may not quite be true. Digging deeper into Iowa State football history, I was surprised to find Coach Clay Stapleton retired Mike Cox's number 30 in 1964. Cox was a solid player named All-Big 8 his senior year, but he wasn't even the best player on his own team. The 1960s Cyclone squads had multiple All-Americans, of which Cox was not one. This is one of the oddest inclusions of any school and certainly not commonly shared by Iowa State.
In a March 1983 article in the Lawrence Journal-World, columnist Chuck Woodling interviewed former Cyclone sports information director Harry Burrell to find out just how this puzzling honor came about. Burrell could only shrug, "There's only one person who really knows, and that's Clay Stapleton. He was the coach then, and Cox typified what Stapleton thought was the ideal hard-nosed football player."
Hardly a ringing endorsement for a retired number.
Earlier this year, Troy Davis became the second Cyclone player elected to the College Football Hall of Fame. His number 28 has not graced the gridiron since his younger brother Darren Davis last wore it in 1999 and one can't help but wonder if this is another hidden honor.
Starting in 1997, Iowa State has recognized former players through the Athletics Hall of Fame. Nominees are suggested by either the Letterwinners Club or the Athletics Department and to date over 150 people have been elected. The Hall of Fame is not limited to just players–there have been a few administrators honored too. There are so many wonderful names and stories found on the list, but Jack is not one of them.
In 2006, Iowa State elected Winifred Tilden as "the first true pioneer of women's athletics at Iowa State during her tenure on campus from 1904-44." Tilden didn't even attend Iowa State, let alone play sports, but her worthy induction simply highlights a role for Jack in the Hall of Fame as the first true pioneer of racial integration in athletics at Iowa State.
_____________
To retire or to not retire?
I have vacillated on this topic for many years. On one hand, retiring number 37 clearly states no one can expect to live up to that number ever again, which certainly applies to Jack Trice. There is precedent for retiring a number many years after the fact. In 2014, UCLA retired Jackie Robinson's number 42 across all sports on the 75th anniversary of his arrival to UCLA. Now that Jack's number has conclusively been proven, should anyone be allowed to wear this number?
On the other hand, Iowa State admittedly has little football tradition compared to other schools, and by merely retiring his jersey, it would allow new traditions to take hold around the number 37. Allowing his number to be worn by special players would be another way of preserving Jack's legacy further and it would become extra poignant seeing the number running around underneath the lights of Jack Trice Stadium. The player chosen could be voted on by the team or coaches. I favor this approach.
In the end, I humbly call upon Iowa State University to retire Jack Trice's football jersey and elect him into the Iowa State Athletics Hall of Fame.
It is time. Complete the honor.
_____________
That's not all. The wholly unique story of Jack Trice should infuse the very design and philosophy of Iowa State University. The conclusion to this story next week.