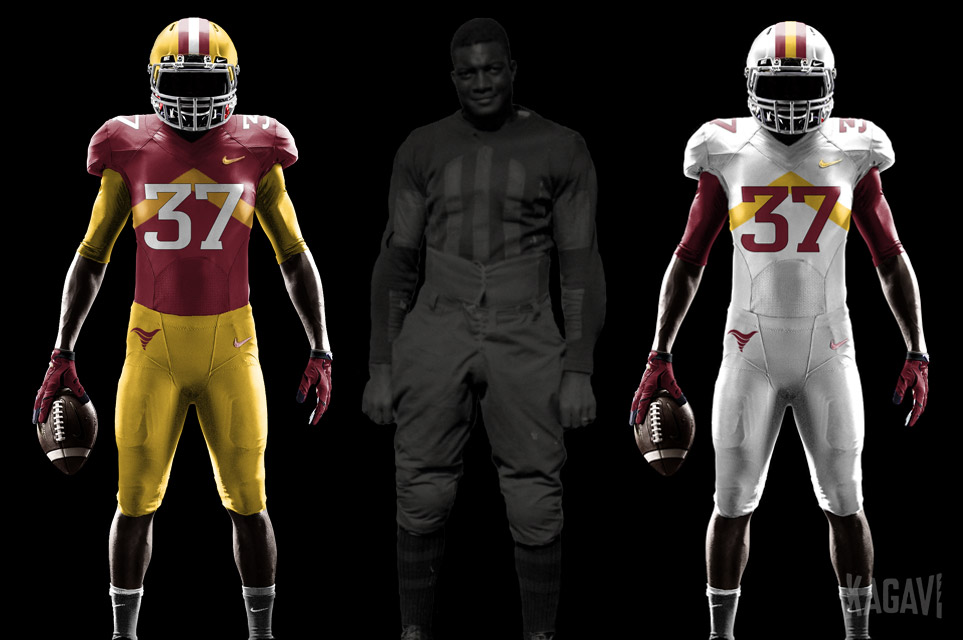 When Iowa State University hired a young Ohio native as its new football coach, the difference was immediate. His champion pedigree, innovative ideas, and close knit coaching staff convinced multiple Ohio prep players to spurn other schools for Ames. The new facilities on campus revealed a path for Iowa State to become a national power. Plans were made for new uniforms and events to spread the Cyclones brand–a critical step, since nearby Iowa had just finished an undefeated regular season, soaking up most of the press.
The year was 1922 and the new coach was Sam Willaman, the man who brought Jack Trice to Ames. Willaman knew a small agricultural college in the middle of a remote farming state with minimal football success had to do things differently to stand out.
History stands on the cusp of being repeated.
The time is right for Coach Matt Campbell to restore Iowa State tradition with a unique, distinctive message that overcomes Iowa State's historical disadvantages using an innovative approach. Here are five different areas that the legacy of Jack Trice can influence this new direction.
_____________
BRING BACK THE CYCLONE
Jamie Pollard's excellent, tireless leadership has transformed Iowa State and the evidence is everywhere: Cyclones.tv, landmark upsets, bowled-in stadium and facilities. The I-STATE logo stands as his most visible change–this popular mark smartly reached into the past to subtly update an old logo from the 1970s. At the time, Pollard mentioned soliciting fan feedback was a critical part of the process and also said, "It's quite natural for new coaching eras to coincide with a new look."
Unfortunately, any semblance of a Cyclone logo was lost in the transition, meaning Iowa State is just about the only major school that doesn't even have a logo of the school nickname. By using Cy as the only alternate logo, Iowa State joins a crowded group of schools and pro teams using a cardinal logo including Louisville, Ball State, St. Louis Cardinals, and nearby ISU (Illinois State).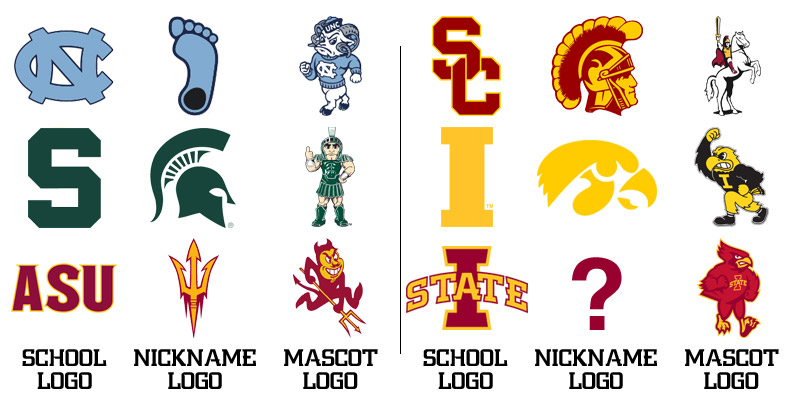 The missing Cyclone has created some challenges. In 2012 when Nike created new basketball uniforms for many top schools, they featured special designs on the back mesh panel themed to the school. With Iowa State's version, it became evident Nike was forced to take the defunct 1990s Cy logo and cut it in half to create a temporary Cyclone logo.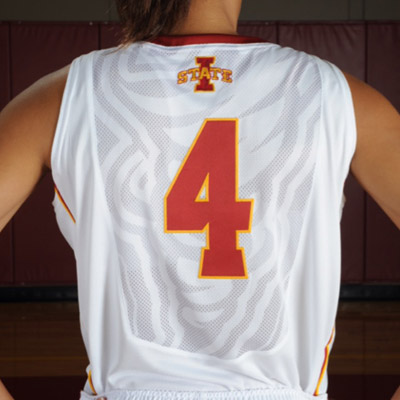 The Portland Business Journal reported Iowa State's minuscule merchandise contract is the smallest of any major school. Since it expires two summers from now, Iowa State has a chance to slightly refocus by adding the Cyclone back as a new alternate logo. The solution already exists via irresistible raconteur Johnny Orr and his famed Hilton Magic that made the Cyclones logo known from coast to coast. Just like the I-STATE logo, Iowa State should utilize their tradition to update this logo. (On a popular Cyclone forum, "Amestoplease" shared their fantastic version and with their permission, I've used it in all concepts below.)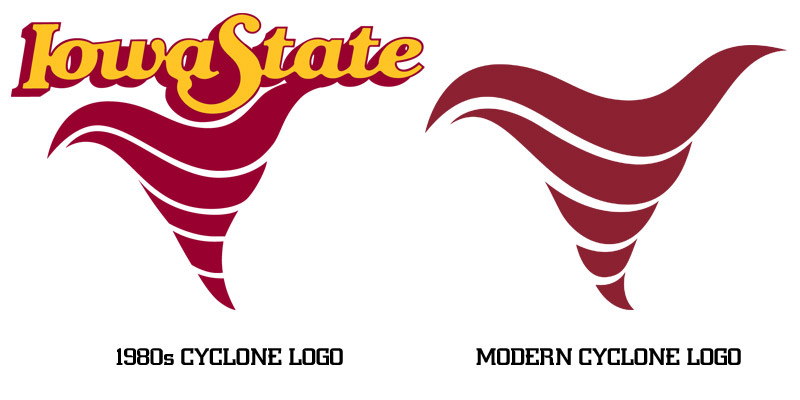 The traditional Cyclones nickname has been used longer than any others–even Iowa State. In 1895 the Chicago Tribune coined the unique moniker and it wasn't until 1898 that Iowa Agricultural College was renamed Iowa State College. Stretching over three centuries, it is the only one to tie together Troy Davis, Gary Thompson, George Washington Carver, Fred Hoiberg, and Jack Trice. It seems like a natural step to add the Cyclone logo back and it looks like Coach Campbell and his staff agree. Their social media posts often use "A Storm Is Brewing" or "Sound The Sirens," leaving no doubt Iowa State is the school of the Cyclones. It's time for the Cyclone to return home.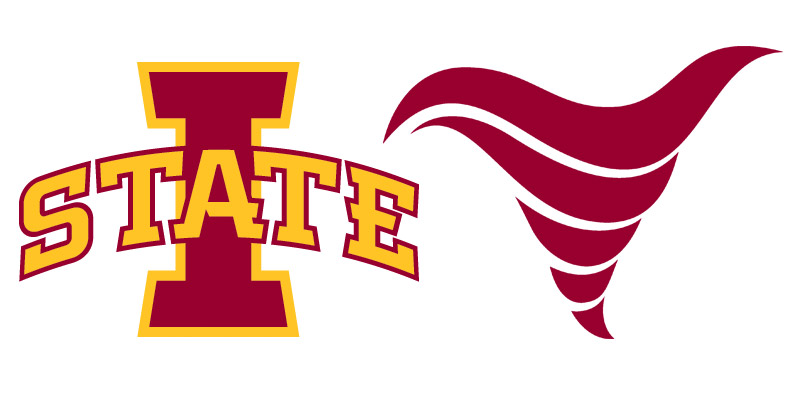 _____________
JACK TRICE STRIPES
Jack Trice has been honored in many ways in his adopted hometown of Ames, but his legacy is silent elsewhere. When Iowa State plays on the road, his message is dulled by the absence of any tangible reminders. No stadium name, no statues, no throwbacks. Nothing. To fix this, many fans have clamored for a five stripe design on the uniforms, inspired by his jersey.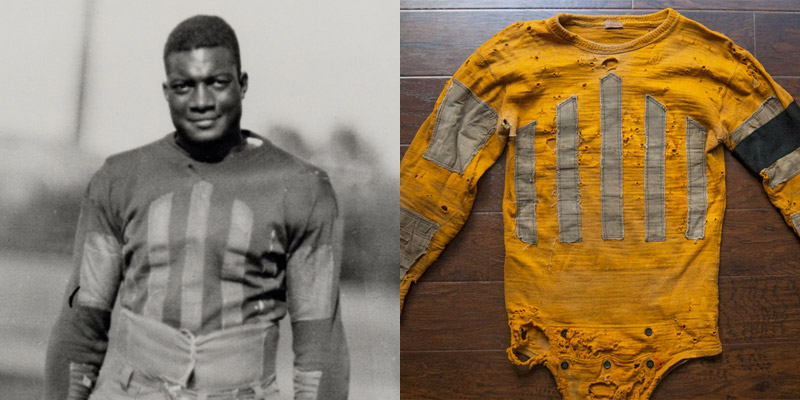 It's worth noting this pattern was a popular generic design during the 1920s worn by dozens of schools. Even the Iowa Hawkeyes wore the exact same pattern in their 1923 game against Minnesota, just one month after Jack's fatal trip. However, the design clearly stands for Jack in the minds of fans.
It's not unprecedented to use an iconic player in the design of a school brand. Recently in 2014, the University of Illinois and Nike worked together on a rebrand and prominently mentioned was "the great mystique of Red Grange … to create an aggressive, contemporary look of speed in the new Victory Badge." One look at his jersey and it's clear.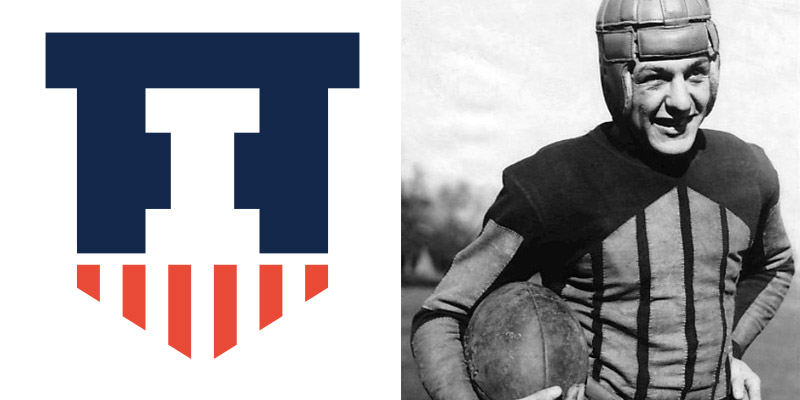 The 1970s saw Iowa State's greatest football teams ever, with four bowl games and multiple All-Americans headlined by George Amundson and Matt Blair and others. Uniforms and logos came and went during the decade, but the gold helmet with cardinal and white stripes remained a constant.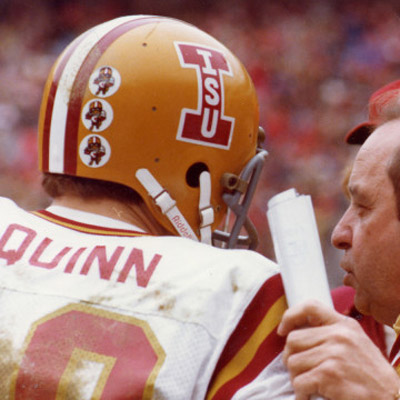 By combining the jersey of Jack Trice with the greatest Cyclones football teams, a new design is created: the Trice Chevron Stripe. Solid lines and chevrons have been used in art for millennia and will always remain timeless. The stripe or chevron points upwards remembering Jack, or downwards evoking banners and success. Some examples follow.
_____________
DESIGN CONCEPTS
Famed Nike designer Tinker Hatfield says football uniforms are the "biggest branding tool" available to any school and many have embraced this movement, but Iowa State has largely opted out. When the team unveiled their matte helmets a few years ago, it was a tired trend that even Ames High School had already done. The Jack Trice throwbacks used colors that were neither school colors nor the colors Jack actually wore. Having Ronald McDonald publicly praise the rarely used gold uniforms didn't help either.
Rigidly adhering to one version of the I-STATE logo on helmets in today's remixed internet culture is a recipe for stagnation, and so is being indistinguishable from USC. Iowa State's cardinal and gold are bright, primary colors that work well together but often need the presence of a strong neutral to dampen the visual overload. Additionally, the I-STATE logo with bevels is often illegible, muddled, and dated, so the flat two-color version was used here.
Iowa State should be proud of their status as a northern school in a largely southern conference and embrace the cold–like the Green Bay Packers at icy Lambeau Field–with the SNOW CYCLONES.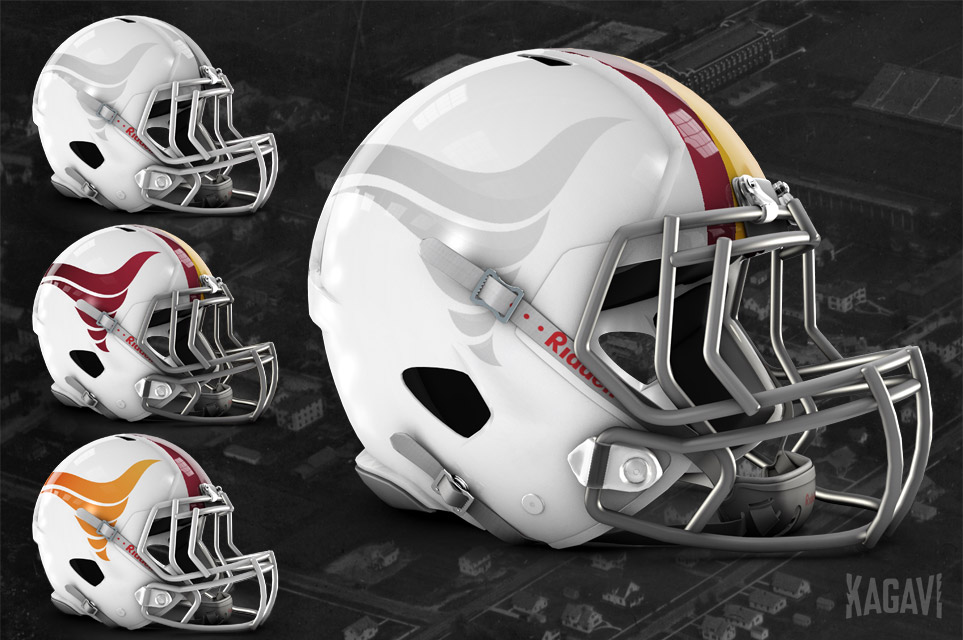 Reserved for special games, Iowa State should have a rare uniform/helmet combo inspired by the gray tornados of nature. Jack's uniform was gold, cardinal, and … gray, so here come the STORM CYCLONES.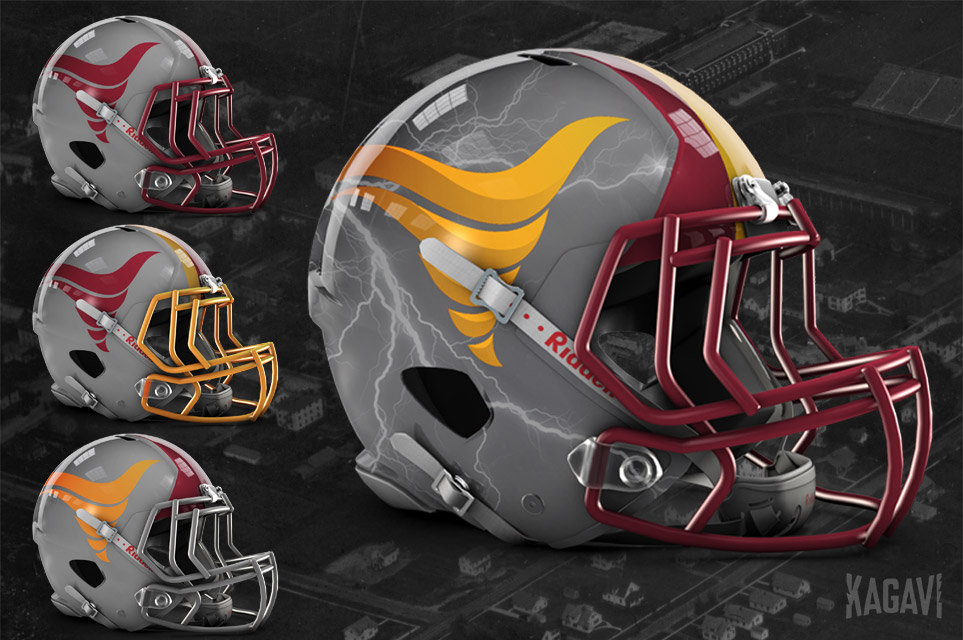 The Trice Chevron Stripe is evoked in the chevron on this jersey, which represents an unique design in college football.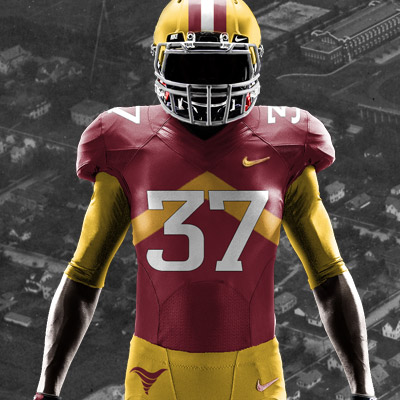 Here's how different Trice Chevron Stripes would appear on the back of helmets.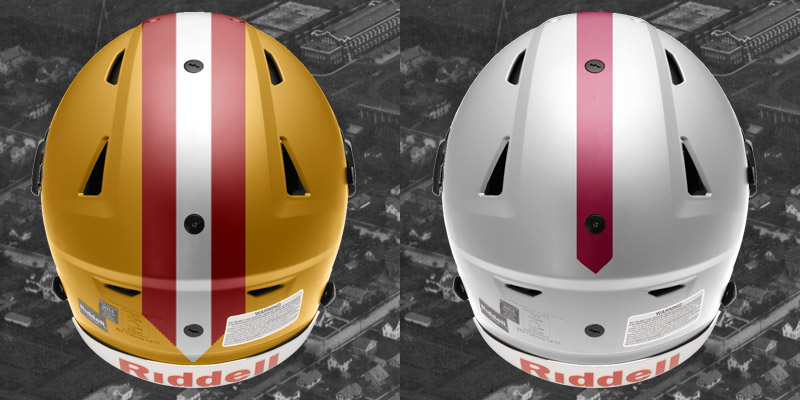 Of course Cy needs to be included in the party and some of the earliest Iowa State logos are intricate interlocking letters that simply look cool. The IAC monogram in particular can be considered the original Cyclones logo, since that was the school logo in 1895.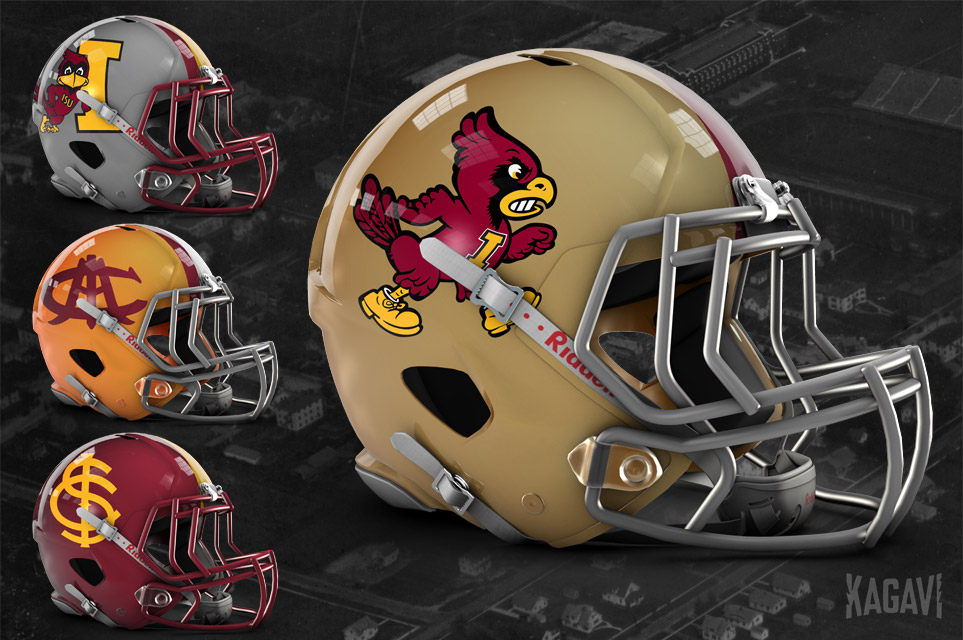 By wisely using the throwback uniforms at specific times, it builds brand cohesiveness and awareness. Each senior class should have the honor of wearing Jack Trice throwbacks once every four years. We showed what a more accurate version would look like last year and future versions could riff off his story in different ways. Why not a helmet sticker as well? Perhaps the 37-yard line could be colored gold, which has been done elsewhere such as West Rusk High School in Texas, which commemorated a 1937 explosion that claimed about 300 lives at the school.
Elsewhere, Iowa State's most successful program is wrestling with eight national championships. All titles were won wearing singlets with the iconic block "I" but since the program moved away from that design, none have been won–probably not a coincidence. Using the letter from the I-STATE logo is a natural evolution, yet traditional, and plainly looks better.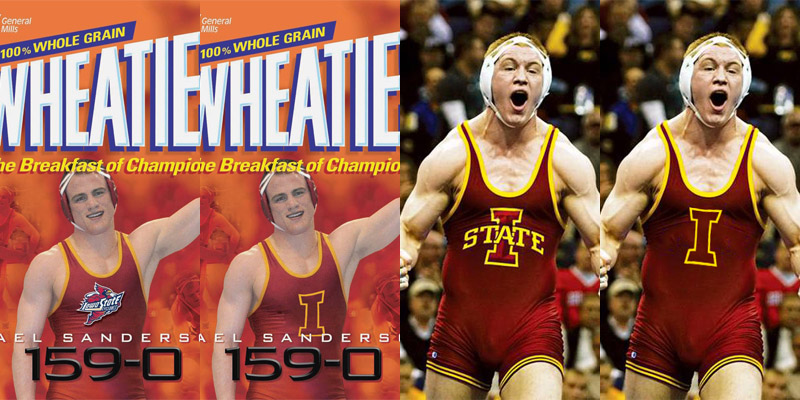 Similarly, the Letterwinners Club and letter jackets use a basic block "I" that has changed over the decades. Like the wrestling singlets, they should be updated, which would actually bring it closer to the 1950s jackets during Gary Thompson's reign. The center jacket has the updated block "I" in the photo below.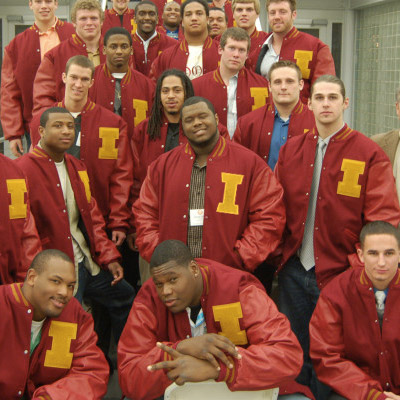 The ideas here are just a start. Many innovative companies invite artists and influential tastemakers to temporarily reimagine their brand. Remixing, experimenting, exploring Iowa State heritage and Jack's story would lend an undeniable sheen of cool, aiding university marketing as a whole. It's rare to see a college approach their branding in this manner and this is a key way Iowa State could break out of the perception of a staid, hermetically sealed school in farm country.
_____________
IOWA STATE MUSEUM
Iowa State's peer institutions often have a museum folded into their Athletics Hall of Fame. Iowa uses theirs as a marketing tool for the Hawkeyes story. UCLA preserved John Wooden's office, which we wrote about in 2013, along with a special section for Jackie Robinson. This remains an opportunity for Iowa State and a natural fit for Jack Trice's story to inspire and educate.
Rather than a purely sports museum, Iowa State should consolidate their holdings into one spot. There are many important pieces of the Cyclone legacy scattered across campus, their power blunted by isolation. A space wing could recreate the iconic Apollo 11 moon mission with Steve Bales as a critical part of mission control, followed by Clayton Anderson's adventures among the stars. How about the real life Willy Wonka, Russell Stover, who studied chemistry at Iowa State before making his millions? (As of April 20, 2016, the official Russell Stover website states: Stover was reared on an Iowa farm, attended high school at Iowa City Academy, and studied chemistry for a year at Iowa State University. This is inaccurate. It was actually the State University of Iowa, now known as the University of Iowa. Thanks to Carole Custer of Iowa State for pointing this out.)
An Olympic room could discuss Nawal el-Moutawakel along with Dan Gable and Cael Sanderson, considered the finest collegiate wrestlers ever. Aviator pioneer Clarence Chamberlin nearly beat Charles Lindbergh to Paris, but settled for becoming the first to fly a transatlantic passenger. Christian Petersen's sculptures remain compelling. George Washington Carver, the black Leonardo da Vinci, could fill a whole wing by himself.
Inspired by the science aspect of Iowa State, the museum centerpiece should be an actual live tornado, like the one seen in the Mercedes-Benz museum in Stuttgart, Germany. What if this museum became part of a new north end zone complex, the tornado visible during games? Imagine the press.
_____________
JACK TRICE AWARD
There's a place in sports for a Jack Trice award similar to the NFL Man of the Year award, given for community service, but college football already has too many individual and group awards. Let's think bigger and sidestep the trophy glut entirely by creating a new college award: the Jack Trice Scholar Award. The University of Iowa proved that a small farming state could create a nationally renowned program with their well-regarded Writers' Workshop. Why not Iowa State?
The university should promote and support this as if it were similar to the Rhodes, Fulbright, Marshall, or Truman scholarships. Done properly, this could be the most enduring aspect of Jack's legacy. Unfortunately, Under Armour trademarked the "I Will" slogan, but Jack's letter also emphasized honor (and the Honor Before Victory plaque inspired by Clyde Williams) which inspires a guiding message for the Jack Trice Award:
Honor the journey.