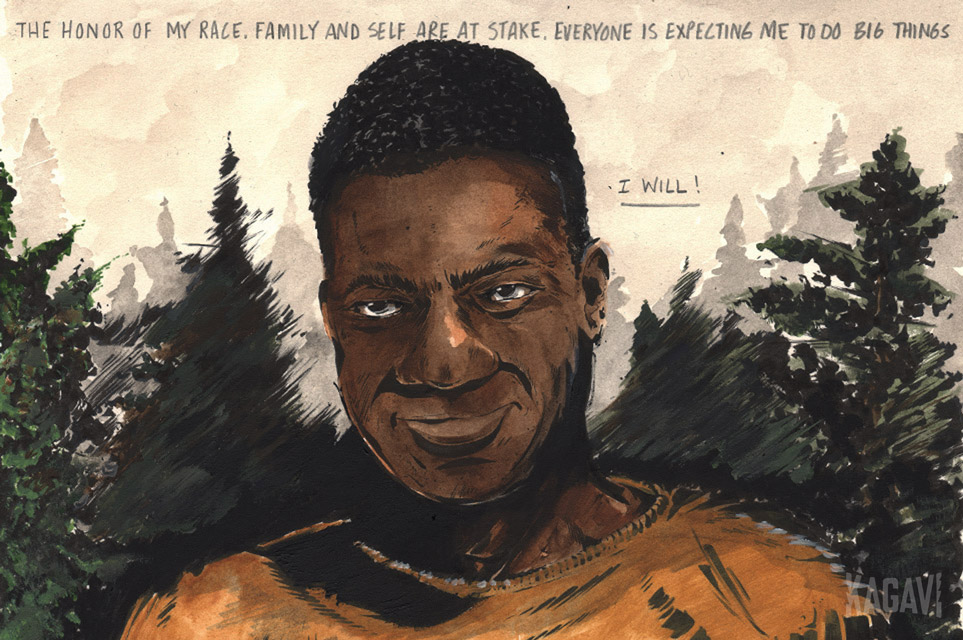 When Jack Trice died of fatal injuries suffered in his first major game as Iowa State University's first black football player in 1923, he left behind a letter written to himself on the eve of the game. The full letter, which was discovered before his funeral, has become an iconic symbol of determined hope and effort triumphing over ugly discrimination. Today, Jack's famous words sit in a thick vault at Iowa State as the beating heart of an entire campus.
The other prominent symbol of Jack's brief life remains his distinctive football uniform with five vertical strips. When Jack walked onto the Minnesota field wearing his gold jersey, he was the only black man on the field surrounded by a crowd of over 20,000 Minnesota fans waving colorful pennants and chanting. At that moment, the words of his letter were surely reverberating through his heart to do big things. When Iowa State finally created throwback uniforms in 2013 to honor his story, they used pictures of his jersey as reference. No trace of what happened to Jack's jersey has ever been found and it was probably thrown out at some point, but what if it wasn't?
We set out to find Jack Trice's lost jersey.
_____________
During Jack's time at Iowa State in the Roaring Twenties, a new trend in football jersey design took hold. Various equipment manufacturers started offering wool jerseys with vertical and horizontal friction strips–also called stickum cloth–on the chest and arms. This innovation supposedly helped secure the ball better and athletic catalogs offered different friction designs. Many teams had similar jerseys patterns and these iconic uniform designs are still an enduring symbol of early college football–however hardly any survive to this day.
The brutal nature of the sport didn't help matters any. It was common to reuse uniforms from season to season until only scraps remained. In between games, equipment managers constantly struggled to keep jerseys in usable condition with emergency repairs, patches, and sometimes even a prayer. Any new discovery of a jersey with friction strips is very rare.
Consider nearby Iowa's undefeated teams of 1921 and 1922 that swept the country and placed Hawkeye legends Aubrey Devine, Gordon Locke, and Duke Slater in the national spotlight. Despite garnering a large amount of gushing press and notable wins over powerhouse teams Notre Dame and Yale, no jerseys from those iconic Hawkeye teams exist. This isn't unique to Iowa. Many schools simply don't have any jerseys from this time period, no matter how special the season was.
In 2010, a circa 1900 Princeton jersey sold for nearly $70,000. Other collegiate jerseys that survive from the early years with no significant history attached to them still sell for tens of thousands of dollars. Simple friction strip jerseys with no provenance whatsoever can still fetch in the low thousands. Such is the rarity of these jerseys. The vast majority of surviving jerseys come from the most powerful schools of the era. Since Iowa State College was a small regional agricultural school with no great football history to speak of, we knew the odds of a surviving jersey were extremely minuscule.
_____________
As documented in previous stories, the Simpson game that kicked off the 1923 season saw the Ames team use temporary cardinal uniforms. The following week, in the first major game of the season against powerful Minnesota and their bruising lineup, the Ames team proudly unveiled their bright gold jerseys, which were worn in the remaining seven games of the season. The Iowa State jerseys were designed by Coach Willaman and they had five friction strips on the chest area that came to a point with additional patches of material on the arms. The rear number was rendered in cardinal.
The first game after Jack's stunning death was at Missouri, which had already successfully agitated for Jack to be left home due to his dark skin. No pictures of this game have been found so far, but it is likely the team had already added the black memorial bands to each gold jersey. The next week saw the somber Ames team return home to face Kansas State and in the pictures of this game in the Iowa State Bomb yearbook, the memorial bands are clearly visible on the Cyclone players.
In "The enigma of Jack Trice's gold jersey" story, I wrote about my strong suspicion that the Cyclone jerseys were manufactured by the popular O'Shea Knitting Mills, who were used by dozens of teams across the country. While many ISU programs from the 1920s had O'Shea advertisements, it wasn't until earlier this year that Becky Jordan of the ISU Special Collections Archives supplied us with an immensely helpful email of a 1927 program that clearly showed at least some Iowa State jerseys were created by O'Shea.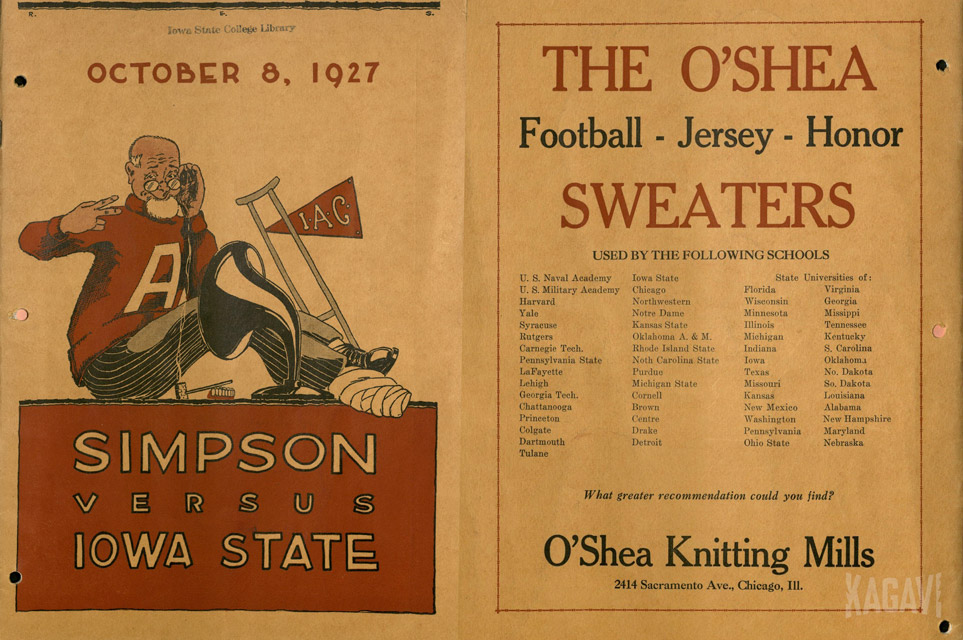 I contacted the Chicago archives of Wilson Sporting Goods which bought out O'Shea in 1942, hoping they could provide an O'Shea equipment catalog showing the jersey designs available. They came up empty. (A note: I have seen multiple equipment catalogs from the 1920s created by various companies, but still have yet to see an O'Shea catalog of any kind. Scant information beyond advertisements exists on the company. This surprises me–look at how many schools used them for jerseys.)
Since jerseys were reused from year to year, I looked at the 1924 team to see if anyone was given the number 37 and it was indeed assigned to a backup guard named Tawzer. In the team picture below where he stands in the top left corner, it seems pretty apparent he is wearing a new jersey design that appears to be a cardinal jersey with blue or black friction strips.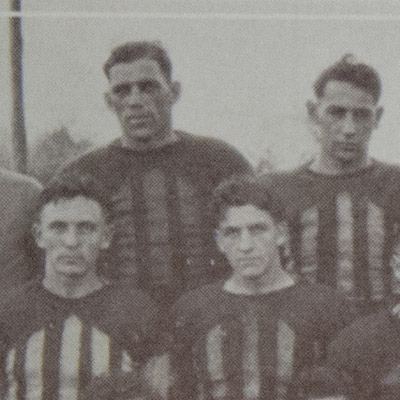 Subsequent seasons were more of the same. By cross-referencing team pictures with programs, it looks like Jack's jersey didn't get used after the 1923 season. Perhaps the jersey was given to Jack's mother Anna or his widow Cora Mae? Another possibility–Jack's fraternity brother Harold Tutt who accompanied Jack's casket back to Ohio with Cora Mae, Anna, and Jack's Uncle Lee.
After a few months of working on this, it occurred to me that perhaps the jersey was cut off in those tension-filled moments when Jack's injuries were examined by Minnesota and Iowa State trainers and doctors. Maybe the very nature of his injury–being trampled by multiple Gopher players meant his jersey was shredded on his body. Another thorny thought–Jack was a black man. His life and possessions were worth less in the eyes of American society. He had no children or siblings. In a less sentimental time, the jersey may simply have been thrown out.
Despite these obstacles, when Lori and I heard the faintest suggestion of an existing 1920s Cyclone football jersey from two separate people, we were intrigued enough to pursue it further. Maybe there was a chance.
_____________
Our search branched out. Distant relatives of the 1923 team were contacted. One line of inquiry even took us all the way across the Atlantic Ocean to Denmark where the archives of a 1924 Ames graduate sat. Others vowed to search through mouldering boxes of family mementos. Slowly, over many months, lead after lead withered away.
From time to time, I saw pictures or mentions of rare Cyclone football memorabilia that seemed to be a step above the usual fare. After a bit of research, I traced the items all back to one person, who lived in an adjacent state along the Mississippi River. On April Fool's Day, I emailed them on a lark and after bantering back and forth, the man told me he was a long-time collector of various pro and college football teams throughout the Midwest. He was happy to share some of his Iowa State memorabilia, including a rare 1906 game program and other items, but it was pretty clear he didn't have anything related to Jack Trice.
I was wrong. Thanks to the kind words of another connected individual who vouched for our Jack Trice work, he eventually felt comfortable enough to share the amazing game picture with Jack visible that we wrote about last month.
Our hopes escalated. Maybe, just maybe, he would know more about the mythical Cyclone jersey. I asked him again whether he had anything else at all, maybe even a jersey from the 1923 Iowa State football season?
In pinged the sparsely worded email. My eyes stopped at the first word.
"Yes."
My heart seized up.
Wait.
Really?
Despite coming up empty on our quest for Jack's actual jersey, we had stumbled across an absolutely stunning piece of related history–the closest thing possible. Knowing the rarity of early football uniforms, we had mostly dismissed the whispers of a surviving jersey as the work of fabulists. Against all odds, a gold jersey from the 1923 season had survived, a piece only known to a select few in the shadowy underworld of collectable memorabilia.
After sharing more about our story and mission, the man was moved enough to finally part with the pieces after holding on to them for decades.
The legend of Jack Trice can now finally be painted in color.
_____________
For the first time since the Cyclone team graced the gridiron fields of the Midwest, we are proud to present the only 1923 Cyclone football jersey in existence from Jack Trice's single season at Iowa State, worn by team captain Ira Young, Iowa State's star end. While not Jack's actual jersey, this is the closest thing possible. Reports from the Minnesota game stated fellow lineman Harry Schmidt, (who became the 1924 team captain) and Ira Young helped carry Jack off the field for the last time after his fatal injuries in the third quarter. Captain Young directly participated in and witnessed a turning point in Cyclone athletics history.
Metaphorically, this jersey has Jack's blood on it.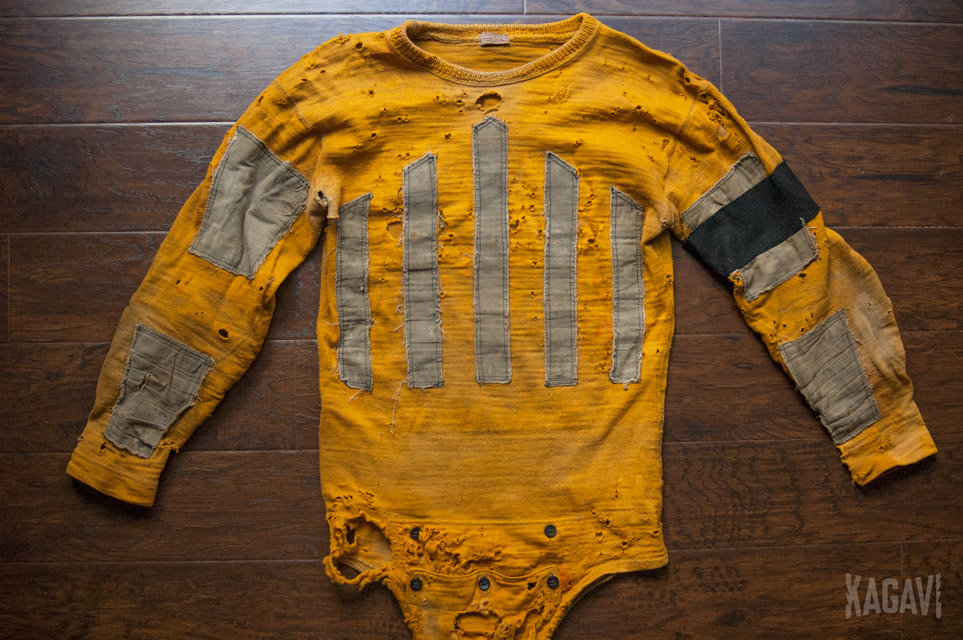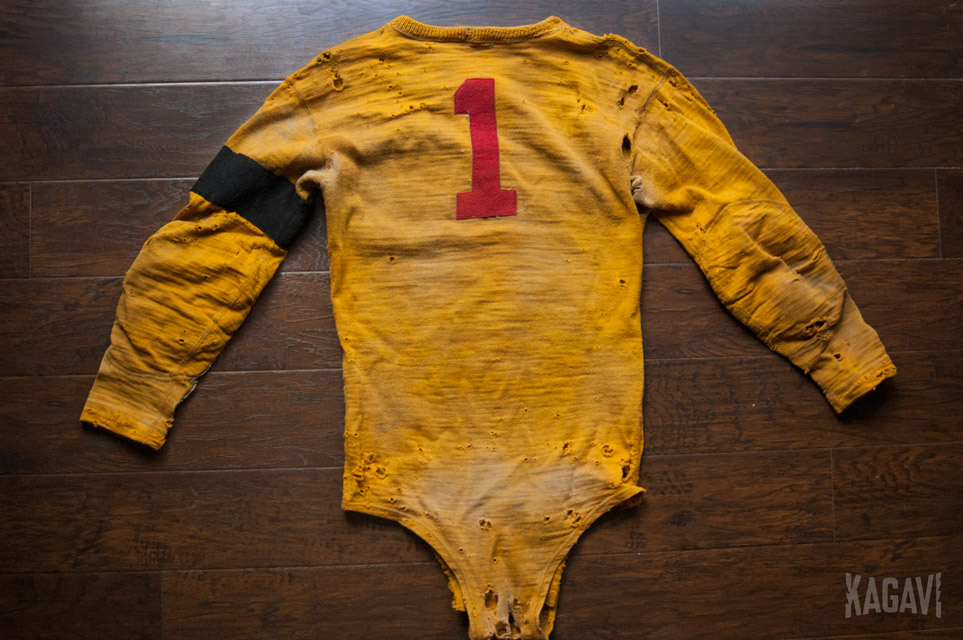 Remember, this jersey style was first introduced in the 1923 spring game, which was a new idea by Coach Willaman. In most of Jack's famous pictures, he can be seen wearing this jersey. Happily, our educated guess of the specific gold hue from "The enigma of Jack Trice's gold jersey" story was pretty close. We were also right when we suggested the strips were canvas with one mild difference–they are more gray, not tan which we thought would be more likely. The sleeves are surprisingly heavy and have large elbow pads built in. Also prominent–the black felt memorial band added after the Minnesota game. Ira Young can be seen wearing this jersey under a cardigan in this team photo towards the end of the 1923 season.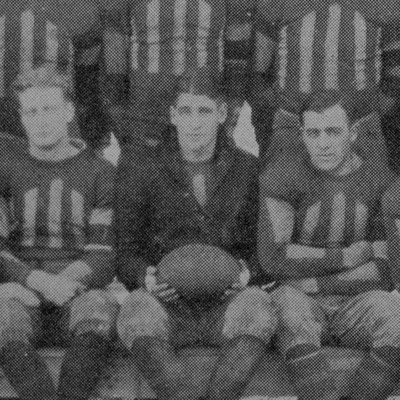 The neck tag confirmed our strong suspicion that Coach Willaman got them from O'Shea. The tag with the 1916 patent date shown is correct for a 1923 jersey as O'Shea didn't update their label until later in the decade.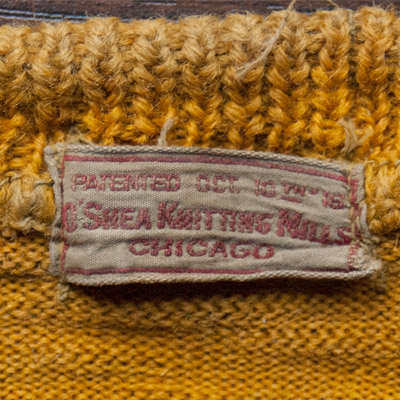 Despite being over ninety years old, the rear number still retains much of its bright red color. Using this number type as a clue along with other O'Shea jerseys of the era visible in various pictures, I bet we could eventually reconstruct Jack's number 37 in appropriate type.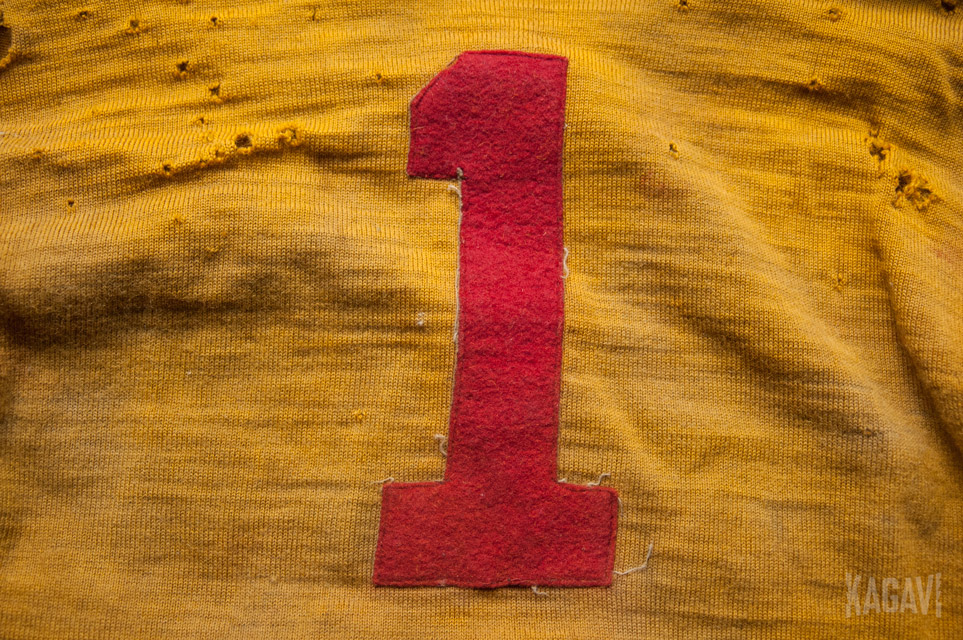 On the front of the jerseys, there are multiple stains of various shades. For example, on this specific jersey section, I believe there are several areas of rust spots and what appears to be diluted blood. Clearly, much more research and testing would be needed to verify these claims, but I can't help but wonder whose blood it might be. Other parts of the jersey have dye stains and general wear, but overall the jersey is still remarkably bright given its age.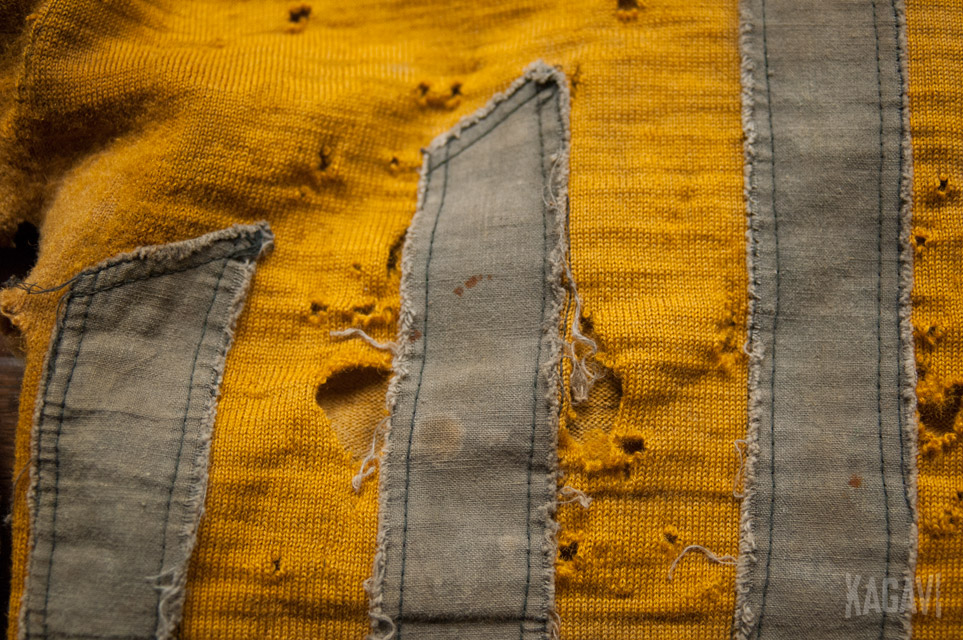 A final thought: for many years, Cyclone fans have debated what the best shade of cardinal and gold should be for Cyclone athletics. Given the significance of Jack's impact on Iowa State, perhaps the yellow currently in use could be adjusted to a deeper yellow as seen here. The red number also seems brighter than the current cardinal shade.
Nothing thrills us more than bringing Jack back to life through our work and each new discovery is yet another chance to share the story of a young unassuming black man from Cleveland who simply wanted to honor his subjugated race.
_____________
That's not all. The jersey and Jack Trice game photo were part of Ira Young's estate that we acquired in full. While those are the two clear headliners, there are multiple other items from his time at Iowa State–including some rare basketball memorabilia–that we will share more about in a future story. As always, Lori and I remain thankful for your support.