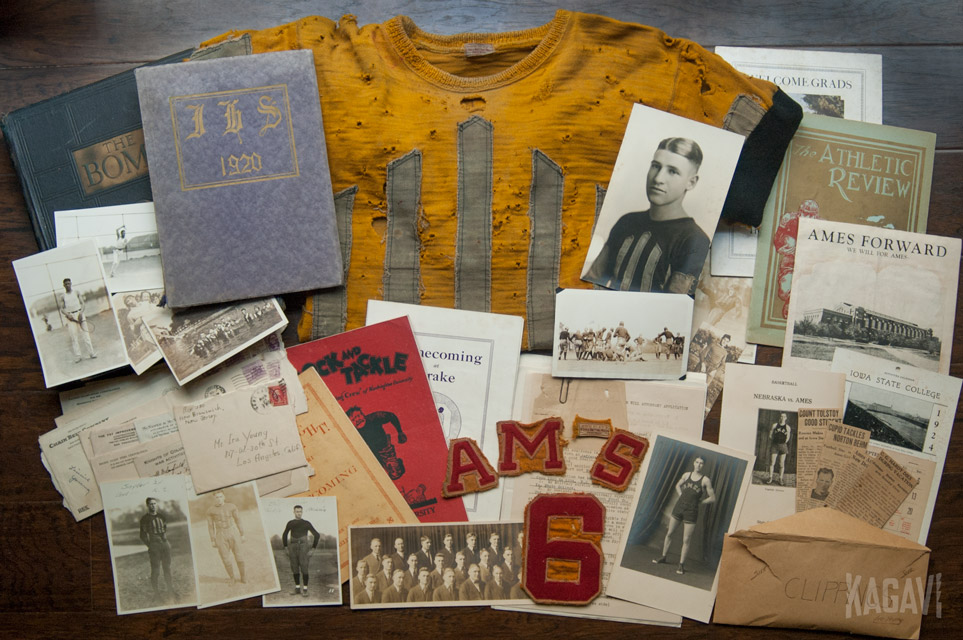 Earlier this year, I shared two significant pieces from Jack Trice's life: the first photo of Jack in game action and an important football jersey from the infamous 1923 Minnesota game. Both of these finds came from the estate collection of Iowa State football captain Richard Ira "Pep" Young, who graduated from ISU in 1924 with a degree in civil engineering.
Ira Young was the ideal homegrown Cyclone student-athlete who played three sports during his time in Ames. He graduated from high school in the small town of Jefferson, Iowa, directly west of Ames on Highway 30. When Ira entered Iowa State College in fall 1920, he became a pledge of the Sigma Alpha Epsilon (SAE) fraternity and these bonds endured for the rest of his life. As a junior in 1922, which was Coach Sam Willaman's first year at Iowa State, Ira's fine football season led the team to vote him as the captain-elect for the 1923 season. Ira capped his Iowa State career with multiple letters in football, basketball, and tennis.
I have been fortunate enough to acquire Ira's entire estate and can't wait to share it with all of you. Here's a look at some other key pieces.
_____________
Present in the collection are multiple Cyclone football programs, some with notes written by Ira. The two 1922 programs are from the Drake and Ames homecoming games. The red program is from the 1923 Ames vs. Washington (Mo.) game in St. Louis after Jack's death. Given the state of Missouri's racial attitudes, it's likely Jack Trice would've been barred from playing in this game. Remember the Missouri Tigers athletic department asked Iowa State to leave Jack in Ames, but his death five days before the Missouri game solved that thorny issue.
The last two programs are from the 1924 season, which was Ira's first as a spectator. In evidence of how rapidly football's popularity was evolving during the 1920s, look at the 1922 and 1924 Ames homecoming programs on the right side. The 1924 edition is much thicker and bigger with a color cover, while the 1922 program is relatively spartan.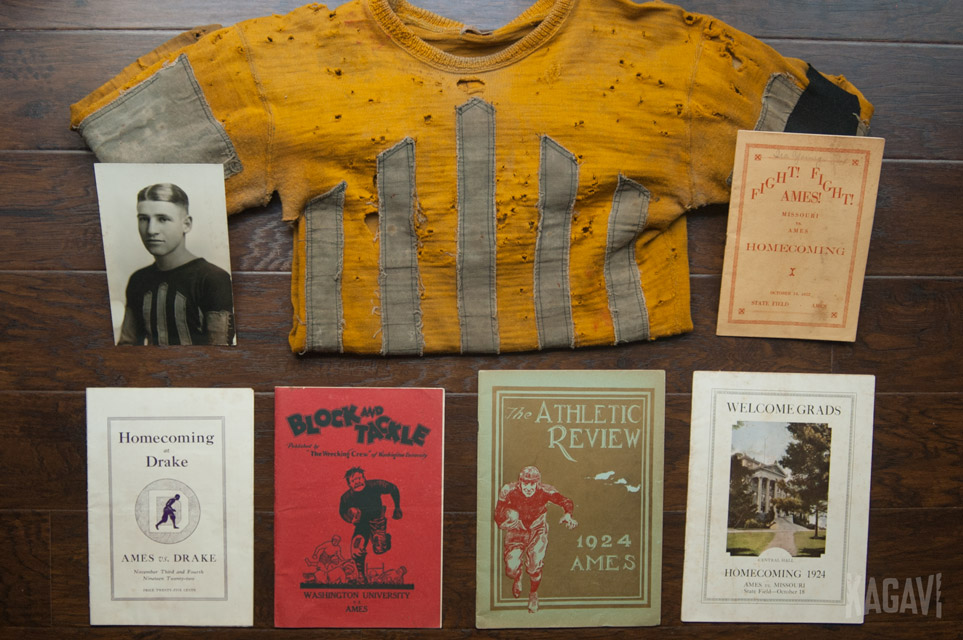 Also shown here–Ira's senior football portrait that shows him wearing the gold jersey. In the bottom right corner, Ira signed it for his mother. Even with the evidence right in front of us, it's still amazing how dark the gold jersey appears in the photo. These programs were fun to leaf through, but the most interesting program wasn't even a football one, it was a basketball one.
During the 1920s, basketball was one of the newest sports on campus and the sport didn't really take off until after World War II. The first Cyclone basketball game took place in February 1908, but it wasn't until the following winter that the team played a complete schedule. During his time at Iowa State, Ira was a guard for the basketball squad and he saved a program from the January 26, 1923 game against Nebraska at State Gym. This game was during his junior season, which was led by Captain Greene, pictured on the cover. Since Jack Trice worked part-time in State Gym, I can only wonder if he was present at this game in some capacity.
This program is a mere 15 years into the evolution of the game and is the oldest known Cyclone basketball program to exist. We checked with Becky Jordan in the ISU Special Collections department and she confirmed the oldest program owned by the university is from a 1932 game against Missouri. We were also very excited to see multiple surviving chunks of Ira's basketball jersey from his senior season and we believe it is the oldest known Cyclone basketball jersey in existence (if it can be called a "jersey").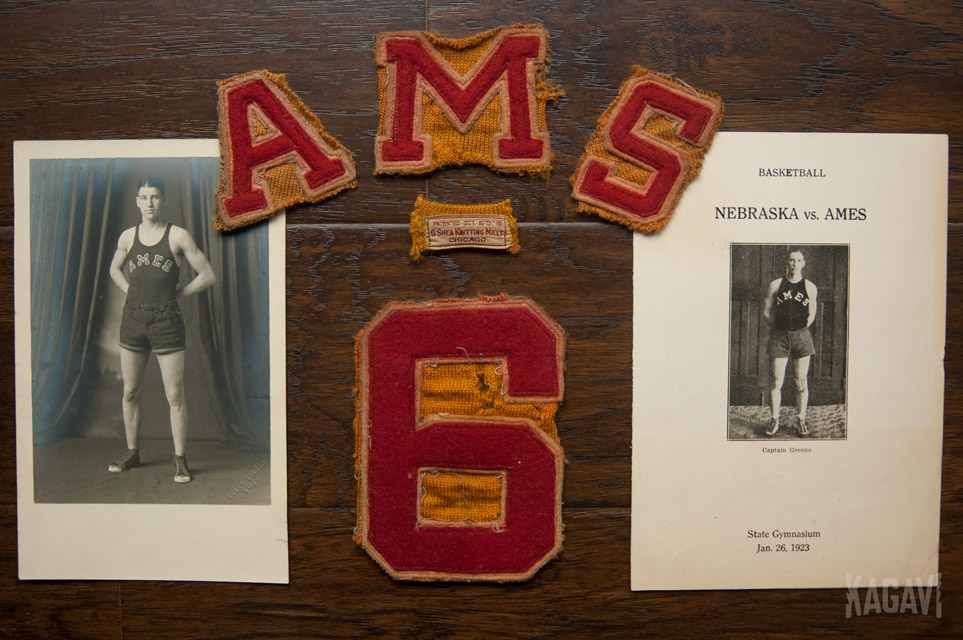 The letters match Ira's senior basketball portrait and given these pieces, it's easy to imagine how the entire jersey would've looked. In comparison to the football jersey, this version of Cyclone gold has more of an orange hue, while the red letters and number font appear similar to the football jersey. Just like the football jerseys, the O'Shea Knitting Mills crafted these tops. Before Hilton Magic, was there State Gym Magic?
It's pretty remarkable that Ira's football jersey survived a much tougher sport while only scraps remain of his basketball jersey, but a fairly accurate replica could be constructed. I also found it interesting to see the shades of gold in use during the 1920s. When Cyclone fans call for a "return" to true gold as a school color, it doesn't necessarily reflect Iowa State's overall athletic history, save for brief periods in later decades.
In addition to the Jack Trice game photo I shared earlier this year, many of Ira's personal photos have a fraternity theme. Along with fellow SAE football teammate Spike Nave, there is a photo of Snyder of Kappa Epsilon and Alsip of Acacia. There's also a nice cabinet photo of the SAE fraternity. Note the action shot of Ira kicking in front of State Gym.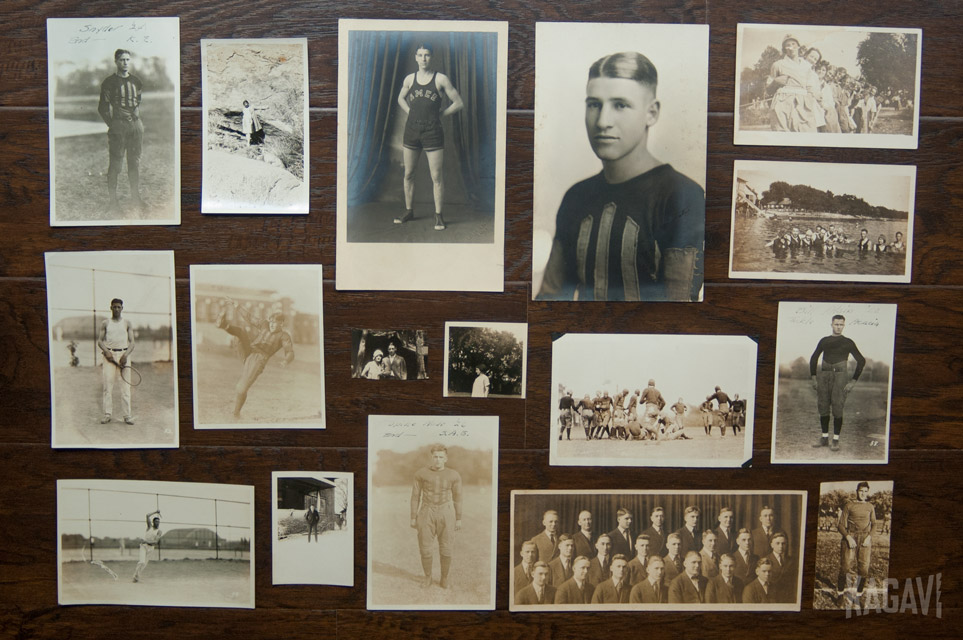 The two tennis photos show the Armory in the background. Ira was an excellent tennis player who won the Missouri Valley Conference tournament his senior year. While not labeled, I believe the two smallest photos are of Ira's mother. There are also shots of him enjoying leisure time at Clear Lake.
After his time at Iowa State, Ira went on to play a role in the construction of the iconic Hoover Dam, which was then known as the Boulder Dam. Some personal and business letters from this time period show that Ira lived in both Los Angeles and near Las Vegas and he even helped with a company football team. Supposedly, Ira may have played some professional football for a brief period, but actual evidence remains slippery. Additionally, there are papers related to his military service in the late 1920s, although I haven't yet been able to pin down the exact dates he served. There are also several alumni-related items and his full Iowa State transcript.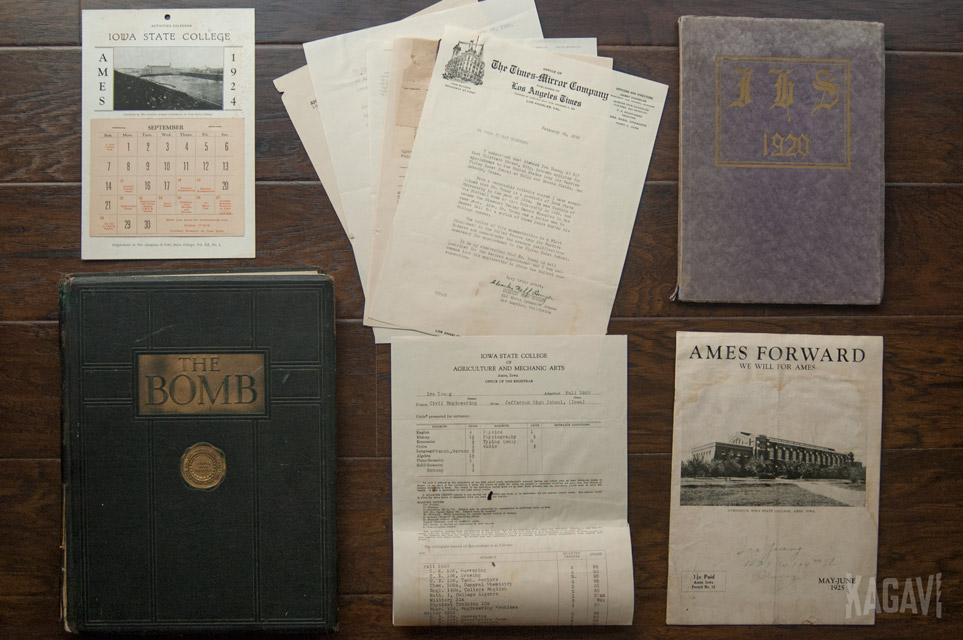 Ira also saved many dozens of newspaper clippings. One clipping discussed the unexpected death of Champ Hardy in early 1923, who was a popular freshman football player and pledge of Ira's SAE fraternity. Just like Jack Trice, Champ was a star football player from the powerful East Tech high school team and was being counted on to make an immediate impact.
When Jack died after two games into the 1923 season, Coach Willaman was short two of his most dominant Cleveland lineman who would've made a big difference on both offense and defense. Although Willaman went on to finish his Cyclone career with three consecutive winning seasons, the inclusion of Champ and Jack on the line could've very easily meant three straight conference titles. Perhaps a swelling of fan support meant the completion of the proposed horseshoe expansion to State Field that ended up never getting built. Alas, after Willaman left for Ohio State following the 1925 season, a potential turning point in Cyclone football history fizzled away. What could have been?
Other clippings documented various sports news throughout the region. It is clear Ira was keeping up to date on the lives of former acquaintances, especially from his SAE fraternity. Some articles noted weddings such as SAE football teammate Norton Behm's marriage that caused Iowa State President R. A. Pearson to remark "the college frowns on student marriages" but if it was done with parental permission and formally announced, "no action will be taken."
Another fun clipping mentioned Count Ilya Tolstoy, the grandson of famous Russian author Leo Tolstoy of War and Peace fame, who attended Iowa State College in 1924. He was a member of the SAE fraternity and surely knew Ira in some capacity. The colorful Ilya was inducted into the famous Explorers Club of New York in 1931 and he undertook multiple exotic expeditions including a daring jaunt through Tibet during World War II. Ilya also started Marineland in Florida with several others including the son of Gertrude Vanderbilt Whitney. As one of the very first oceanariums in America, Marineland was originally intended to be a marine mammal park for filming underwater movies, but later evolved into a small public attraction. (He is seen standing in center below in this circa 1930 photo from the Manitoba Historical Society.)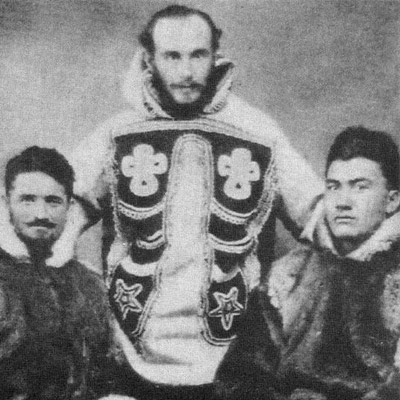 Count Tolstoy wasn't the only interesting contemporary of Ira. Many of Ira's peers at Iowa State College went on to interesting lives of their own, but that's a story or two for another time.
_____________
If you have enjoyed my Jack Trice stories borne from hundreds and hundreds of hours of research over the past couple of years, please consider supporting our important work by purchasing one of our limited edition Jack Trice giclees in my shop. These original works of art were created using museum-quality materials and will never be printed again. (GICLEES ARE SOLD OUT.).
Sometime soon I will be sharing some important news about my research into the life of Jack Trice. I consider this the most significant project yet and am really excited to announce it later. When I do so, please help out by sharing it far and wide. Stay tuned to Kagavi for more details soon!