The long process of comprehensively researching the Roaring Twenties period of college football for our custom Pendleton blankets means we accumulate hundreds of interesting historical images. With the USC – UCLA football game coming up this weekend, I thought it would be fun to look at some rare artifacts from USC football history, primarily from the Howard Jones era. When Jones moved to Los Angeles for the 1925 season, his reign as the Trojans coach started a Troy dynasty that has continued to this day.
Since USC is such a prominent football school, artifacts are a bit easier to find. In our previous USC story about the inspirations behind our limited edition Trojans Pendleton blanket, we discussed the two football uniforms in use at that time. The first one, which we called the vertically stacked VY design, was worn in the mid-1920s, but another design, the vertical three friction stripes, was worn towards the end of the decade.
We hoped to find an existing jersey from this period, and it ended up coming from the Newport Sports Museum collection, which founder John Hamilton made the difficult decision to close permanently earlier this year. In a new SCP auction starting this week, there are many incredible pieces of Troy history from the museum collection being offered for sale. Many of the items are from 1929-31 USC All-American quarterback Gus Shaver's days with the school. Significant football jerseys from the 1920s and 1930s are pretty rare and it was a treat to see these items. (Photos below are from the SCP Auctions catalog.)
Shaver was part of many big moments in Troy football history and he led the 1931 team to a national championship, which was USC's second. His entire uniform was saved and it was really neat to see the actual stripes that inspired our blanket.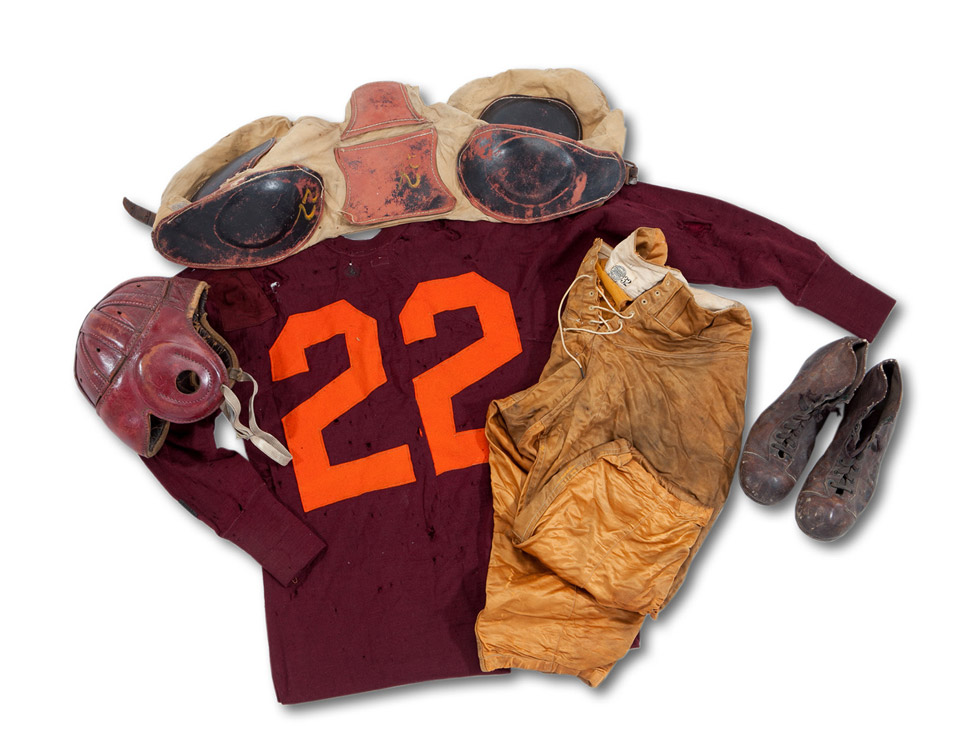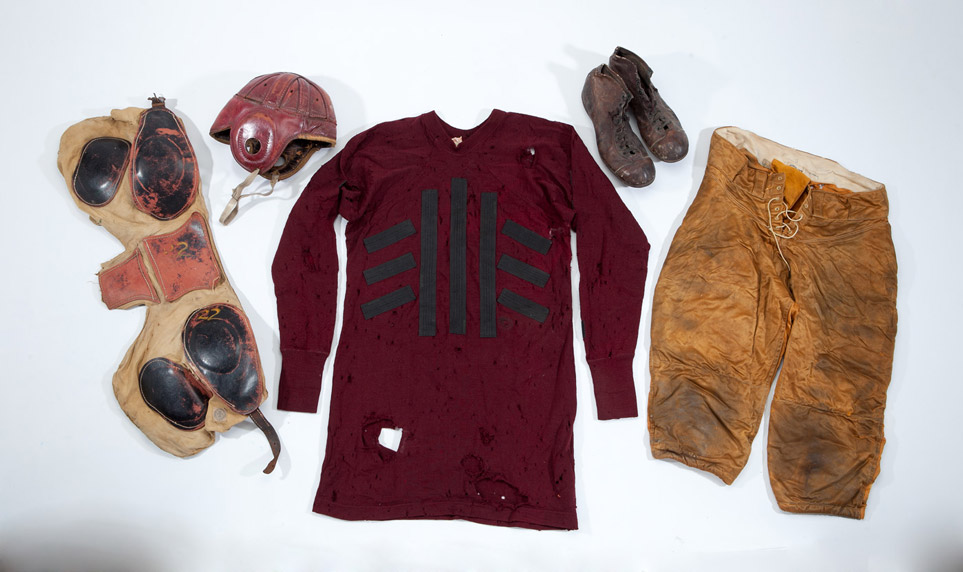 Shaver's white jersey was also saved, along with his playbook.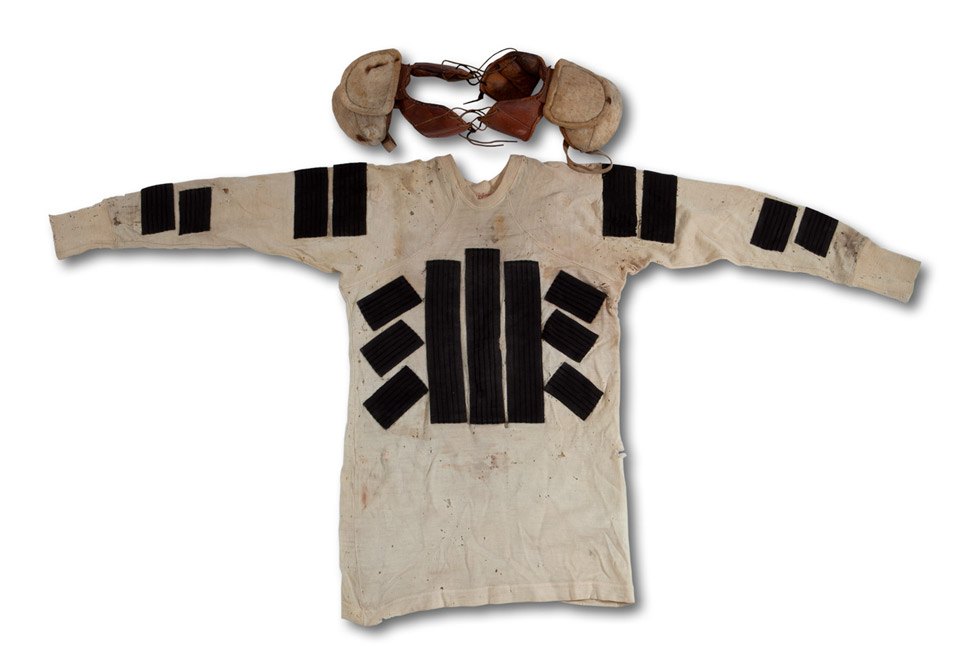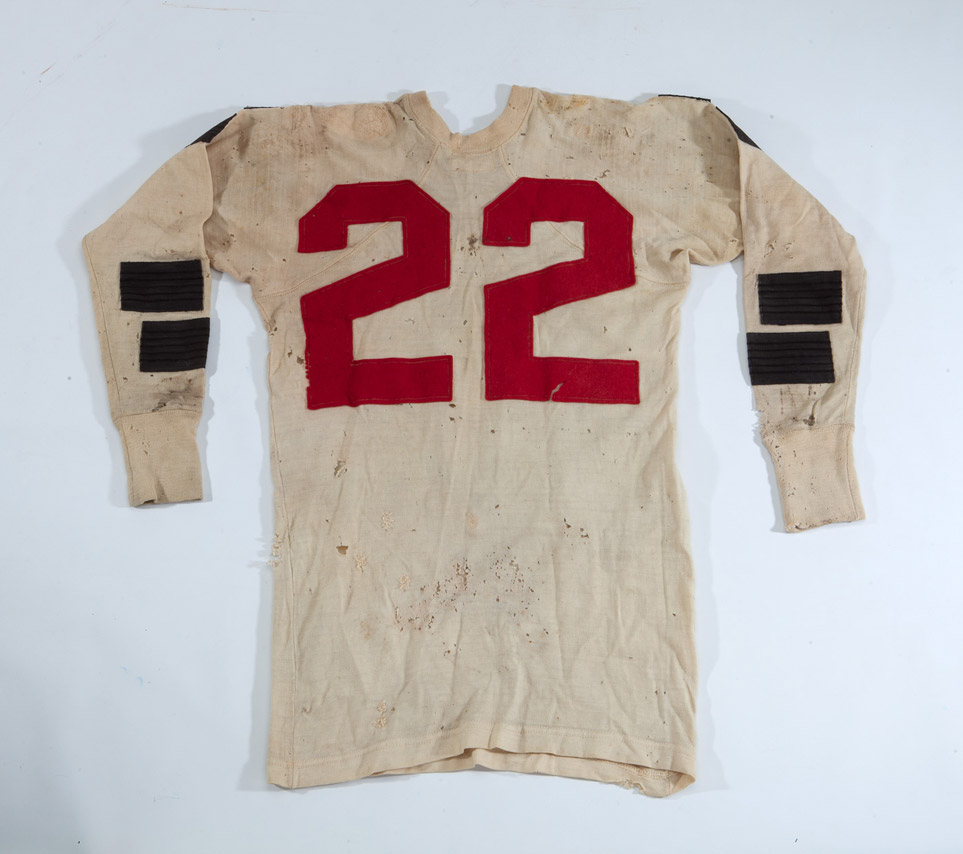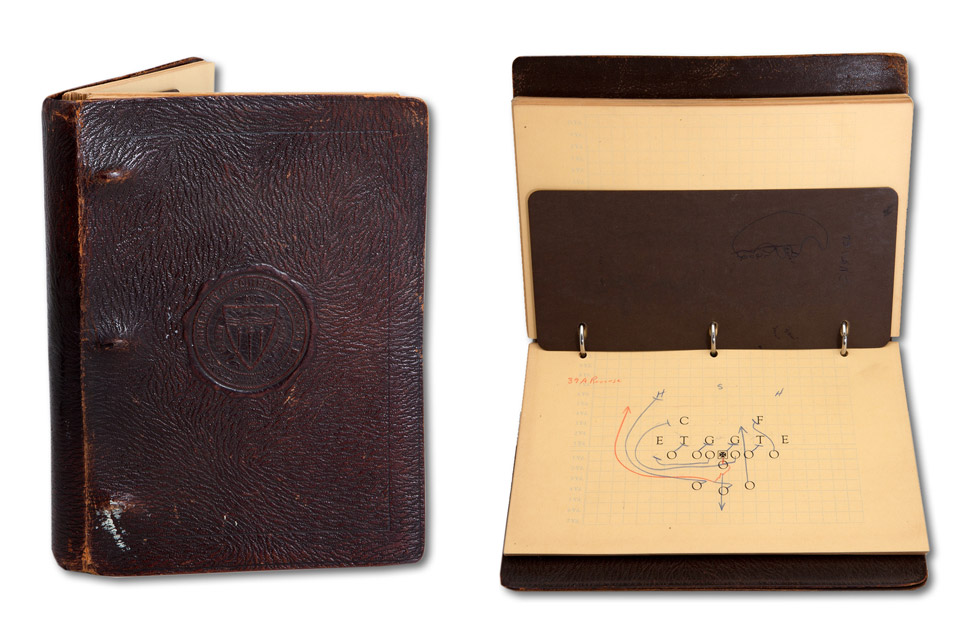 This photo shows Shaver lunging forward in the white jersey during a 1931 home game.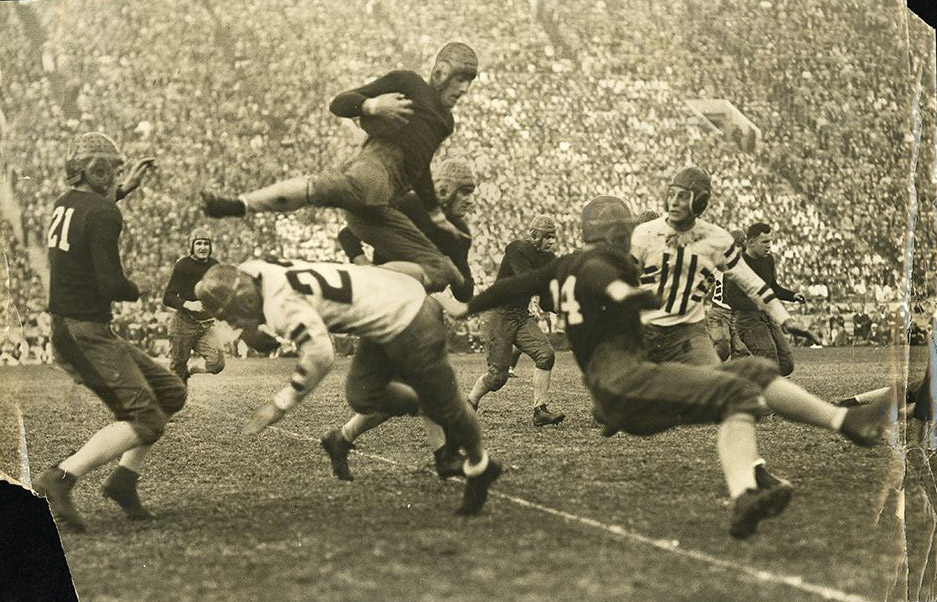 Also included in the auction–the 1931 national championship trophy won by USC. The trophy was introduced in 1929, and Notre Dame won the first two years of the trophy. The next photo shows the daughter of Howard Jones standing next to it.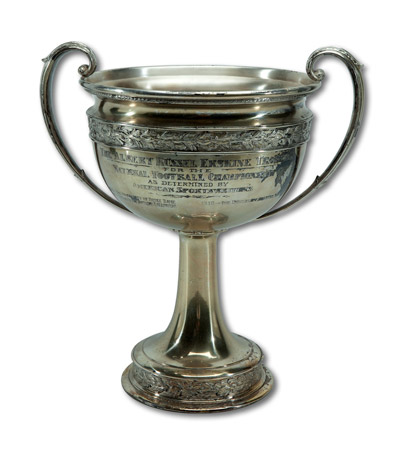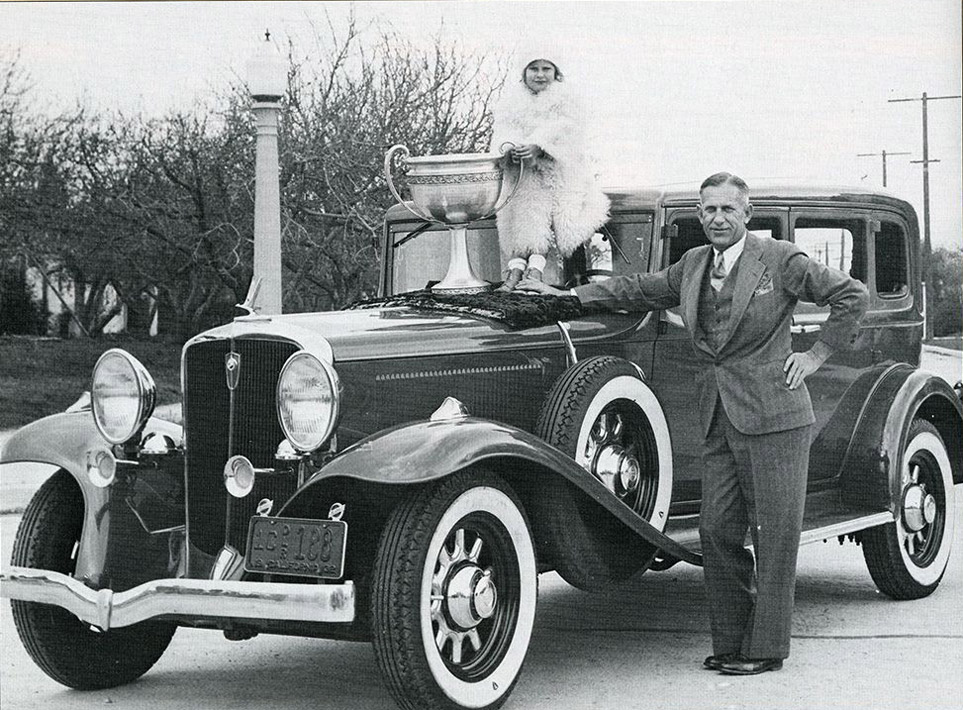 The 1925 Ben-Hur silent movie was one of the biggest Hollywood productions ever and established MGM (which was founded the previous year) as a major player in the Hollywood landscape. On this 1925 football program cover, USC players were strapped to a chariot from the film, although Howard Jones' face appears added on later. The MGM studio stood a few miles east of USC's campus.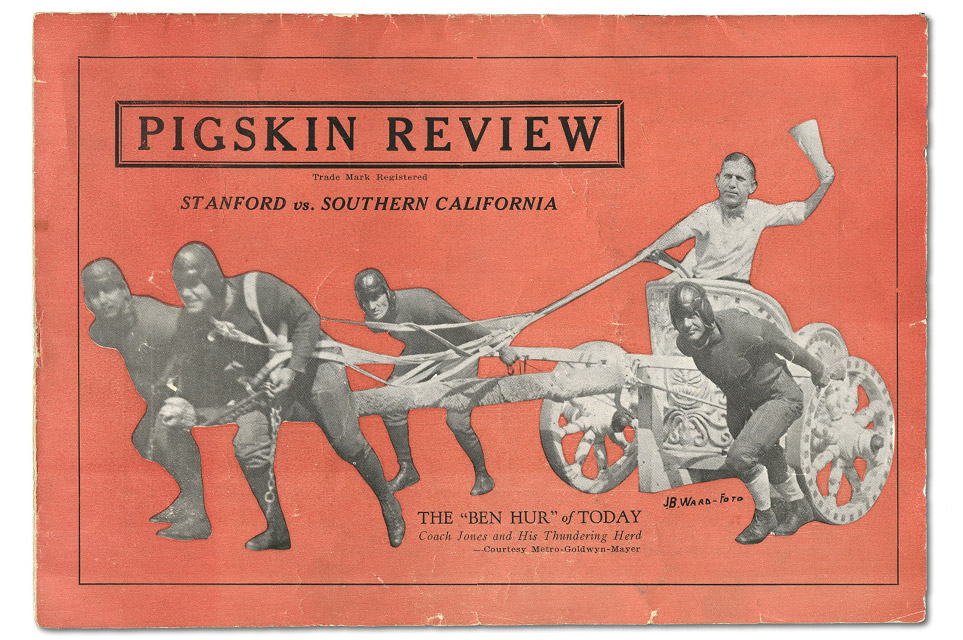 Be sure to check out the SCP Auctions website here to see these items and many more.
_____________
Elsewhere, we have accumulated some fun images of USC history. The photos below are from Heritage Auctions, which is another excellent outfit.
Here's a 1933 USC football schedule poster showing the three vertical stripes in school colors. I'm not sure the uniforms ever had the friction stripes in gold–especially given the 1931 jerseys above–but this image was a big influence on our blanket. All three elements are visible, the cardinal, gold, and coliseum white.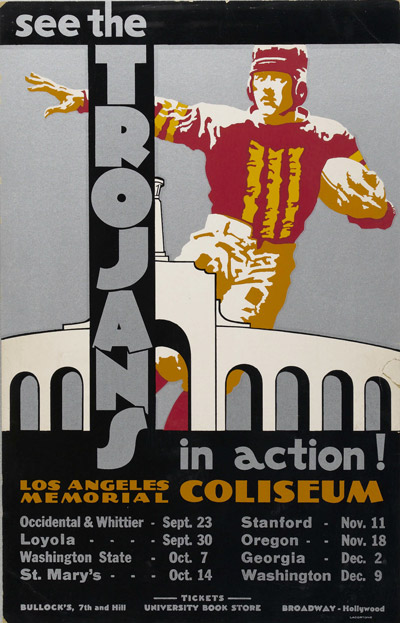 For the first-ever game against UCLA in 1929, illustrator Bruce Russell created this large cartoon. The pictured USC jersey was a style worn earlier in the decade, mostly during Coach Gus Henderson's time.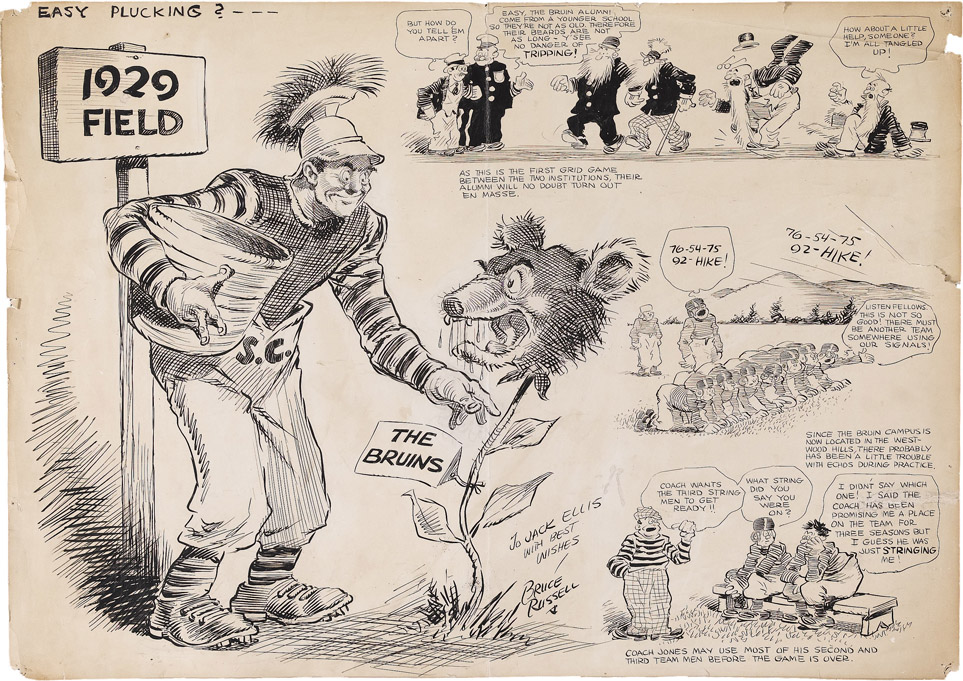 Here are two educational films produced in 1932 with Coach Howard Jones as the headliner. (Of interest to Iowa State fans, Jack Trice's coach Sam Willaman was in at least one film.) Jones created multiple films in the series. It's yet another example of intersecting USC and Hollywood history.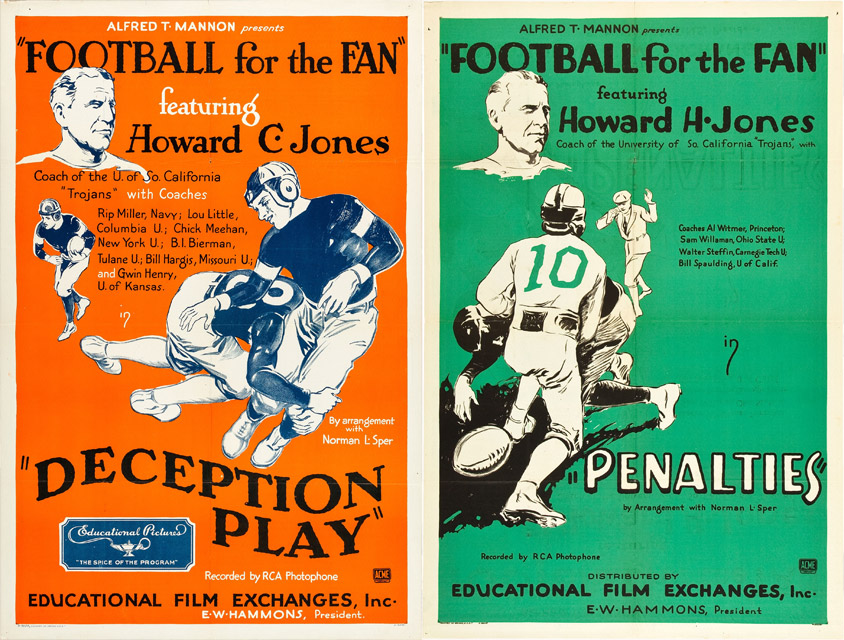 Posters from two of John Wayne's earliest films: The Drop Kick in 1927 and That's My Boy in 1932, which also featured members of the 1931 USC national title team. (In a previous life, Wayne was formerly known as USC tackle Marion Morrison.) The USC campus has a John Wayne museum, which can be seen here.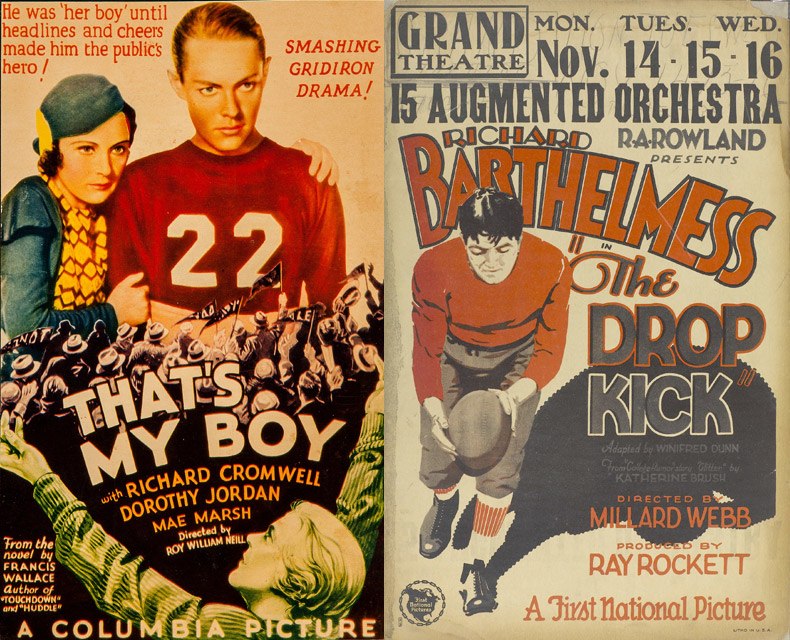 _____________
Our own research files have many more items of unknown provenance. Here's a few that I thought were interesting: I'm a sucker for a good map and this 1929 USC – California game program has a lot of fun little illustrations.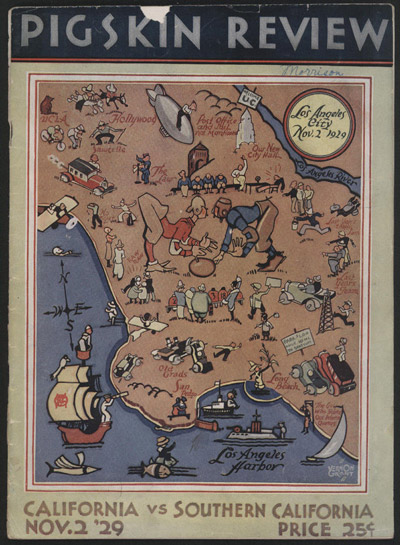 The USC baseball team toured Japan in 1928 along with the Stanford and California teams. The Trojan squad won 17 of 27 games played through the country. I'm not sure if a Trojan supporter created this fan or if they were actually for sale. Either way, it's a cool hybrid of two cultures.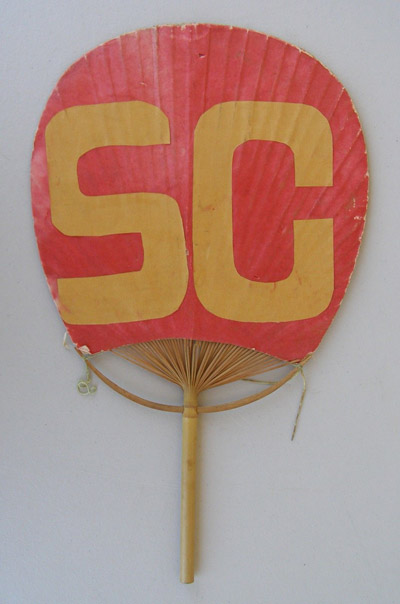 With the imminent release of Angelina Jolie's Unbroken film, based on USC athlete Louis Zamperini's life story, more of these photos have been popping up in various spots. Zamperini was a world-class Olympic runner who caught Hitler's attention during the 1936 Olympics and his tale was also chronicled by author Laura Hillenbrand.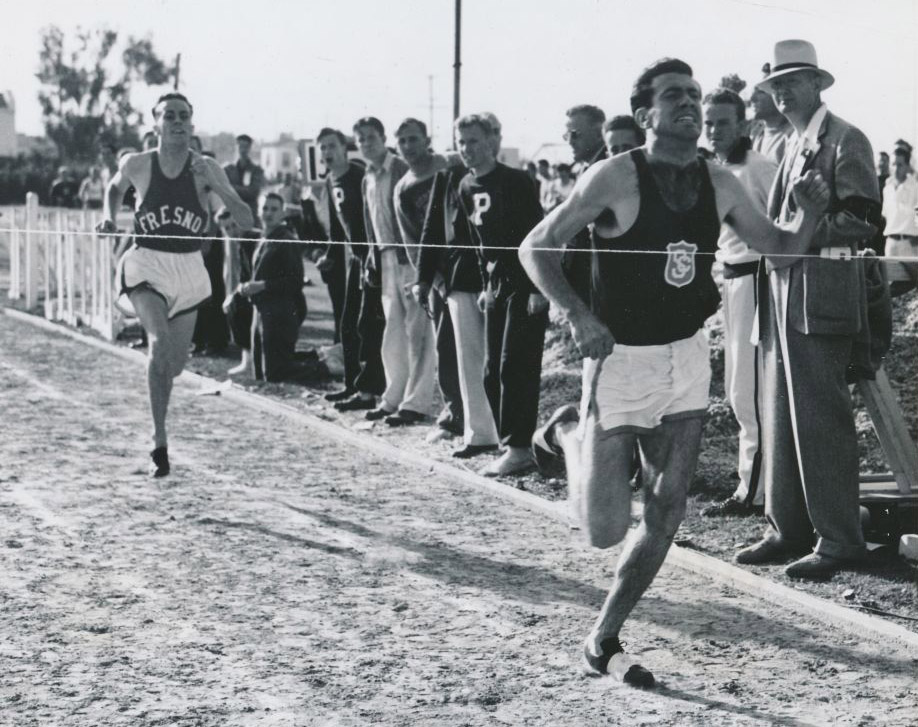 _____________
Finally, since Coach Howard Jones is the common thread tying together our two Pendleton blanket projects this year with USC and Iowa, I wanted to end with one of my favorite pictures of him from RMY Auctions. This image was taken in fall 1929, the season after his first Trojans national championship.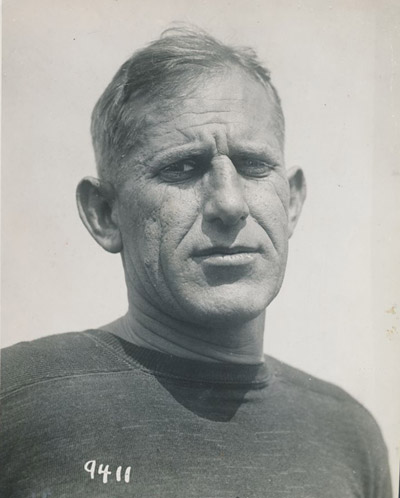 All of these images also played a role in inspiring our limited edition USC Pendleton Woolen Mills blanket, designed to emulate this era. Check it out on our SHOP page here.