I'm proud to reveal my limited edition University of Iowa stadium blanket made in collaboration with Pendleton Woolen Mills and influenced by the greatest players and teams in Hawkeye football history. Read on to learn more about the inspirations behind this project.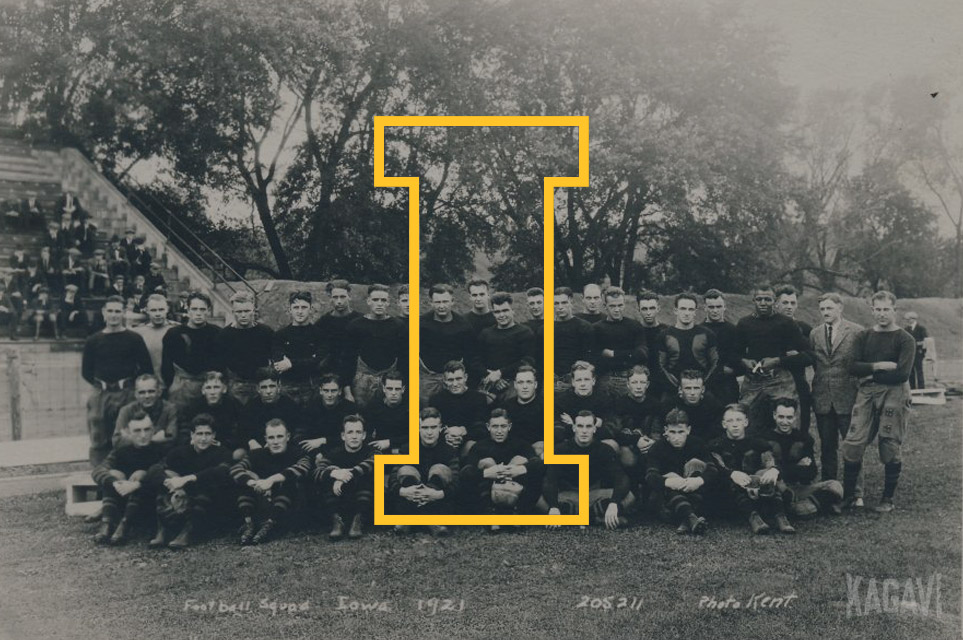 This season, the University of Iowa is celebrating 125 years of football, as well as the 75th anniversary of the famous 1939 team led by Nile Kinnick. During the first recorded year of football in 1890, Iowa Field was established on a spot of turf next to the Iowa River, just down the road from the stately Old Capitol, which had already been standing on campus for nearly 50 years. Some of Iowa's greatest athletes played on this field for the next 40 years.
One of the most influential figures in Iowa history is Coach Howard Jones, who took over the Hawkeye program in 1916. Jones enjoyed a stellar playing career at Yale University, with recognized national championships in each of his three years on the varsity squad from 1905 to 1907. Jones immediately entered coaching and led the 1908 Syracuse University team to a winning record before returning to Yale to win another national championship in 1909.
In the six years before Jones joined Iowa's program, he only coached two years for Ohio State and Yale, but when Iowa offered him a rich contract, he made the move to Iowa City. World War I decimated college teams all over the country and the Hawkeyes weren't immune. All-American Fred Becker, who was Coach Jones's first star at Iowa, was killed in action on French soil.
After a rocky start, Coach Jones's touch gradually became evident and the Iowa teams became a tough out. His teams brought a new level of fan popularity to Iowa City and Iowa Field was expanded multiple times throughout the 1920s, before a brand-new stadium was constructed across the river in time for the 1929 season.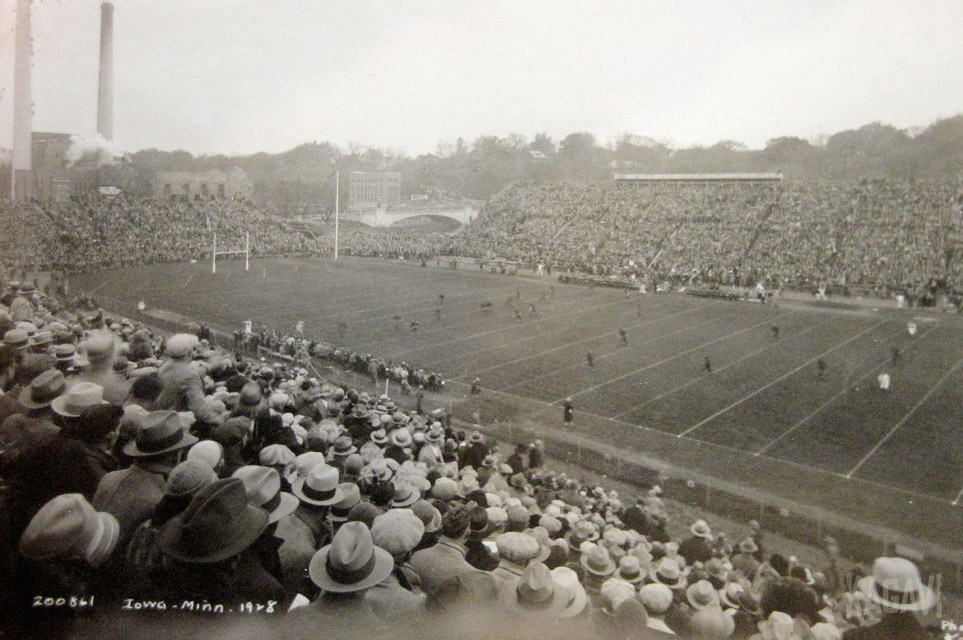 Coach Jones was a taciturn figure who demanded a high level of performance from his entire team and the 1921 squad was perhaps the finest example of his teachings. The program fielded a squad with three players who would be elected to the College Football Hall of Fame (along with Coach Jones). The backfield of Aubrey Devine and Gordon Locke, along with lineman Duke Slater trampled over nearly all of their opponents on their way to an undefeated 7 – 0 season.
Given my ongoing work on Iowa State legend Jack Trice's life, I was drawn to Duke Slater's story and his incredible accomplishments. In 1951, Duke became the first Black player elected to the College Football Hall of Fame. Author Neal Rozendaal has done a great job of documenting Duke's life, which can be seen on his official site here. (Rozendaal feels Duke should also be in the Pro Football Hall of Fame and I've read his persuasive series and am inclined to agree.)
The second game of the 1921 season saw the powerful Notre Dame team led by Coach Knute Rockne bring a 20-game winning streak to Iowa Field. At halftime, Coach Rockne had his team switch into the first example of Notre Dame's iconic special green jerseys as a motivational ploy. It didn't work. After a bone-jarring slugfest, the Hawkeyes prevailed 10 – 7 and served notice they were a new "Western" power to be reckoned with. Below is a famous picture of Duke Slater collapsing the entire left defensive line.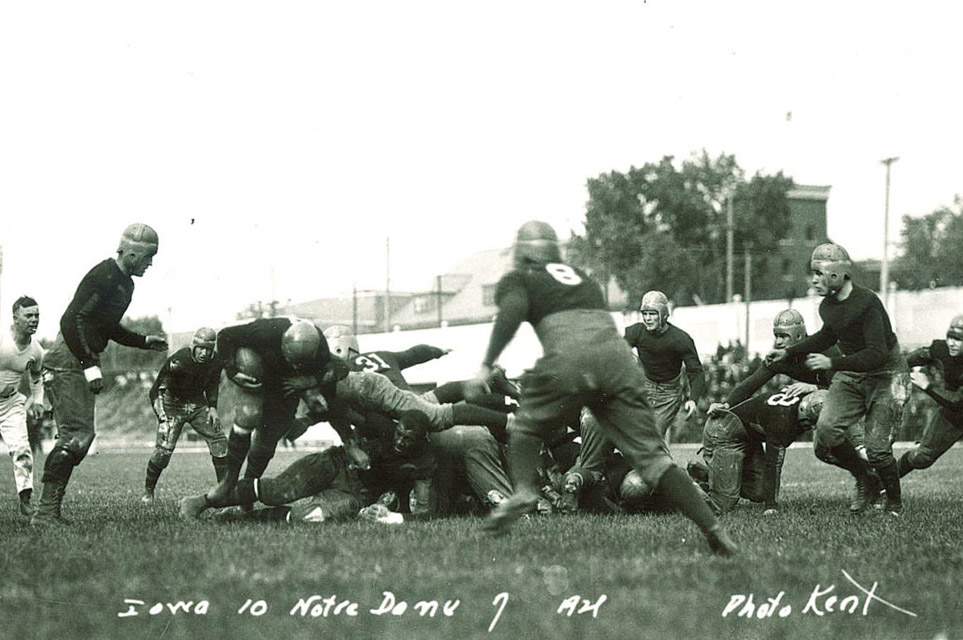 After the graduation of Aubrey Devine and Duke Slater, the 1922 Hawkeye team was widely expected to be much weaker, but they rolled to another undefeated season behind the dazzling play of Gordon Locke. The major game during this season was at Yale University, which was led by Coach Jones's younger brother Tad Jones. Despite missing many stars from the 1921 team, the Hawkeyes still toughed out a 6 – 0 victory and solidified national perception that the Iowa program wasn't a fluke. This was the dominant Yale program's first loss to a "Western" team and it would remain their only one until a 1938 game against Michigan. After the surprising triumph, a parade was held in downtown Iowa City to celebrate the victory.
The following year, Yale went undefeated and won another national championship. Also, prior to the Yale – Harvard game, Tad fired up his team by simply stating, "Gentlemen, you are now going to play football against Harvard. Never again in your whole life will you do anything so important." (Some accounts have this speech in 1925, not 1923.)
When Howard Jones went to Los Angeles in 1925 to become the new USC coach and Aubrey Devine followed him as an assistant coach, the Hawkeyes wouldn't enjoy the same level of national attention until a tough squad in 1939 made Nile Kinnick a national name with his Heisman Trophy win.
_____________
Looking at the uniforms in use during Coach Jones's years, there were at least four different jerseys in use. There seems to be no rhyme to why certain jerseys were worn in certain games. Sometime in the mid-1910s, around the time Coach Jones arrived, the Iowa uniforms had multi-striped sleeves and socks. This appears to be the earliest version of an Iowa uniform design of any kind. The 1916 homecoming game against Nebraska shows evidence of this (Nebraska players had a single stripe on their arm).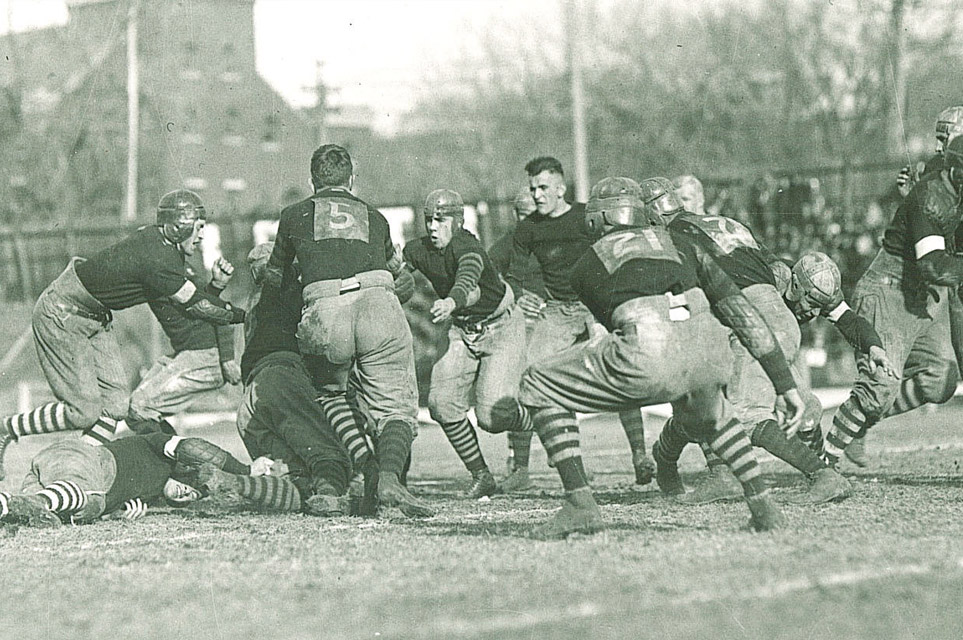 Also, look at 1918 football team captain Ronald Reed's well-worn jersey.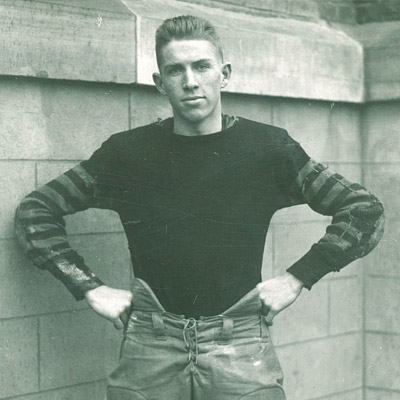 Duke Slater, who has a strong argument as Iowa's best football player ever, wore multiple uniforms during his four seasons. In addition to the oval jersey visible in the Notre Dame game photo above, Duke also wore both striped arm variations, including the first appearance of the two-stripe arm jerseys.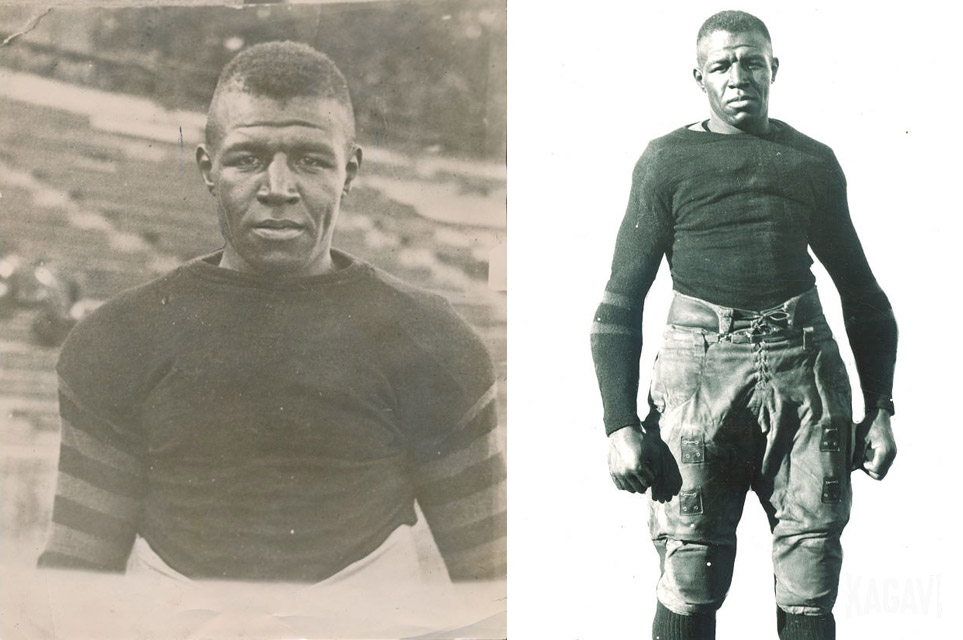 Teams weren't too concerned about matching jerseys exactly, as standardized rules were still another decade out. Here, we can see Gordon Locke wearing the oval jerseys while Duke follows behind in the striped arm jerseys.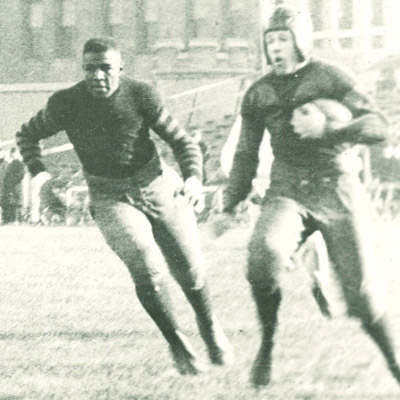 The oval jerseys were the very first examples of the friction material trend that took hold during the 1920s, which I've written about elsewhere. Yet another jersey design with friction stripes was worn in 1922 by Gordon Locke.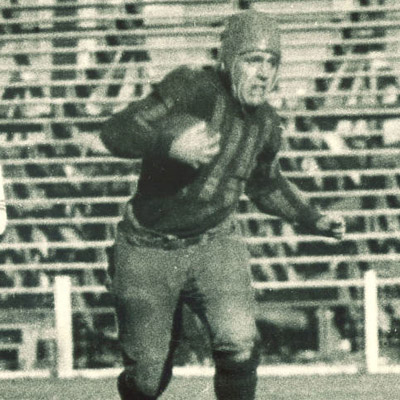 While it appears no Iowa jerseys exist from the 1920s period, one of the preeminent collectors of Iowa football history was recently able to snag an unbelievable piece of history from the 1921 season. During that season the Iowa program presented Aubrey Devine's family with an extremely large photo of Aubrey that was colored by hand and it was clear no expense was spared. He allowed me to share these two photos from his website. See more here. (I also added a screenshot of the 1921 presentation film referenced in his story where a large portion of the photo can be seen.)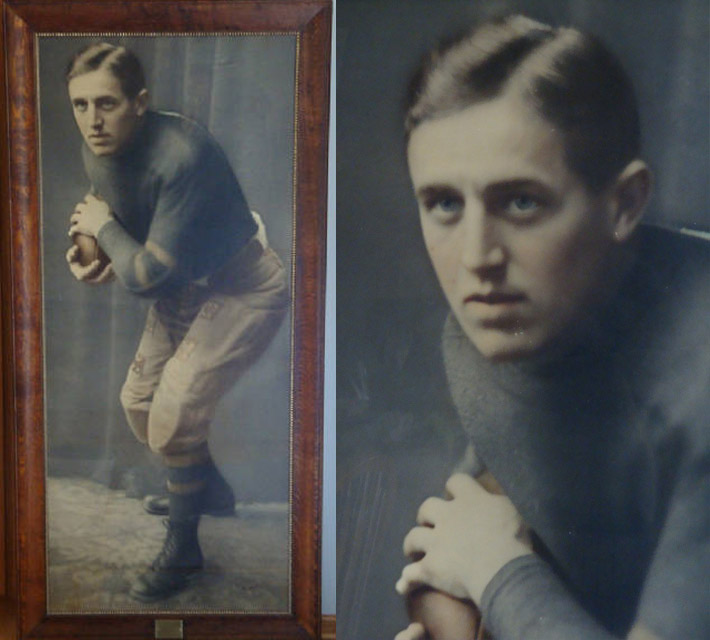 In the absence of any existing uniforms, this is the closest proof we have to the actual coloring of some of the 1920s jerseys. It's interesting to see the stripes are in an "old gold" color rather than the familiar yellow color. I have seen both colors used in various materials from that time period and given the quality presentation here, we can reasonably assume the two striped jerseys were in black and old gold, not yellow.
Another interesting note: the multi-stripe uniform seen in the 1916 Nebraska game and Duke Slater photo may have actually been black with blue stripes. So far, I haven't been able to get verification on this count, but it would be an interesting historical nugget, especially given the incontrovertible proof of the Aubrey Devine photo above.
One fun note–the 1925 game against Wisconsin took place in an early November blizzard and the series of photos are fun to look through with the players appearing as mere cardboard cutouts amidst a whiteout.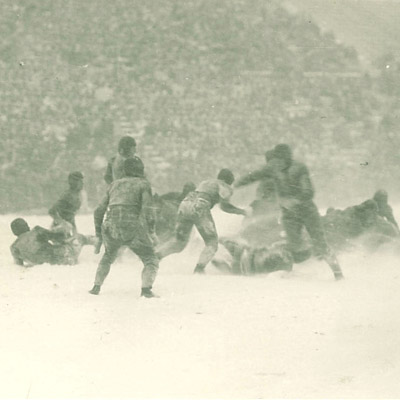 Friction stripes lingered on Iowa uniforms through the 1930s, through the electrifying runs of Ozzie Simmons, before coming to an end in the late 1930s. A young Nile Kinnick was one of the last connections to this era of uniform history that essentially started with the arrival of Coach Howard Jones in 1916. Kinnick is wearing his 1937 jersey below.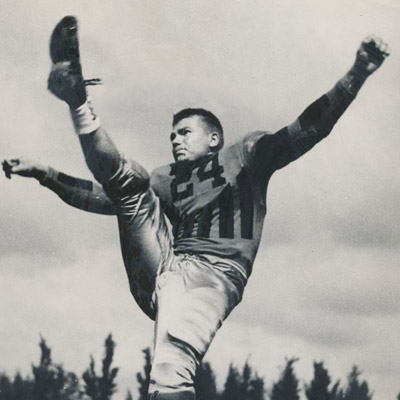 _____________
Pendleton Woolen Mills is an iconic American company that has been weaving Indian trade blankets since the 1800s and they have a long athletic blanket history as well. In other stories, I've documented the extensive history of wool blankets at football games. The earliest Ivy League games saw blankets in use by both players and spectators and blankets were often awarded to students for various athletic achievements. Blankets were usually solid or striped, but some blankets were decorated, such as the blankets used by the 1913 Texas Longhorns team.
When I created my first Pendleton Woolen Mills blanket last year for Iowa State University, I was inspired by the leather helmet jersey era in college football and American Indian textile design from my family history. We wrote more about these influences here and here. My second Pendleton blanket for the University of Southern California has an extensive history behind it, which can be seen here. At the 1932 Summer Olympics mentioned in the USC story, two Iowa track athletes won gold, Ed Gordon in the long jump and George Saling in the 110 meter hurdles.
While Pendleton is famous for continuing the great American tradition of native textiles, they also started doing All-American football blankets. If a player was named to the official All-American team, they were given their own blanket. Although Iowa's early 1920s All-Americans were a bit too early for that practice, Nile Kinnick certainly received his own blanket, seen in the right picture below.
Blankets weren't just for the players. While researching this story, a look into some crowd photos during the famous 1921 Notre Dame game revealed a spectator with their own Indian trade blanket.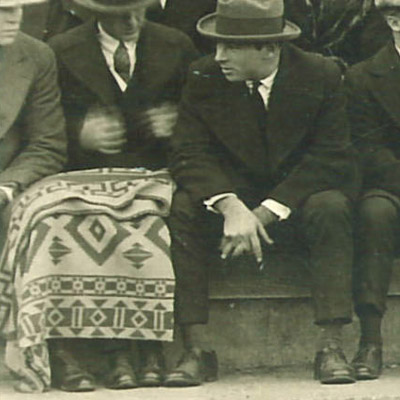 _____________
My design celebrates the greatest players and teams in Iowa football history. Since bold stripes were worn by many of Iowa's players, I chose to place 14 stripes on the blanket to commemorate the two consecutive undefeated 7 – 0 seasons during 1921 and 1922, while recalling the tradition of exciting players that wore friction stripe jerseys from Duke Slater to Ozzie Simmons to Nile Kinnick. The striped bumblebee design is at home during that era, yet stands on its own today.
Many of the images in this story came from the wonderful University of Iowa Digital Library here. Also, many of the game photos were taken by Frederick Kent and his expansive archives played a critical role in recording early Iowa history. See more here.
(BLANKET IS SOLD OUT.)