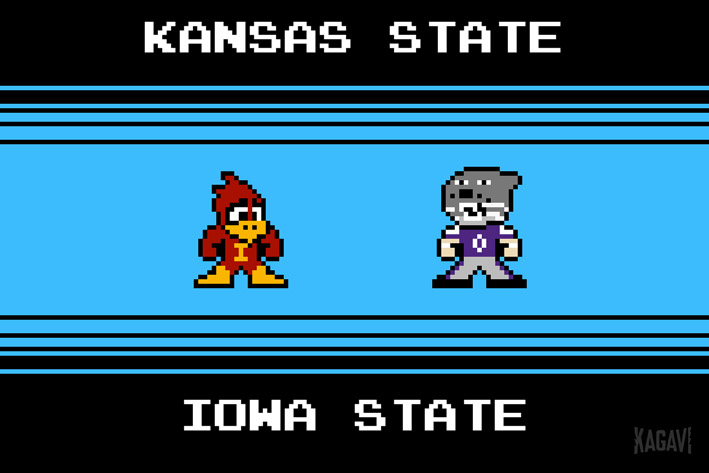 (Story originally posted on SB Nation's ISU site: Wide Right & Natty Lite.)
_____________
WRNL is proud to present nine weekly articles from Kagavi leading up to the official release of The Adventures of Robot Cy, a fictional 8-bit video game trailer that never was.
In a faraway futuristic time, college football has been taken over by robot mascots. Join Robot Cy as he travels through many thrilling levels to find out who is behind this nefarious plot!
Every week during the conference season, Kagavi will preview the ISU football game using this project as inspiration by asking what power ups could Robot Cy gain by defeating the other Big 12 robot mascots?
_____________
The question hung in the air all week leading up to the Oklahoma State game. Could there be a repeat of 2011? During the game, fans and players could feel the magic of the monumental upset lingering around the fringes, but the game ultimately slipped away at the very end. Robot Cy salvaged the evening by defeating Robot Pistol Pete and securing the Silver Star power up, which will be useful in the future (perhaps as soon as this basketball season against the Jayhawks). These final two games against Kansas State and West Virginia will probably determine the future of the ISU coaching staff. Last year's game in Ames ended in a 32 – 28 KSU comeback after ISU failed to get a crucial first down, just one measly yard, to preserve the victory. The last road game in Manhattan was an anomaly as Collin Klein led KSU to a 41 – 7 thumping, but every other game in the Paul Rhoads era has been relatively close, yet with the same outcome. Both teams have struggled this season and last I checked, KSU was playing a dance team member at QB.
But what if Robot Cy was facing off against Robot Willie Wildcat?
If Robot Willie Wildcat used the best parts of Kansas State football history to inspire a power up, what would it be? Let's explore some Kansas State history.