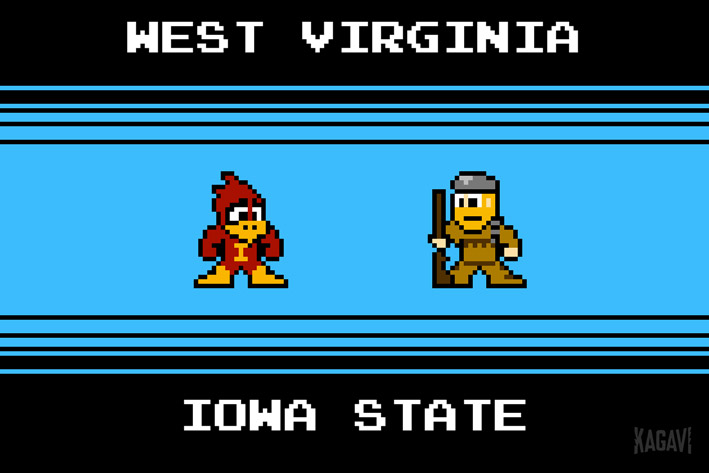 (Story originally posted on SB Nation's ISU site: Wide Right & Natty Lite.)
_____________
WRNL is proud to present nine weekly articles from Kagavi leading up to the official release of The Adventures of Robot Cy, a fictional 8-bit video game trailer that never was.
In a faraway futuristic time, college football has been taken over by robot mascots. Join Robot Cy as he travels through many thrilling levels to find out who is behind this nefarious plot!
Every week during the conference season, Kagavi will preview the ISU football game using this project as inspiration by asking what power ups could Robot Cy gain by defeating the other Big 12 robot mascots?
_____________
Just like that, the Cyclone squad will travel to Morgantown this weekend for the last clash of the 2015 football season. Last week, finally, FINALLY, the Kansas State Wildcats were headed for certain defeat before the necromancer Bill Snyder remembered his voodoo doll and pins. A brutal 90 seconds later, the curtain was unfortunately up on Paul Rhoads' time at Iowa State. Robot Cy did manage to escape Manhattan with the Voodoo Skulls power up from Robot Willie, but that's small consolation. Turning to the West Virginia Mountaineers, they beat ISU 37 – 24 last year in Ames–this sounds familiar–because ISU scored just 3 points after halftime. The year before was a thrilling 52 – 44 triple overtime victory, which saw ISU overcome the largest deficit in school history with 24 points in the fourth quarter.
But what if Robot Cy was facing off against Robot Mountaineer?
If Robot Mountaineer used the best parts of West Virginia football history to inspire a power up, what would it be? Let's explore some West Virginia history.